Stephanie J. Block and More Join Broadway Baby Mamas Benefit for Planned Parenthood at Feinstein's/54 Below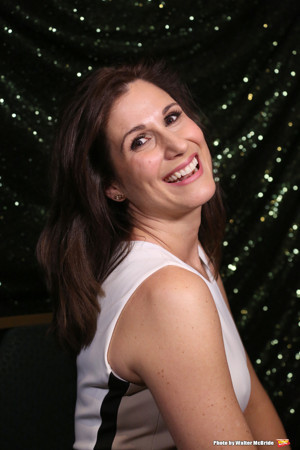 Joining the previously announced women performing in Broadway Baby Mamas in support of Planned Parenthood on March 15th, 2018 at FEINSTEIN'S/54 BELOW, are two time Tony nominee Stephanie J. Block, and Broadway favorites, Sara Jean Ford, Carmen Ruby Floyd, Garrett Elise Long, Megan McGinnis and NaTasha Yvette Williams.
Many of Broadway's hottest divas are working two full-time jobs: Broadway star by night and tireless Mama by day. Join the Mamas of Broadway in a special one-night-only concert benefiting Planned Parenthood. Hosted by three-time Tony nominee and star of Aaron Sorkin's upcoming Broadway adaptation of To KIll A Mockingbird, Celia Keenan-Bolger, and featuring the song stylings of Broadway's diverse group of mothers including two time tony nominee Stephanie J. Block, Ashley Brown, Nikki Renee Daniels, Jenn Gambatese, Tony nominee Anika Larsen, Megan McGinnis, Tony winner Ruthie Ann Miles, NaTasha Yvette Williams, Tony nominee Lauren Worsham, and more - you'll laugh, you'll cry, you'll give to a good cause and you won't hear any screaming children. Produced by Cara Cooper, Jessica Rush and Lauren Worsham.
Upon the birth of their daughters, Cara Cooper and Jessica Rush discovered the very unique challenges that come along with being a working mama on Broadway. They knew they couldn't be alone in their struggle to figure out how to juggle it all, and so they founded the Broadway Baby Mamas. Thrillingly, the group has grown to almost 200 women, and is a community of support, knowledge, love, and sisterhood in all things baby and beyond. Come join us for a unique evening of song as we journey down the winding road of this new phase of life. Hosted by Celia Keenan-Bolger, our company will include, Stephanie J. Block, Ashley Brown, Nikki Renee Daniels, Sara Jean Ford, Jenn Gambatese, Anika Larsen, Ruthie Ann Miles, Lisa O'Hare, Elena Shaddow, NaTasha Yvette Williams, and Lauren Worsham. Also, Jessica Bishop, Cara Cooper, Alison Cimmet, Carmen Ruby Floyd, Blair Goldberg, Leah Horowitz, Joanne Javien, Andrea Jones-Sojola, Amy Justman, Jamie Karen, Garrett Elise Long, Megan McGinnis, Gina Milo, Happy McPartlin, Jessica McRoberts, Kat Nejat, Lindsay Northen, Liz Pearce, Lyn Philistine, Allison Posner, Jessica Rush, Kristen Beth Williams, Dana Winkle, and some very special SURPRISE GUESTS!
Stephanie J. Block, Megan McGinnis, NaTasha Yvette Williams and more join in Broadway Baby Mamas Benefit Planned Parenthood plays Feinstein's/54 Below (254 West 54th Street) March 15, 2018. There is a $30-50 cover charge and $25 food and beverage minimum. Tickets and information are available at www.54Below.com. Tickets on the day of performance after 4:00 are only available by calling (646) 476-3551.
Feinstein's/54 Below, Broadway's Supper Club & Private Event Destination, is a performance venue in the grand tradition of New York City nightlife. A few blocks from the heart of Times Square and just below the legendary Studio 54, Feinstein's/54 Below is a classically designed state-of-the art nightclub in the theatre district that hosts audiences with warmth and style. Feinstein's/54 Below presents iconic and rising stars from the worlds of Broadway and popular music and has set a new standard for culinary excellence worthy of the world-class entertainment on the stage.
In their description of the venue, The New York Times writes, "Feinstein's/54 Below has the intimacy of a large living room with unimpeded views and impeccable sound; there is not a bad seat in the house. Its sultry after-hours ambience is enhanced by brocade-patterned wall panels planted with orange-shaded lanterns. And the atmosphere is warmer and sexier than in Manhattan's other major supper clubs."
Located at 254 West 54th Street, Feinstein's/54 Below features up to three shows nightly with cover charges ranging from $5-$105. 54Below.com/Feinsteins