Sitting Shotgun And Cucumber Dogs Present TBD: The Live Devising Project At FringeNYC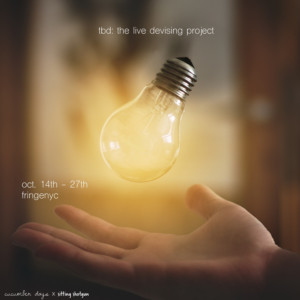 CUCUMBER DOGS in association with Sitting Shotgun present TBD: The Live Devising Project at FringeNYC 2018, a revolutionary development in the live and collaborative theatre experience. Performances are October 14th - 27th. Tickets are on sale now.
TBD is an innovative new show combining academic theory and contemporary practice, creating a new audience experience like we've never seen before. The TBD ensemble uses source material provided by the audience to devise live, in real time, before your very eyes. The first process of this kind, the TBD experience is uniquely immersive and incorporates elements of improv, devising practices, and natural innovation to make something new, providing an experience the audience will never forget.
Meet at the orange Fringe Flag. All audience members are to meet at least 15min prior to the show time at the FringeHUB. Latecomers will not be able to be accomodated.
Tickets: General admission tickets are $22 and can be purchased at the following link:
http://www.fringenyc.org/basic_page.php?ltr=T#TBD:Th
TBD: THE LIVE DEVISING PROJECT is a relational and participatory theatre experience that invites the audience to participate in the project by providing source material. The first to attempt such a innovative approach to the theatre going experience, the TBD ensemble devises live, in real time, before your very eyes. Using a carefully trained set of strategies and basing the formula in a repertoire of ensemble driven work, the ensemble receives the source material, interprets, questions, and associates it, and then quickly strategizes and plans a devised piece to be performed immediately after. Along the same thought of a classic improv show, TBD takes audience experience to a new level, making the work right then and there from the audience's own words, thoughts, and actions.
The piece functions with a devising ensemble of artists including Salomé Egas, Melina Finck, Ali Kennedy Scott, Nick Spink, Shanti Rose, and Pascal Arquimedes. Each ensemble artist attends to a specialized focus of the process (text, movement, music, tech, props). The piece is co-facilitated by Allie Marotta, Ricardo Delgado, Fernando Moya Delgado, Monica Furman, and Devin Richey. The show also includes a technician (Joe Scardino) who works with the ensemble to live design the light and sound to accompany the piece.
The main strategies used in this quick devising process are viewpoints and composition, as well as a formula crafted to help distill the source material into the structure of a devised work. Although this piece might be posed as a response to the conventional theatrical product and a rebellion against the illusory nature of theatre, it is also inherently theatrical in the sense that it must be experienced live. Each performance of the piece is different and intends to create the same sense of community that is strived for as an ensemble within the theatre space.
TBD: The Live Devising Project was created and developed at the Caryl Churchill Theatre at Royal Holloway University of London in the summer of 2017, with continued development in Brooklyn, NY from March 2018 to present. This is the work's world premier.
BIOS
SITTING SHOTGUN (Production Company) aims to foster a diverse community of emerging artists, prioritizing equitable and intersectional theatre-making. We intend to make space for artists to collaborate, create, share their practice, and expand their network. Sitting Shotgun seeks to fill a void in the emerging artist community, providing support and affordable opportunities for artists to pursue their craft and produce new work. Founded in January 2018 by Joe Reault and Allie Marotta, Sitting Shotgun has developed rapidly, acquiring a new home live/work space and provided full seasons of programming. Sitting Shotgun has produced work at Dixon Place, Theatrelab, The Hive NYC, Theatre for the New City, and Viñarte (Guayaquil, Ecuador). www.sitting-shotgun.com
CUCUMBER DOGS (Creative Ensemble) is a performance ensemble that seeks to use art as a vehicle to build and maintain a community that emphasizes the importance of creation of any kind, but especially that which is made of, for, and with a specific community. We are very interested in movement, unconventional lighting, and created environments. Much of our work tends to be immersive, relational, or participatory, or sometimes none of the above. Of most importance to us is curiosity and the search to learn more about ourselves and the world around us; all of our projects begin with a question, turn into an investigation, and rarely end with an answer. Recent projects include: my name is not actually maria (Theater for the New City), EN BUSCA | IN PURSUIT (Viñarte [Guayaquil, Ecuador], Salon Bklyn).
ALLIE MAROTTA (Lead Artist) is a Brooklyn based collaborative theatre maker and arts educator focused in devised ensemble work. She holds a double degree in BA Acting, BA Directing under the International Performance Ensemble program at Pace School of Performing Arts and earned a MA Contemporary Performance Practices at Royal Holloway University of London. Allie's academic research is focused in analyzing the hierarchy and democracy of contemporary theater, and her practical work aims to investigate and define immersive and site specific performance. www.allie-marotta.com
FERNANDO MOYA DELGADO (Lead Artist) is an actor, dancer and choreographer who was born and raised in Guayaquil, Ecuador. He graduated from Pace University with a BFA in Acting for Film & TV and a Dance Minor. Fernando is currently working with Sitting Shotgun, Cucumber Dogs and Curet Performance Project. Past credits include: High Tide (Short film), Unpaid Interns (Short Film), Drunk Art Love (Web-series) and Paradise Lost (Immersive theater). Fernando's work comes from a passionate, colorful background bred in his home country and a love for bringing people together through Art. www.fernandomoyadelgado.com / @fonsismoya
RICARDO DELGADO (Co-Facilitator) is an Ecuadorian born-and-raised theater-maker. He is interested in collaborative theater and in telling stories that wander between reality and magic. His latest works includes Ecuadorian productions with ELTIATRO, La Casa Cino Fabianni, Teatro Sanchez Aguilar and with Stand Up Productions and Sitting Shotgun. He is a member of Pace University's International Performance Ensemble Class of 2021 pursuing a degree in theater directing.
MONICA FURMAN (Co-Facilitator) is an actor, theatremaker, and screenwriter. She was raised in Brooklyn by her Jew-ish Russian-speaking family from Ukraine, so she's working out her dual-identity crisis by being an artist instead of a doctor like her babushka wanted. She is a Chapman University graduate and holds degrees in Theatre Performance and Peace Studies. Monica's most recent work includes HUMAN RESOURCES (a theatrical installation on the intersection of the gig economy and American immigration practices), as part of the Hemispheric Institute for Performance and Politics' EMERGENYC program, and The Waiting Room (a devised theatre performance that she co-wrote and performed on the topic of death and purgatory) for the ASHTAR Theatre Festival in the West Bank. Her bilingual TV pilot, First Jen, was recently a scholarship winner for the Reproductions Summer Screenplay Contest and a finalist (top 3% out of one thousand applications) for the Orchard Project's inaugural Episodic TV Lab. Monica is an ensemble member at Cucumber Dogs and Brickabrack Theatre Company. monicafurman.com
DEVIN RICHEY (Co-Facilitator) is a New York City based choreographer, performer, educator, and director with a BFA in Commercial Dance with Honors from Pace University, specializing in Choreography and Pedagogy. At Pace, he received comprehensive training consisting of jazz, ballet, contemporary, tap, hip-hop, modern, partnering, aerial arts, acting, voice, and more while working closely with current leading names in the industry. Devin's work focuses on storytelling through physical theater; combining various dance styles, human gesture, emotional narrative, and precise musicality to capture the audience. His work has been seen in both the commercial and concert worlds; on stage, in film, and in immersive interactive projects. Alongside dance and choreography, he has also directed and produced several projects and events across stage and film, as well as founding Human's Playground in 2015 – an immersive, multidisciplinary art party with a focus on dance performance.
JOE SCARDINO (Live Design) is a production designer based in NY. Recent design credits include: Fresh Fruit Festival, 2018 (Wild Project), Late Night at The Box (The Box NYC), Ghost Ships (100 Grand Dance), Down the Urinal Hole (Dixon Place), Medusa, Heart of Stone (26th Street Theatre), Hair (Pace Performing Arts). joescardino.com
PASCAL ARQUIMEDES (Ensemble) is a Dominican-American Actor who came to NYC 3 years ago to pursue his passion for the arts. He has an AoS in Film and Television acting, and a list of his previous works include: playing Shane in A Case Study of People with Labels (Theater for the New City), Eddie in Rosen's Son by John Pintaro (Open Hydrant Theatre), and Anansi the Spider in Glass by Azure Osborne- Lee (JACK). Working on this project with this extraordinary ensemble has been a phenomenal experience, and he hopes that everyone who watches has wonderful time voyaging into these stories with us.
SALOME EGAS (Ensemble) is an Ecuadorian actor, dancer, activist, translator and arts educator. She obtained her Bachelor's degree from Skidmore College in Dance and Theater, attended the "Shakespeare Programme" at the British American Drama Academy (UK); and recently obtained a Master's degree from NYU Gallatin, focusing her studies in International Education, Mythology and Performing Arts. Salomé's works aim to combine her passion for the performing arts and social justice with the goal of helping her Latinx and many other international communities to heal from the pain and traumas created by uprootedness and immigration through applied dance and theater. She currently works as a teaching artist at Girl Be Heard, and at Bank Street School for Children. As her personal mission, Salomé aims to empower the voices of the womxn of her newly founded ensemble, FUN Collective (Fierce, Untamed Niñas) through theater, dance and film; and when not performing, Salomé dedicates her extra time to developing her clothing brand, Bruja Feminism -a brand aimed at empowering and honoring the aesthetics of indigenous craftsmanship.
SHANTI ROSE (Ensemble) is an applied theatre practitioner specializing in ritual performance and devised theatre. She has worked with communities across the US, Europe, and North Africa devising theatre around social issues and radical change. Her work is rooted in re-membering and linking the past and present through ritual, oral storytelling, and movement. Previous community partners and co-creators include: The Lawrence Batley Theatre, The City College of New York, Harlem Grown, SAGE Midtown Center, The Womxn Tree Project, The TransGenerational Theatre Project, Park Avenue Youth Theatre, and Atlantic Pacific Theatre Company. She would like to express deep gratitude for the indigenous Lenape caretakers of this island of Manahatta, on which she is a settler. With you, she hopes to continue to use theatre as a tool for liberation and healing. Together we rise.
MOLLY SISKIN (Ensemble) is a NYC-based multi-hyphenate, with experience in acting, movement, circus arts, carpentry, music composition, film, and teaching. She has studied at UC Irvine, Academy for New Musical Theatre, and Dell'Arte International, and is eager to keep learning and exploring new stories, methods, characters, and places. Find out more at www.mollysiskin.com
ALI KENNEDY SCOTT (Ensemble) is an Australian actor, writer and theatre-maker based in NYC. She is the writer/performer of multi-award winning solo work, THE DAY THE SKY TURNED BLACK ("Enthralling" New York Times) and JUST NOT THAT WOMAN examining magic, manipulation & the 2016 US election. Other favorite credits include Prince of Darkness in CALDERON'S TWO DREAMS (La MaMa), Gertrude Stein in A SERIOUS BANQUET (NYTW), Blanche in THANK YOU FOR BEING A FRIEND (Darlinghurst Theatre), "DREAM PLAYS – IT ENDED", working alongside David Greig (Traverse Edinburgh), plus screen comedies AUSSIES FOR HILLARY and MEET THE ACTRESSES. Ali is also an economist, strategy consultant and a board member of Anne Bogart's SITI company. Training: Bristol Old Vic Theatre School & SITI Company Conservatory www.alikennedyscott.com
NICK SPINK (Ensemble) is a 19 year old currently living in the city working at the Macaron Café. His interest for performance started in high school where he did shows like Chicago and Little Women. Led by his passion, he spent the following summer at Emerson University studying ensemble work and learning of devised theater. After high school he went to Pace University for a year to continue studying devised theater in the IPE program.
MELINA FINCK (Ensemble) was born and raised in Brooklyn, NY and recently graduated from the Theatre Arts program at SUNY Purchase College. She has worked in many different realms of the theatre and is very excited to be working on TBD with this strong cast.
Related Articles
More Hot Stories For You