Signature Theatre Announces Free Special Events For PARADISE BLUE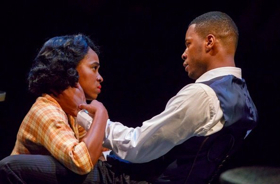 Signature Theatre (Paige Evans, Artistic Director; Harold Wolpert, Executive Director; James Houghton, Founder) will host several special events in connection with Dominique Morisseau's Paradise Blue this spring at The Pershing Square Signature Center (480 West 42nd Street between 9th and 10th Avenues), the company announced today. These events are part of the Signature Spotlight Series.
The series of free events begins with a Page to Stage discussion featuring Residency 5 playwright Dominique Morisseau and Paradise Blue director Ruben Santiago-Hudson on Wednesday, May 9 at 6:30PM at the Signature Café + Bar. The artists, who previously collaborated on the award-winning Skeleton Crew, will discuss their working relationship and how they've brought Paradise Blue to life in its New York debut.
The series continues with a World of the Play event titled Art vs. Artist: Consuming, Creating, and Supporting Media in the Modern Age on Saturday, May 19 at 4:30PM. In this discussion, moderated by curator, cultural producer and theater director Monica L. Williams, panelists Dominique Morisseau, Rachel Tuchman of Kaplan & Company, LLP, Diep Tran of American Theatre magazine will explore how we navigate the past, present, and future of art and media in our current cultural era. Can we consume and appreciate the art of offenders, while still denouncing their actions? How do we support the art and agency of women, while also working to dismantle the "cult of male genius" that has led to valuing the art of abusers over the lives and wellbeing of others? Moving forward, what does the ideal safe space look like and how do we create it?
In addition, Paradise Blue scenic designer Neil Patel, costume designer Clint Ramos and sound designer Darron L West will participate in a Backstage Pass discussion on Tuesday, May 22. This post-show discussion will give audience members an inside look at the mechanics behind the stage magic.
The Signature Spotlight Series will also feature a variety of post-show talkbacks with members of the cast and creative team after the following performance dates: May 3, May 8, May 24 and May 31. Additionally, a special talkback will be held on May 23 featuring Dominique Morisseau and a special guest.
All Signature Spotlight Series events are free and open to the public. Tickets to Signature Productions are not required to attend. To view a full calendar of events at The Pershing Square Signature Center, please visit signaturetheatre.org/calendar.
Photo Credit: Joan Marcus
Related Articles
More Hot Stories For You