Shefik Named Guest Speaker at the 7th Annual Broadway Sings for Pride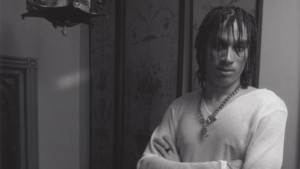 Media personality Shefik (Executive Producer and Host of the nationally-syndicated radio show, Shefik presents Invocation) has been named guest speaker at the 7th Annual Broadway Sing for Pride charity event, which takes place at The Goldman-Sonnenfeldt Family Auditorium, JCC Manhattan, 334 Amsterdam Avenue, New York, New York 10023, on Monday, June 26, 2017, starting at 8 p.m. ET. Tickets can be purchased online at unstoppablepride.brownpapertickets.com, with prices ranging from $35 to $100. This milestone event, hosted by writer and motivational speaker Tommy DiDario, will be filled with singing (from Pop to Broadway), stories, special guests, and of course fun! A portion of the proceeds from the event will benefit The Tyler Clementi Foundation and Orlando's Contigo Fund.
This year's Broadway Sings for Pride event, titled "Unstoppable", will feature the best in New York and beyond, from the world of theater, film, and television. The night will feature a very special performance from the original Broadway cast and creative team, as well as national tour members, of "The Wiz".
"I look forward to sharing the stage with my friends and colleagues from Broadway, television, and film," says Shefik. "Broadway Sings for Pride is an extraordinary event, of which I have participated in for the second consecutive year."
Scheduled to appear include:
Chely Wright (Award-winning singer-songwriter country music star. First major country music performer to publicly come out as gay, founder of the LIKEME organization.)
Brad Oscar (2-time Tony Award nominee for "The Producers" and "Something Rotten")
Sarah Stiles (Tony Award nominee for "Hand to God", television production "Superior Donuts")
Gideon Glick (Broadway's "Significant Other" and "Spring Awakening", film "Ocean's 8")
Will Roland (Broadway's "Dear Evan Hansen", Netflix's "Red Oaks")
Frenchie Davis (television production "The Voice", Broadway's "Rent", Off-Broadway's "The View UpStairs")
George Faison (Tony Award winner, "The Wiz" Original Broadway Creative Team)
Gayle Turner ("The Wiz", Original Broadway Cast)
Tad Schnugg (Theater Producer, Executive Director at American Performing Arts Collaborative)
Say Yes to the Dress LGBTQ Couples: Lisa Rizzo & Jaimee Fedele, Jaden Rogers & Gabrielle Gibson (first transgender bride to be on the show)
Anthony Bowens (Professional Wrestler, Model, Actor)
Dorothy Bishop (Off-Broadway's "Spamilton", "The Dozen Divas Show!")
Michael Pavano (Actor, Model)
Kevin Smith Kirkwood (Broadway's "Kinky Boots")
Russell Fischer (Broadway's "Jersey Boys")
Rebecca Larkin (Broadway's "South Pacific" and "Avenue Q")
Matt Leisy (Off-Broadway's "The Fantasticks", "A Gentleman's Guide to Love and Murder" National Tour)
Adam B. Shaprio (HBO Films' "The Normal Heart", Netflix's "Master of None")
Angelo Luis Rios ("Jesus Christ Superstar" National Tour)
Adrienne Fishe ("Rent" National Tour)
NaTasha Yvette Williams (television production "The Wiz Live!", "Chicago", "The Color Purple")
Shawna Hamic ("The Last Ship on Broadway", "Kinky Boots" National Tour, "Les Miserables" National Tour)
Tim Hunter (Disney's "The Lion King" on Broadway)
Phindile Mkhize (Disney's "The Lion King" National Tour and Brazil)
Amaker Smith (Broadway's "Priscilla, Queen of the Desert")
Lacy Darryl Phillip (Choreographer, "The Wiz" National Tour)
Deborah Malone ("The Wiz" National Tour)
Charles Valentino ("The Wiz" Broadway Cast)
Inaya Day ("The Wiz" on Broadway and National Tour)
Reji Woods ("The Wiz" 40th Anniversary Celebration Concert)
J. CameRon Barnett ("The Wiz" at Theatre Under the Stars)
Ada Dyer ("The Wiz" Broadway Revival)
Khadija Griffith (television production "The Wiz Live!")
Jason Veasey (Disney's "The Lion King" on Broadway and National Tour)
Kissy Simmons (Disney's "The Lion King" on Broadway and Las Vegas)
Eden Duncan-Smith (Disney's "The Lion King" on Broadway)
Jennifer Theriot (Disney's "The Lion King" National Tour)
Jacqueline Rene (Disney's "The Lion King" on Broadway)
Grace Stockdale ("Kinky Boots" National Tour)
Bridget Cady ("Rent" National Tour, Rod Stewart's "Soul Book Tour")
Anne Tolpegin ("Kinky Boots" National Tour, television production "Mr. Robot")
Eric Anthony Lopez ("Phantom of the Opera" United Kingdom, 25th Anniversary of "Crazy For You" at Lincoln Center)
Rachel Lorin (Oxygen's "The Next Big Thing", Recording Artist)
Lisa McCall ("The Wiz" National Tour)
Lindsay Cherin (New Jersey Idol, A Night of Future Broadway Stars)
B33 ANGEL (Recording Artist)
Tym Moss ("Girl, a Lopsided Tree Wont Ruin Christmas")
Charles Santoro will serve as the musical director, arranger and pianist. He will be joined by David Cinquegrana on guitar, Joe Mankin on bass guitar, and John Ferrari on percussion. Neal Bennington will produce the event and Robert Miele will serve as technical director. Video montages will be provided by Rebecca Shoptaw. Makeup will be provided by Amy Nahhas, Emma Berley, Rachel Loreen, Geneva Fong, Stephanie Brown, Tori Magat, Maria Di Marco, and Rayna Weil.
Sponsors include International Spirits & Wines, Deep Eddy Vodka, and Tagliatella Galleries.
About Shefik
Shefik is an accomplished industry insider, who has appeared on MTV, SiriusXM, PBS, network television, and in print media. He has held senior-level positions at many Fortune 500 companies and celebrated brands, including IBM, NBCUniversal, MTV World, Merriam-Webster, and Wolters Kluwer. A seasoned pro in social media with a career background as a Lead Architect and Senior Web Developer, Shefik is on the cutting edge of new media. As a videographer and producer, his work has been featured in television broadcasts and video productions for TIME Magazine, The Washington Center, Unsung (TV One), and Broadway World. Additionally, his photography has been featured in print and online publications, such as Harvard Kennedy School Magazine, Playbill, and China Press.
About 'Shefik presents Invocation'
Aptly titled Shefik presents Invocation, the nationally-syndicated, multiple award-winning radio show is a mesmerizing and thought-provoking journey through musical discovery and appreciation that spans the decades. The show is currently broadcast on 22 terrestrial radio stations and frequencies throughout the United States. Each one-hour episode, executive-produced and hosted by media personality Shefik, highlights one relatable focal point (chosen by Shefik), along with an accompanying playlist of songs (curated by Shefik), encompassing a unique thematic concept that invigorates the audience with creative impact. Top recording artists, actors, business executives, politicians, community leaders, and other special guests are invited to offer their own commentary on the weekly topic, as a supplement to Shefik's engaging mindset. The radio show's online hub at invocation.co serves as a conduit for discussion of the show, while featuring related videos and auxiliary content. The journey continues right here and everywhere.
About Broadway Sings for Pride
Launched in June 2011, Broadway Sings for Pride grew out of the tragic suicides within the gay community, and the organization has received support from Neil Patrick Harris, Channing Tatum, Carol Channing, Bryan Cranston, Kathy Griffin, LeAnn Rimes, Bernadette Peters, Nathan Lane, Joy Behar, Wendy Williams, and many others. They stage concerts and events that bring to light the challenges faced in the LGBTQ community, using the funds raised from these programs to aid LGBTQ youth and their families, either directly or through supporting like-minded service organizations. Broadway Sings for Pride has been honored by Wagner College (Citizen Alum Award 2015 Honoree), Long Island Gay, and Lesbian Film Festival's 2015 Non-Profit Organization All-Star Award, Tyler Clementi Foundation's The Upstander Legacy Honoree Host Committee Member, and a four-time nominee for "Most Valuable Campaign" and "Most Valuable Organizer" from the New Organizing Institute.
http://broadwaysingsforpride.com
Related Articles
More Hot Stories For You