Click Here for More Articles on She Believed She Could
She Believed She Could: Lindsay Roberts, Educator and 'Ingenue with a Twist'
Most performers have a youthful "origin story" - some memory of watching a musical or being in a community production that introduced them to the magic of the stage and inspired their future path. For Lindsay Roberts, currently winning hearts in Carmen Jones at Classic Stage Company, the motivation was a little less artsy and a little more social.
"I started off singing in church when I was growing up - I started singing because my friends were in the children's choir and I wanted to hang out with them!" she recalls with a laugh.
She came to love music, thanks to those days in the children's choir, but it was the cast recording of Ragtime (and one performer in particular) that led Roberts to fall in love with musical theatre.
"I remember getting the album and reading the libretto as I followed along, and just falling in love and really admiring Audra [McDonald] and her sound and her technique. And I started going to the video stores and getting all the movie musicals... and my dad introduced me to Audra's solo album."
Roberts followed in her heroine's footsteps, eventually choosing to study classical voice in college, seeking excellent technique and a "sustainable, versatile vocal career." To this day, she says, classical and opera still feel like "home" to her, vocally speaking, but she also recognized the need to train in more pop- and R&B-tinged styles as well to give herself the most skills and opportunities possible.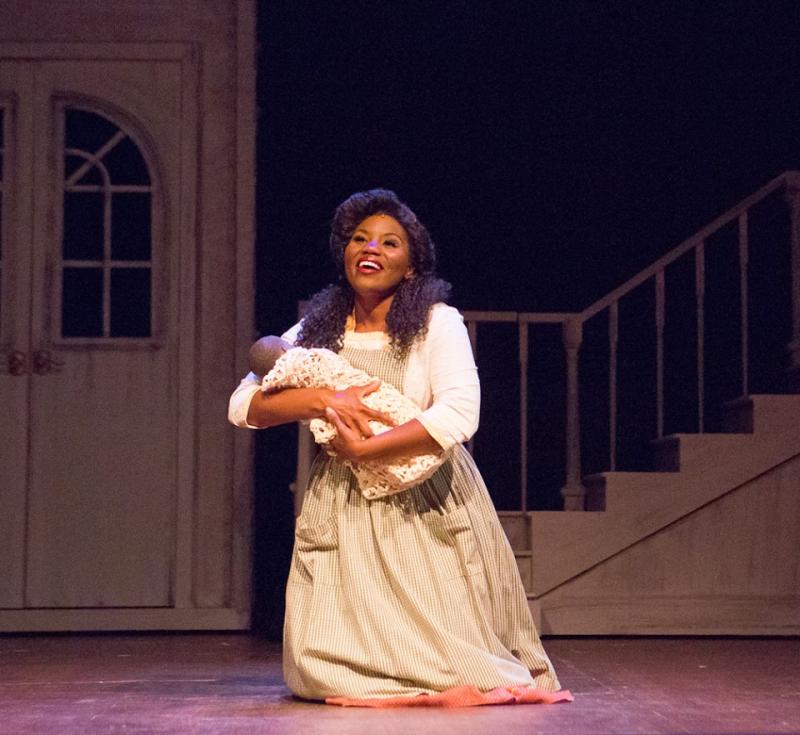 After college, however, Roberts describes a difficult - though very lucky - choice she had to make as to what track she was going to pursue long-term. Two offers were on the table: one from Chicago Lyric Opera to do Porgy and Bess, and the other to join the Kennedy Center's tour of The Phantom Tolbooth, a children's musical.
She chose the latter.
Since then, Roberts has had a career that pings back and forth between classically-influenced pieces (she did eventually join a production of Porgy and Bess, going on as Clara in the most recent national tour) and more contemporary musical theatre, such as Memphis, where she understudied the leading role of Felicia. In many of these shows, she wound up in roles best described as an ingénue with a twist: young, sweet, romantic leads, but not bland damsels. Because of the lack of deep stage time these characters tend to get, she explains, she has a different kind of work to do to make sure audiences still connect with them.
"[A character like] Felicia is onstage the whole show, so the audience really gets a chance to delve into her storyline, and musically she has so many different colors you get to see... whereas with [an ingénue track], I pop in and pop out, so I think more of the work is me filling in gaps of 'what's my journey offstage?' that the audience doesn't get to see."
This is the kind of role she currently plays in Carmen Jones, Oscar Hammerstein II's update of the Georges Bizet opera Carmen. As sweet, spurned Cindy Lou, Roberts naturally earns audiences' sympathy, but she also emphasizes "a little bit of spunk, [she's] a little goofy, not some helpless little thing."
Carmen Jones is one of those shows that's been on Roberts's "wish list" for years. When asked about what kinds of shows and roles are still on that list, she says that her answer now is different than it might have been before being in this show.
"It's not a matter of what repertoire is being done, but the ways in which we look at the repertoire. I can look at shows that have been around forever... even when I first came to the city, I couldn't get appointments, people weren't ready to see nontraditional casting. I just like seeing everyone infused in these different roles, even when they're not the way they were first done." She focuses less on the repertoire and more on "the different ways in which we can tell stories" to be more inclusive and just plain creative.
Beyond performing, Roberts's other passion is the business side of the theatre industry: she has a master's degree in arts management and loves working in arts education. She emphasizes that this work is not some kind of back-up plan or side hustle, but is a legitimately equal part of her work as a creative professional.
"I weigh this other piece of my artistry equally with my performing... My focus is primarily with arts education, with teaching, with non-profit organizations. I value that so much, anything I talk about, if I'm only talking about performance, feels kind of hollow!"
As a mentor to young performers, she talks about a few different things. Defining personal success is one of those: she describes "walking in that truth" as opposed to negatively comparing to others - though she doesn't discard the value of analyzing the industry. From a craft perspective, she has a particular approach that also focuses on knowing one's self best.
"In those [challenging] moments, I always went back to, 'what classes can I be taking? What training can I be doing?' I have no shame about the fact that there are holes in my training - my musicality is very solid, but I know my dance is not as strong, and that's okay, but that doesn't mean I can't keep working in that area. When I got into ruts, I'd always go back to training."
She continues with some advice that guides her own choices as well: "I think it's about staying in your lane: I won't go to dancer-dance calls, because I don't have the technique! I stay in my lane, but it's about how wide I can make that lane. It doesn't have to be a narrow thing! Think of yourself as a [painter] and the colors on your palette... these different skills and experiences are all more colors you can add. And I continue to try to add colors!"
Roberts's own palette is a beautiful one indeed, and one that continues to paint beautiful pictures for audiences to enjoy.
Related Articles