Click Here for More Articles on STUDENT CENTER - COLLEGE EDITION

Schimmel Center At Pace University Presents The First Annual CROSSING BRIDGES MUSIC FEST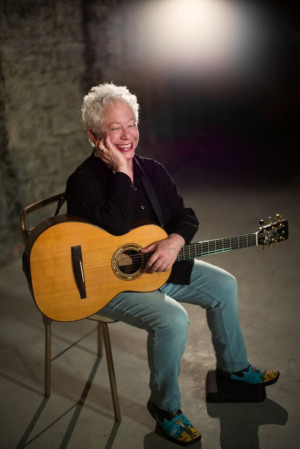 Schimmel Center at Pace University presents the first annual Crossing Bridges Music Fest, with performances on Friday, May 10 at 7:30pm and Saturday, May 11 7:30pm. In its inaugural year, this weekend-long festival celebrates the best of traditional and modern Americana with a lineup of performers ranging from contemporary singer-songwriters to legacy artists and those who defy categorization. The festival seeks to bridge generations and music, to bring together an eclectic group of performers for an amazing weekend of music.
Tickets start at $39 and can be purchased at SchimmelCenter.org, by phone at 212-346-1715, or by visiting the Schimmel Center Box Office at 3 Spruce Street, Manhattan. Tickets for the Singer-Songwriter Circle on Saturday, May 11 at 3pm are $15 and must be purchased in conjunction with either a Friday evening or Saturday evening concert ticket. Box office hours are Tuesday-Saturday, Noon-5pm, and three hours prior to each performance, through intermission.
Curated by Paul Guzzone, the festival opens on Friday evening, May 10, with a concert including Jonathan Coulton, The Kennedys, Vance Gilbert, and Janie Barnett. On Saturday afternoon, May 11, there will be a special singer-songwriter circle moderated by John Platt, host of WFUV Radio's "Sunday Supper," where festival artists Janie Barnett, Dom Flemons, Abbie Gardner, and The Kennedys will trade stories and songs, add harmonies and licks to each other's tunes. Platt will also introduce the closing concert on Saturday evening, which will feature Paula Cole, Dom Flemons, Abbie Gardner, and the Adam Ezra Group.
About the Artists
Adam Ezra Group (AEG) (Performer, Saturday evening). To the musicians of AEG, community is epitomized by a belief they all share, one that has long doubled as a mission statement for the group: that making music together is itself a form of grassroots organizing, capable of nothing less than changing the world. For their most recent studio release, Hurricane Wind, AEG galvanized their community partnership by releasing 23 studio demos to fans, including multiple collaborations with John Oates. www.adamezra.com
Janie Barnett (Performer, Friday evening) points to her years at the American Folk life Festival for informing her Brooklyn-branded Urban Americana sound. Her 2017 release You See This River landed on several top ten lists in the Americana Folk world, and a top 20 on Roots Radio. Janie has performed at Natick Center for the Arts, Club Passim, the Birchmere, and City Winery. Her songs and performances have been called "luscious landscapes of Americana music." Janie has enjoyed a successful freelance career that has allowed her to sing with the likes of Linda Ronstadt, Bonnie Raitt, and Rickie Lee Jones. Janie is also on the faculty at Berklee College of Music. https://janiebarnett.com
Paula Cole (Performer, Saturday evening) is a Grammy Award-winning singer-songwriter whose songs have reached top ten in the Billboard Hot 100. She is the voice behind Peter Gabriel's Secret World Live, hits "Where Have All The Cowboys Gone?", "I Don't Want To Wait", and the brave, brazen double platinum album, This Fire. Cole has infused wit and poetry in seven albums of original work over a twenty-plus-year-career. https://paulacole.com
Jonathan Coulton (Performer, Friday evening) is from the Internet. While a struggling music industry fell to pieces over file sharing and shifting business models, he independently amassed a small army of techies, nerds, and dedicated superfans. He's known for his songs in the Portal games, plus an eclectic catalog of masterful songwriting. He is the house musician for the NPR quiz show Ask Me Another, and a composer for Spongebob Squarepants: The Broadway Musical. www.jonathancoulton.com
Dom Flemons (Performer, Saturday evening) is known as "The American Songster" since his repertoire of music covers nearly 100 years of American folklore, ballads, and tunes. He has performed at prestigious venues including Carnegie Hall, Cecil Sharp House, the Grand Ole Opry, the Opening Ceremony for the National Museum of African American History and Culture, and the 2017 Rainforest World Music Festival. In 2005, he cofounded the Grammy Award-winning folk group Carolina Chocolate Drops. His new album, Black Cowboys, was nominated for a Grammy for Best Folk Album. https://theamericansongster.com
Abbie Gardner (Performer, Saturday evening) is a fiery dobro player. Her latest album, Wishes on a Neon Sign, features songwriting collaborations with Chris Stapleton, David Olney, and bandmate Molly Venter. She has opened for Lori McKenna, Hot Rize, and Martina McBride. https://abbiegardner.com
Vance Gilbert (Performer, Friday evening) exploded onto the scene in the early 90s, with buzz spreading quickly. He opened for Shawn Colvin's 1992 "Fat City Tour" and has released many critically acclaimed albums including Edgewise, Fugitives, Shaking Off Gravity, Thru Fourteen, Up on Rockfield, and BaD Dog Buffet. www.vancegilbert.com
Paul Guzzone is a performing songwriter and producer who's work ranges across pop, folk, rock and theater; commercial advertising and corporate branding and events. He is best known as the long-time bass player and vocalist in The Bacon Brother's Band Paul's 2013 CD Chasing the Moon was received to great critical acclaim and established him as a solo artist. In 2016 he completed his 3-in 1 Collection. All of his music and videos are streaming on-line. In addition to being a Senior Adjunct Professor in The Pace School of Performing Arts, Paul has curated music programming at Schimmel Center including the much talked about If These Walls Could Talk: Remembering the Life and Times of The Bottom Line, "The vision burned bright once more onstage at the Schimmel Center..."- Billboard.
The Kennedys (Performer, Friday evening) For over two decades, husband and wife Pete and Maura Kennedy have traversed the highways as a folk and pop duo and as members of Nanci Griffith's Blue Moon Orchestra. As The Kennedys, they have released over a dozen CDs, are regulars on the festival circuit, and were named artists-in-residence at The John F. Kennedy Center for the Performing Arts. www.kennedysmusic.com
John Platt (Host) Celebrating his 50th anniversary as a professional broadcaster, John Platt is devoting his time to his nonprofit New Folk Initiative (www.newfolk.org) and his weekly program, "Sunday Supper," on WFUV, New York. His career encompasses stints at WMMR, Philadelphia, WXRT in Chicago and WRVR, WNEW-FM, WNYC, and 22 years at WFUV in New York. He has interviewed everyone from Pete Seeger, Joan Baez, Tom Waits. and Graham Nash to hundreds of emerging artists, whom he continues to champion in his monthly "On Your Radar" series at Rockwood Music Hall in New York.
About the House Left Bar at Schimmel Center
The House Left Bar offers beer, soda and wine. Beverages purchased from the House Left Bar will be served in a Schimmel Center Souvenir Cup, allowing guests to enjoy beverages throughout the entire performance. Credit card transactions will now be accepted, making purchases from the House Left Bar more convenient and accessible. The House Left Bar serves wine, beer, soda, and snacks and is open one hour prior to curtain and during intermission.
Related Articles
More Hot Stories For You
Everything We Know So Far About the 2020 Tony Awards
The lights of Broadway will remain dark for the rest of 2020, but the year will not pass without a celebration of all that happened before the shutdow...

Set Designer Ming Cho Lee Dies at Age 90
BroadwayWorld is saddened to report that set designer Ming Cho Lee has died at age 90....

DEAR EVAN HANSEN, & JULIET, FIDDLER ON THE ROOF, and More Take Home 2020 Olivier Awards - Full List!
Tonight, the Olivier Awards will be announced in a special online broadcast. We'll be updating the list of nominees LIVE throughout the evening....

WATCH: BROADWAY SINGS FOR BIDEN Livestream Concert with Tamika Lawrence, Jessica Vosk, Kate Rockwell, and More - Live Now!
As BroadwayWorld previously announced, Broadway Sings for Biden, the concert-documentary center around voting activism, premieres tonight on our site ...

Meet Our NEXT ON STAGE: SEASON 2 College Top 10!
You voted, here they are! In no particular order, meet our top 10 in the college category....

VIDEO: Get a Sneak Peek of the BROADWAY SINGS FOR BIDEN Livestream Concert - Premiering Tomorrow!
As BroadwayWorld previously announced, Broadway Sings for Biden, the concert-documentary centered around voting activism, premieres tomorrow, October ...