STAGE TUBE: Broadway Records Stands Up to Bullies with 'I Have A Voice' Benefit Recording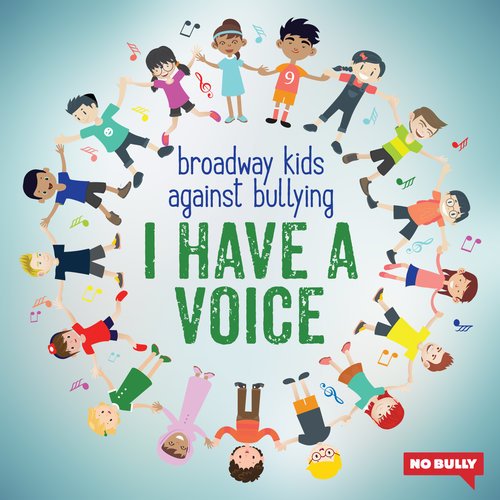 Broadway Records President Van Dean, Executive Producer Gina Holland and No Bully Executive Producer Michelle Shapiro today launched the charitable recording, I HAVE A VOICE (music by Frank Wildhorn, lyrics by Robin Lerner) with 100 percent of the profits to benefit No Bully.
The song and videos feature over 75 Broadway kids from shows such as Matilda the Musical, School of Rock, Kinky Boots, Fiddler on the Roof, The Lion King, On Your Feet! and more. Scroll down to watch one of the videos!
"In the recording industry, I often work with children and have seen how saddened they are by the increased bullying and intolerance in schools across the country over the past year," said Van Dean. "The 'I Have a Voice' initiative is an opportunity for 75+ child performers from Broadway and beyond to express their own voice and let other children know they too, have a voice. I truly hope this song will inspire others to be more inclusive, tolerant and unite kids to celebrate our differences."
"I am so honored and grateful for my music to be used for this cause, which as a father, is so very important to me," said award-winning composer Frank Wildhorn. "I believe music can heal and believe so strongly in its power to communicate. Being in the studio, watching and hearing these beautiful children sing Robin's beautiful words was a truly inspiring moment, and one I'll never forget."
The digital download of I HAVE A VOICE is priced at $1.99 ($1.29 on iTunes) and is now available for purchase at BroadwayRecords.com.
Participating Broadway kids included: Fabi Aguirre, Spencer Arjang, Gabby Beredo, Paul Luke Bonenfant, Ava Briglia, Beada Briglia, Isabella Burke, Allie Jordan Butcher, Courtney Chu, Olivia Chun, Hana Colley, Ava Della Pietra, Gregory Diaz IV, Andrew DiTusa, Evie Dolan, Cole Alex Edelstein, Tori Feinstein, Hayley Feinstein, Josh Feldman, Carly Gendell, Sophia Gennusa, Zoe Glick, Gabby Gutierrez, Gianna Harris, Nina Howland, James Ignacio, Nicholas AaRon Jenkins, Mia Sinclair Jenness, Luka Kain, Jim Kaplan, Eleanor Koski, Haley Lanzoni, Ashley Lanzoni, Kasey YouMe Lee, Diego Lucano, Eliza Holland Madore, Zoe Manarel, Mehret Marsh, Cayen Martin, Aliyah Mastin, Grace Matwijec, Rileigh McDonald, Dante Melucci, Madilyn Jaz Morrow, Zell Steele Morrow, Callia Muhammad, Angeli M. Negron, Alexa Shae Niziak, Lily Brooks O'Briant, Luca Padovan, Gabriella Pizzolo, Julian Rivera-Summerville, Mimi Ryder, Talia Ryder, Milly Shapiro, Abigail Shapiro, Mavis Simpson-Ernst, Magnolia Strouse, Walden Sullivan, Nicky Torchia, Ava Ulloa, Jonah Verdon, Jeremy T. Villas, Alexandra Vlachos, Aviva Winick, Rocco Wu, Timothy Yang, Graydon Peter Yosowitz, Phoebe Young, Kathryn Zimmer.
The creative team for the 2016 benefit recording of I HAVE A VOICE was led by Michael J. Moritz Jr and Jason Howland (music production; vocal, rhythmic and string arrangements; orchestra) and Jason Milstein (film production) and recorded at the DiMenna Center in New York City. Co-Executive Producers are Mia Moravis and Chris McCartie.