Reynaldo Piniella's Black Doves Wins The 12th Anniversary Barbour Playwrights Award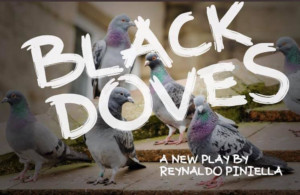 After three staged readings of three new plays by innovative emerging playwrights of color were presented to enthusiastic audiences at Guild Hall, the votes for the Episcopal Actors' Guild's 12th Annual Barbour Playwrights Award are in. The judges have selected Reynaldo Piniella's Black Doves as this year's winner.
The Barbour Playwrights Award was created in 2007 to celebrate new work for the theatre. Every March, EAG partners with a local theatre company or playwriting program to present staged readings of new work, with one playwright being awarded a prize of $500. This year's partner was Quick Silver Theater Company (QSTC).
Loosely inspired by Chekhov's The Seagull, Piniella's Black Doves follows a middle-class African-American family in present-day Brooklyn, New York. When a loved one commits an unforgivable crime, will the family deal with the generational trauma that has shaped their lives, or will they choose to ignore it, which only continues the cycle?
When asked about his experience with the Barbour Award, Piniella said, "Black Doves was a play that I've wanted to write for a long time. The Thomas Barbour awards gave me support and encouragement as I brought my dream to the stage. With support from EAG and QSTC, my play reading was a resounding success that encouraged me to continue bettering myself as a playwright."
The 2019 Barbour Award finalists were Piniella's Black Doves, A Bow & His Bow by Kareem M. Lucas, and BURNBABYBURN: AN AMERICAN DREAM by a. k. payne. Past winners have included Alexis Roblan, Lynn Rosen, Laura Eason, Aaron Jafferis, and Bill Cosgriff.
The Episcopal Actors' Guild (EAG) was established in 1923 and is a charitable organization offering emergency assistance and career support to professional performers "of all faiths, and none." EAG hosts a full calendar of events and fundraisers including concerts, variety shows, play readings, and professional workshops. Learn more at www.actorsguild.org.
Quick Silver Theater Company (QSTC) Founded in 2013, QSTC is a collective of thirteen artists dedicated to amplifying the collective voice, individual potential, and overall presence of people of color, women, and other marginalized groups within the American theatrical landscape. They execute their mission through a three-fold initiative; 1. Develop and commission new work by emerging writers of color, 2. Create space for actors of color and other marginalized communities to explore and reimagine classical and contemporary texts in mounted productions, and 3. Facilitate the hands-on, professional training and mentorship of designers, stage-managers, and backstage crews of color. www.QuickSilverTheater.com
Reynaldo Piniella is an actor, writer, and director from East New York, Brooklyn. He is a former The Onion/Clickhole writing fellow, a graduate of UCB's Sketch Writing program and a contributing writer to Backstage Magazine. His play Black Doves will be further developed later this year though the HB Rehearsal Space Residency. As an actor, he has developed new work at The Public Theater, NYTW, Ars Nova, Sundance Theater Lab, MCC, Playwrights Realm, Long Wharf Theater, Primary Stages, National Black Theatre and many others. www.reynaldopiniella.com
Director and graphic designer: Emily Lyon