Review Roundup: THE INHERITANCE Opens on Broadway - What Did the Critics Think?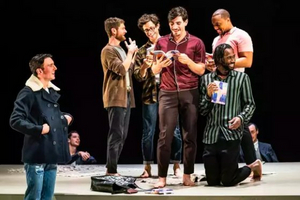 The Inheritance officially opened tonight on Broadway!
The Inheritance is directed by multi Olivier and Tony Award-winner Stephen Daldry (Billy Elliot, Netflix's "The Crown") and designed by Olivier and Tony Award winner Bob Crowley.
Profoundly touching and wickedly hilarious, Matthew Lopez's highly-anticipated two-part play, The Inheritance, asks how much we owe to those who lived and loved before us, and questions the role we must play for future generations. Brilliantly re-envisioning E. M. Forster's masterpiece Howards End to 21st-century New York, it follows the interlinking lives of three generations of gay men searching for a community of their own - and a place to call home.
The Broadway cast of Matthew Lopez' epic two-part play features Jordan Barbour, Ryan M. Buggle, Jonathan Burke, Andrew Burnap, Darryl Gene Daughtry Jr., Dylan Frederick, Kyle Harris, John Benjamin Hickey, Paul Hilton, Samuel H. Levine, Carson McCalley, Tre Ryder, Lois Smith, Kyle Soller, and Arturo Luís Soria. The company also includes understudies Mark H. Dold, Kate Goehring, Sam Lilja, Jake Odmark, Matthew Russell, Bradley James Tejeda and Reggie D. White.
Let's see what the critics are saying...
---
Ben Brantley, The New York Times: Ambition and achievement are not entirely commensurate in "The Inheritance." Its breadth doesn't always translate into depth. As fine as the acting is throughout - and quietly brilliant when the extraordinary veteran Lois Smith takes the stage, toward the very end, as the show's sole female character - none of the characters here have the textured completeness of those created by Forster and Kushner. Ultimately, the play twists itself into ungainly pretzels as it tries to join all the thematic dots on its immense canvas. Yet even by the end of the overwrought second half of "The Inheritance," you're likely to feel the abiding, welcome buzz of energy that comes from an unflagging will to question, to create, to contextualize, to - oh, why not? - only connect.
Michael Dale, BroadwayWorld: This reviewer will not pretend to have the literary knowledge, nor the first-hand experience, to fully grasp and explain the various nuances that will be recognized by others who witness The Inheritance, but will vouch for the exhilarating emotional clout that's in store for empathetic outliers.
Chris Jones, New York Daily News: "The Inheritance" invites comparison to Tony Kushner's "Angels in America," although it does not similarly concern itself with intersectional political ideologies and crises of religious faith. "The Inheritance" remains a fundamentally intermural look at the gay community - the only female character in the show, played by Lois Smith, is a semi-mystical figure defined entirely in terms of her surrogate sons - and its existential ambitions are less expansive. Still, it reveals a deep advocacy for community responsibility and shares a world view with one of Kushner's most central notions, that the smallest indivisible human unit is two.
Adam Feldman, TimeOut: A certain amount of imperfection is built into ambition on this scale. The Inheritance is longer than it needs to be, yet the discussion of modern issues sometimes feels thin; the second part, which departs more freely from the Howard's End template, is less assured than the first (despite a welcome late cameo by the formidable Lois Smith), and its framing devices are overfamiliar, especially toward the finale. But at its best, as in the unforgettable sequence that concludes the first half, it taps into a profound sense of loss and a yearning for connection. If progress has come at a cost, The Inheritance is a play about remembering and honoring one's debts. As such, it feels-to quote one of its characters-like a necessary haunting.
Jeremy Gerard, Theater News Online: With its unself-conscious blend of narration and performance, of tell and show, as well as most of the brilliant company playing multiple roles, The Inheritance put me in mind of another legendary two-parter. Not, as some have suggested, Tony Kushner's Angels in America, but the Royal Shakespeare Company's adaptation of Charles Dickens's Nicholas Nickelby. For it is not so much a "gay fantasia," as Kushner called his epic work, as it is a tale told, planted in reality yet suffused with sorrow that, almost undetected, transmutes into hope.
Joe Dziemianowicz, Theater News Online: Over six-plus hours there are lapses. Political debates can turn soapbox-y and windy, and character sum-ups at the end is a creaky device. Still, a play that asks "Who are we?" and makes one consider and care about the answer is doing something right. Actually, a lot right.
Johnny Oleksinski, NY Post: The first part takes a while to click in. The use of author E.M. Forster as a narrator, the ensemble chirpily finishing each others' sentences and the abundance of graphic sex-talk can grow cloying. The play finds its soul near the end of the first portion, which is a well-earned tearjerker. To reveal much of Part 2 would rob the drama of its suspense. As the story moves forward, the 15 actors embody a clown car of different characters. The most heart-wrenching are Adam, an actor Toby falls in love with, and Leo, a male escort who's a dead ringer for Adam. Both men are played by Samuel Levine, who, as Leo, gives a moving and truthful performance of someone in immense pain.
David Rooney, The Hollywood Reporter: The lively ensemble of seven actors playing Eric and Toby's inner circle and various other roles all register distinctively drawn characters, with Arturo Luis Soria scoring the best lines as a swishy schoolteacher and Harris firing up in some impassioned exchanges as Jasper. Daldry choreographs them like a ballet master, notably in an ecstatic sex scene between Eric and Toby that achieves maximum sensuality through stylized movement. When not directly involved in the main action, the cast is positioned around the elevated platform - which drops into a sunken floor at certain points - interjecting commentary, providing amusing facial or gestural reactions, passing props or jumping up to participate as required. The physicality of the production is exhilarating; it stands easily among Daldry's best work for the stage.
Robert Hofler, The Wrap: "The Inheritance" isn't a great play or even a very good play, but Lopez's opus is compellingly watchable in the way that old so-bad-they're-good movies are: Finger-snapping one-liners and dramatic fireworks explode throughout as logic and character development are abandoned. At the helm is the perfect director, Stephen Daldry, the theater's version of Douglas Sirk. If anyone knows how to make pulpy dialogue an even deeper shade of purple, it's Daldry. Despite the play's lengthy running time, you will be riveted watching this lurid, weepy, pandering, derivative, and very grand soap opera.
Matt Windman, amNY: It is tempting to compare "The Inheritance" with Tony Kushner's masterwork "Angels in America," which is also a two-part, six-act, roughly seven-hour drama centered on AIDS, historical connections, and politics. However, "The Inheritance" very much stands on its own as a separate work with a very different sensibility, and I strongly suspect that it will soon join "Angels in America" in the pantheon of great gay dramas.
Roma Torre, NY1: "The Inheritance" speaks to us on so many levels - politically, intellectually, and emotionally. If it rambles, it is an echo of our messy lives but it so clearly addresses the rootlessness that plagued the gay community for years. In the end, the lesson of this monumental production is that we all stand to inherit the profound consequences of our nation's communal neglect for many years to come.
Steven Suskin, New York Stage Review: Theatergoers fortunate enough to have seen the original cast in the original productions of such two-part dramas as Nicholas Nickleby and Angels in America will likely tell you that those experiences remain unforgettable. The Inheritance hereby joins that list. Pure theatrical magnificence.
Michael Sommers, New York Stage Review: If some of The Inheritance is surprisingly glib, it nevertheless remains a mostly well-written and observant work that successfully studies contrasts in generational attitudes-and socio-political awareness-even as it features several deeply poignant sequences. The concluding scene of the first play, which cannot be described here but is the finest episode in the entire production, is genuinely moving through the breathtaking simplicity of its evocation of a lost generation.
Max McGuinness, Financial Times: And yet The Inheritance, which runs to six-and-a-half hours (with intervals) in Stephen Daldry's stripped-down staging, fully justifies its awesome length. Inspired by E.M. Forster's Howards End, Lopez's portrait of existential anomie, tormented sexuality and political crisis has the grand sweep of classic realist fiction and the explosive energy of romantic poetry. It is a riveting, gut-wrenching panorama of the way we live now.
Tim Teeman, The Daily Beast: The Inheritance is big, it aims to be everything and say everything. For all its faults it gives its all to tell its stories, both big and small. It is about history and also love, but not of the romantic kind. In keeping with an earlier reference to the work and beliefs of the poet and activist Edward Carpenter, the love at the end of the play-the love The Inheritance wants its characters and us to aspire to-is fraternal and honoring.
Greg Evans, Deadline: Before the end of this two-part, six-and-a-half-hour play - opening tonight at Broadway's Barrymore Theatre - Lopez and his phenomenally good dozen-plus-member cast will demand a reckoning of the ages, of Forster's restrictive closet, of Manhattan's Plague Years and of today's, well, whatever today is, mean and brutal and not entirely free of hope.
Leah Greenblatt, EW: There's a sense that a story of this scope could easily have been made into some kind of limited-series television event, with its long-thread plot lines and dialogue that often swerves between wry Bravo bitchery (tossed-off references to Broad City and Truvada) and HBO issue-drama prestige (all those heavy shades of the original Gay Fantasia). In the end, The Inheritance is a play whose cup runneth over in so many often glorious ways that almost every sip yields something - even if it might have been served just as well (or that much better) in a shorter, stronger pour.
Naveen Kumar, Towleroad: The play proves most affecting in weaving intergenerational connections, and Lopez is adept at playing readily on heartstrings. Loss, regret, and the painful legacy of the AIDS crisis color the play's more moving moments. Quieter and more mournful than its raw and harrowing predecessors, The Inheritance lovingly turns to survivors for stories they have to bestow with the wisdom of hindsight.
Helen Shaw, Vulture: In The Inheritance, the first three and a half hours are so full that even the most chattering mind is overwhelmed. There's the speed and effervescence of the group scenes, then there's Toby-glittering and amazing in Burnap's hands, absent too much in the second half. It also contains an image so strong that it wrenches the door closed behind it. Part Two turns on individual concerns-it's preoccupied by love, addiction, and the playwright's meta-musings on creativity-which are important, but seem like small potatoes after that ascension into prophethood and group-consciousness. Our souls had been wracked; why were we now watching a soap opera? All through Part Two, I tried to be a Margaret, but I just couldn't do it. Lopez had gone too slack, and my memories of the first half began to populate the stage again. I started to picture lost men, walking across a lightning-lit landscape. I could almost see them, even though they haven't been with us for 30 years and more.
Peter Travers, Rolling Stone: The best advice about seeing The Inheritance on Broadway - which you definitely should if you're looking for a head-spinning, heart-rending theatrical experience - is to forget the hype surrounding it. And that won't be easy. Playwright Matthew Lopez, a Puerto Rican transplanted to New York City from the Florida panhandle, is fresh from London where his ardently ambitious play about different generations of gay men living in post-AIDs Manhattan won an armful of Oliviers (the Brit Tonys named after the late, great Lord Larry) and gushy reviews that called it "the most important American play of the century." Try living up to that. You can't, but it's impossible not to marvel at the incisively hilarious and deeply humane effort put forth by Lopez, director Stephen Daldry (The Crown, Billy Elliot), and a cast that could not be better. The Inheritance is an emotional powerhouse. It's also approximately seven hours long. That means you have to see it in two parts (the . Another gay fantasia, Tony Kushner's Angels in America, pulled it off, but unless you're J.K. Rowling's pre-sold Harry Potter and the Cursed Child, you're fighting an uphill battle.
Kyle Turner, Medium: The Inheritance, clocking in at around 7 hours, is filled with these big little manipulations, in character, plot, emotion, and politics. Its turns and emotional twists bend backwards to find less an emotional core and more an emotional affect; its characters feel, and the play feels, and the politics its characters spiel also feel (or give the impression of feeling), but in service of what? Affectation as bizarre maneuvering. All art is manipulative, but The Inheritance, in its showy emotions, makes it clear that the play appears to have been designed for two kinds of audience members in mind: the older gay man who lived through or has clear enough memories of the AIDS epidemic and a nostalgia for an illusion of what the community looked like and how it operated at the time, and the young gay or queer person, or ally, who is aware enough to know nominally of the consequences, personal and political, of the AIDS epidemic and are then guilted into not necessarily being as involved or as active as a "community" member compared to their elders. But that the play seems hypermechanized in this way reveals much of its posturing about community and politics as, again, somewhat an affectation. What does community mean to this play and to the audience watching it anyway?

David Cote, 4Columns: The Inheritance is three stacked genres-literary homage, AIDS melodrama, and relationship play-but its metafictional layer-cake gambit is not matched by the moral intelligence or prose pyrotechnics required to pull it off.
Related Articles