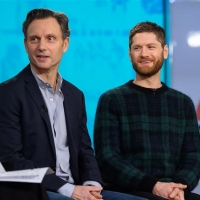 by Stage Tube - Jan 17, 2020
On Friday morning, actors Tony Goldwyn, Kyle Soller and Andrew Burnap joined the 3rd hour of TODAY to discuss their critically acclaimed Broadway show, a?oeThe Inheritance,a?? which follows the lives of gay men in Manhattan a generation after the AIDS epidemic.
by TV - Opening Night Special - Nov 18, 2019
The Barrymore Theatre was the place to be yesterday as the best of Broadway came out to celebrate an epic opening day of The Inheritance- directed by multi Olivier and Tony Award-winner Stephen Daldry (Billy Elliot, Netflix's 'The Crown') and designed by Olivier and Tony Award winner Bob Crowley.
by TV - Press Previews - Oct 31, 2019
The acclaimed play, The Inheritance, is currently in previews at Broadway's Ethel Barrymore Theater, where it will officially open on Sunday, November 17, 2019.