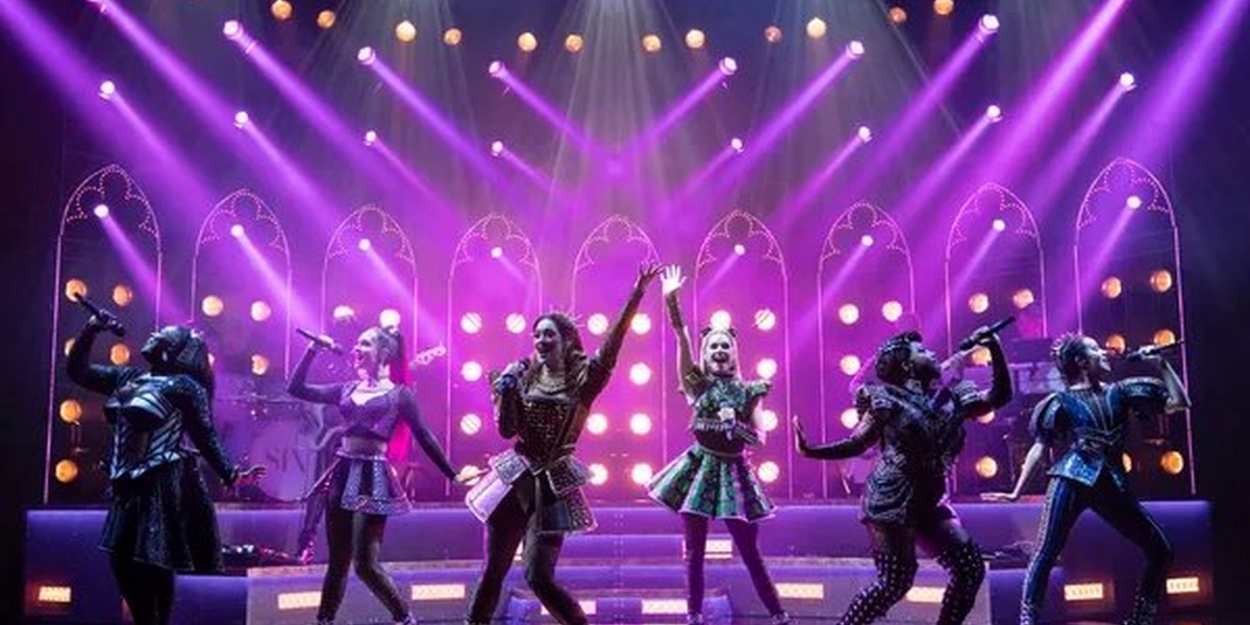 Review Roundup: SIX's Boleyn Tour Launches; What Did the Critics Think?
Read all of the reviews for the Boleyn Tour of Six the Musical!
Six more queens are hitting the road! The "Boleyn Tour" of SIX launched at The Smith Center in Las Vegas on September 20. The cast features Gerianne Pérez as Catherine of Aragon, Zan Berube as Anne Boleyn, Amina Faye as Jane Seymour, Terica Marie as Anna of Cleves, Aline Mayagoitia as Katherine Howard, and Sydney Parra as Catherine Parr. The cast also includes Aryn Bohannon, Jana Larell Glover, Taylor Pearlstein and Cecilia Snow.
From Tudor Queens to Pop Icons, the SIX wives of Henry VIII take the microphone to remix five hundred years of historical heartbreak into a Euphoric Celebration of 21st century girl power!
This new original musical is the global sensation that everyone is losing their head over!  Featuring an all-woman cast and all-woman band, SIX has won 23 awards in the 2021/2022 Broadway season, including the Tony Award for Best Original Score (Music and Lyrics) and the Outer Critics Circle Award for Best Musical.  
Let's see what the critics are saying...
---
ASU Gammage - Tempe, AZ
Nathaniel Jones, BroadwayWorld: From beautiful to heart-wrenching, heavy to hilarious, this magnificent musical sends audiences on a whirlwind of emotions through discovery and self-worth topped with beautiful vocals, dance, and overall amazingness.
Chris Curcio, Curtain Up Phoenix: The musical's approach to the historic tale is delivered in very contemporary ways avoiding conventional musical theater storytelling techniques. The score, which explains much of the story, is steeped in the pulsating beat of modern dance hall style tunes associated with that musical genre. The song lyrics often have a clever wit. So, the familiar plot is exuberantly presented with splashy choreography and dizzyingly upbeat, if undistinguished, tunes.
Centennial Hall at the University of Arizona - Tucson, AZ
Kathleen Allen, Tucson.com: The cast was cohesive and powerful. Gerianne Pérez, Zan Berube, Amina Faye, Terica Marie, Aline Mayagoitia and Sydney Parra portrayed the queens and it was such a strong ensemble it would be unfair to single anyone out.
Ordway Center for the Performing Arts - St. Paul, MN
Jared Fessler, BroadwayWorld: The costumes, lighting, and staging were of course bright, colorful, and exciting. It's like you're attending a concert but there is a storyline and dialogue. The talent for all of these individuals was immaculuate. I was so impresed with the vocals for each of them during their songs. The choreography was great, they could really be a vocal pop group. They all committed to their characters and the audience was laughing, singing, and dancing a long while giving large rounds of applause. It was a great energy within the space.
Hobby Center for the Performing Arts - Houston, TX
Doni Wilson, Preview: Written by Toby Marlow and Lucy Moss, history snakes its way through this 2022 Tony Award winner for best score. But the songs are the thing that fuels this original send-up of the series of unfortunate events that mar the lives of these wives. In fact, that is the premise of the show: which one, from Catherine of Aragon (Gérianne Perez) to Catherine Parr (Sydney Parra) had it the worst? It's a tough call.
Olivia Flores Alvarez, Out Smart: The dialogue and lyrics are cleverly littered with references to contemporary culture and social media. Jane Seymour talks about her "profile picture" (her official portrait), while Anne Bolyne sings "Sorry, not sorry" and "LOL ... Go to hell," for example. On opening night of the Houston run, one actor even gave a shout-out to the world champion Astros!
Tulsa Performing Arts Center - Tulsa, OK
James D. Watts, Jr., Tulsa World: But ultimately, "Six" exists to entertain, and the cast - Mayagoitia, Gerianne Perez as Catherine of Aragon, Zan Berube as Anne Boleyn, Amina Faye as Jane Seymour, Terica Marie as Anne of Cleve, and Sydney Parra as Catherine Parr - is a collection of powerful performers who also make for an impressively tight ensemble in the group numbers "Ex-Wives" and "Six," as well as the deliriously campy "Haus of Holbein."
Winspear Opera House - Dallas, TX
Lorens Portalatin, BroadwayWorld: Amongst the ensemble of six it was hard to choose a standout because every single woman was a powerhouse. With their talents combined it was intoxicating to watch them dominate the stage and tell their stories. Each Queen had her own chance to shine and compete for her rightful crown.
Orpheum Theater - Omaha, NE
Courtney Brummer-Clark, Omaha World-Herald: The stories of those queens - Catherine of Aragon, Anne Boleyn, Jane Seymour, Anna of Cleves, Katherine Howard and Catherine Parr - are set to amazing music and choreography and amplified with amazing light shows and gorgeous, sparkly costumes. There are no dull or down moments at all. It is a 90-minute, fun, visually exciting party with performances that could rival those of famed music industry shows.
DeVos Performance Hall - Grand Rapids, MI
Marin Heinritz, Revue: "Six" dazzles, teaches, entertains, and evokes all that and more in 80 minutes without intermission. It's a bold experiment in what's possible for a big musical in terms of storytelling and diverse casting. And based on the opening night performance at DeVos to a sold-out, enthusiastic crowd, it's an enormous success.
Fox Cities Performing Arts Center - Appleton, WI
Kelli Arseneau, Post Crescent: The vibrant production hinges on its six performers' impeccable vocal talents. In "No Way," Jana Larell Glover, playing Catherine of Aragon, showcased impressive runs and chill-inducing high notes reminiscent of Beyoncé. Berube brought an energetic, bubbly personality as Anne Boleyn, with the comedic song "Don't Lose Ur Head." Amina Faye, who plays Henry VIII's third wife, Jane Seymour, sang the showstopper "Heart of Stone" with emotional intensity and jaw-dropping vocals. Terica Marie's Anna of Cleves gave a powerful, Nicki Minaj-esque style to "Get Down." Aline Mayagoitia, playing Katherine Howard, showcased her range in a sassy yet emotional performance of "All You Wanna Do." And Sydney Parra's soulful "I Don't Need Your Love" capped off the six queens' stories with a rousing message of independence and empowerment.
Fox Theatre - St. Louis, MO
Tina Farmer, Riverfront Times: Together, the queens make a compelling case for femme-powered unity by positing the fact that, if it weren't for the six of them, history would likely forget the eighth King Henry. SIX: the musical re-mixes history with a satisfying story arc, songs that rock the house and a steady beat that brings the audience to their feet.
Civic Center Of Greater Des Moines - Des Moines, IA
DC Felton, BroadwayWorld: Each of the women who take the stage in this show does a phenomenal job, from the cast members on stage to the band, also known as "The Ladies in Waiting." They all play so well off each other and find a balance for when their Queen gets to take the spotlight and when their Queen becomes part of the overall ensemble. Each of them has moments that will have you laughing, then moments later have you in tears from their story. It's a beautiful mix that makes you wish there was a Tony Award for best ensemble because this show is a true example of an ensemble show.
I could go on about what makes this show special and why it has become the juggernaut it is, but part of the show's fun is seeing it live and discovering what makes it great for you. Everyone could find "Six" more reasons that they love the show; these were just my top six. If you haven't purchased tickets yet, I recommend getting them as soon as possible to get the best seats you can.
Tennessee Performing Arts Center - Nashville, TN
Jeffrey Ellis, BroadwayWorld: SIX is destined to be one of those musicals that remain on constant tour for years to come and, hopefully, it'll be around again in the not-so-distant future. Its appeal - with sisterhood powering its vibrant, instantly accessible storytelling - ensures it will become (if it isn't already) just as popular as Wicked, its girl-power predecessor that returns to Nashville for the fourth time next season. When it comes around again, be sure to snap up your tickets faster than a guillotine can behead a libidinous royal, so you don't miss out on the exhilarating experience that is an audience with the charming, engaging, totally enchanting queens of SIX.
Uihlein Hall at Marcus Center For The Performing Arts - Milwaukee, WI
Aly Prouty, Spectrum News 1: Let's start with the six leading ladies: Gerianne Pérez (Catherine of Aragon), Zan Berube (Anne Boleyn), Amina Faye (Jane Seymour), Terica Marie (Anna of Cleves), Aline Mayagoitia (Katherine Howard) and Sydney Parra (Catherine Parr). I was sure I'd have a favorite queen by the end of the night, but I truthfully did not. Each was special in her own way, bringing individuality and breathtaking vocals to the stage.
To read more reviews, click
here
!