Review Roundup: Patrick Marber's EXIT THE KING, with Rhys Ifans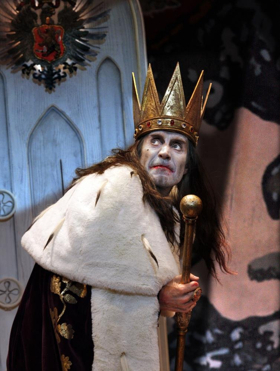 Somewhere in Europe the kingdom is disintegrating. It's the last day of King Bérenger's life. Queen Marguerite is preparing for the end and Queen Marie is in denial. The King is 400 years old and dying, but he's clinging on for dear life...
This great tragi-comedy is brought to life on the Olivier stage this summer, the first time Eugène Ionesco's work has been performed at the National Theatre. Patrick Marber (Three Days in the Country, Hedda Gabler) directs his new version of Exit the King with Rhys Ifans (A Christmas Carol at the Old Vic) in the title role and Indira Varma (Man and Superman) as his first Queen.
Let's see what the critics hd to say...
Nicole Ackman, BroadwayWorld: Ifans is impressive as the 400-year-old king who becomes more frail over the course of the play. In the beginning, he has a chaotic energy despite his weakness that commands the stage, but by the end he seems a shell of a man. He brings many laughs as he falls about the stage dressed in luxurious pyjamas and plays the typical absurd despotic ruler, but his intense fear of dying is haunting by the end. I was very impressed by the physicality of the role and how he seemed to age significantly in a short period of time.
David Lister, The Independent: There is much to enjoy here besides the fantastical humour and exquisite one-liners. The contrast between Indira Varma's magisterial wife number one and Amy Morgan's would be sex-bomb of a wife number two is joyously given full rein. As the doctor, Adrian Scarborough has few equals for swivel-eyed lunacy with a hint of evil underneath.
Henry Hitchings, Evening Standard: Rhys Ifans is Bérenger, a despot more than 400 years old. As he confronts the inevitability of dying, his kingdom disintegrates around him. A crack bisects Anthony Ward's design, threatening to widen at any moment, and even the heating system has stopped working - a detail that right now earns a wry laugh from patrons who've arrived feeling no cooler than the hinges of hell.
David Jays, The Times: Reality ain't what it used to be. When every news story is a clown car of towering implausibility, a custard pie flung in the face of credibility, the most bonkers play can suddenly look like documentary realism. Fittingly, London theatre has embraced the silly season by programming seriously absurd dramas. In Bucharest between the wars, the young Eugène Ionesco saw a lieutenant break out of a military parade and assault a peasant who hadn't doffed his cap for the national flag. Maybe that glimpse of callous, pointless human stupidity leaves a trace in Exit the King, his 1962 comedy about the things people do to avoid the obvious.
Stephen Dalton, Hollywood Reporter: A powerhouse star vehicle for Rhys Ifans, writer-director Patrick Marber's new revival of Eugene Ionesco's absurdist 1962 tragicomedy Exit the King opens like a slapstick Monty Python sketch but ends on a poignant Shakespearean flourish. Indeed, Marber first had the idea of casting Ifans after witnessing his electrifying performance as the Fool in Deborah Warner's 2016 production of King Lear, led by Glenda Jackson. This time, he gets to gorge on a full royal banquet of emotions himself, sinking his teeth into a juicy role previously played by Alec Guinness, Geoffrey Rush and other heavyweights.
Susannah Clapp, The Guardian: So far, so niche. But astonishingly to me - who went in sceptical about Ionesco's ability to deliver more than a quizzical eyebrow over the proscenium arch - Marber's drama turns out to be humane as well as brainy. Rhys Ifans's king flares away in white face and pyjamas, though he could do with tempering his floridity: as he does when plainly delivering a passage about his defunct ginger cat: "We called him the Jew."
Natasha Tripney, The Stage: While there is a scattering of laughs at the start, Marber's production suffers from a number of lulls. He brings out the play's layers - one man's scrabble against the multiple indignities of physical decline and the falling away of an old order - but ironically he struggles to make the play feel alive. Aside from Ifans' Olivier-filling performance and the undeniably potent final image, the production feels a bit creaky and inert.
Rachel Hilliburton, Arts Desk: This despite the fact that as a director Marber shows his usual deft hand. He brings out beautiful performances not just from Ifans and Varma, but from Debra Gillett as the dustily downtrodden Juliette, Adrian Scarborough as the self-serving hypocritical doctor, and Derek Griffiths as the dutifully oppressed guard. Perhaps the most powerful moment of the production is in its shudder of realism, when Marguerite refers to the king's massacre of her own family. The final coup de théâtre is stunning, too. Yet somehow you are left feeling empty.
Georgina Varley, London Theatre: Superb performances carry the production, however, with Ifans and Varma standing out above the rest. The portrayal of Ifans' narcissistic King is also a credit to Patrick Marber's direction. His physical descent into death is so subtle, blink and you miss it, signifiers such as his greying hair and the deteriorating state of his clothes, along with his dwindling mobility make for a convincing transformation. The emotional stages of dying - denial, anger, bargaining, depression, and ultimately, dignified acceptance - are equally as plausible.
Photo Credit: Simon Annand

Related Articles