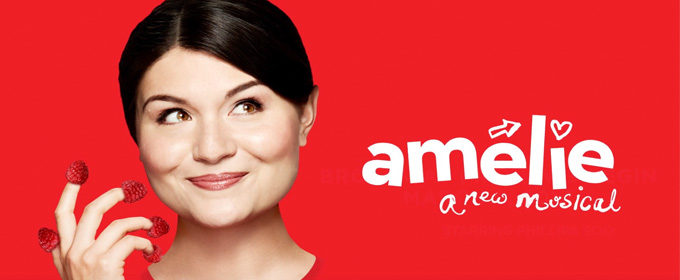 Click Here for More Articles on AMELIE
Review Roundup: AMELIE: A NEW MUSICAL Opens at the Ahmanson Theatre - UPDATED!
Center Theatre Group's production of "Amélie, A New Musical" at the Ahmanson Theatre opened December 16 and continues through January 15, 2017. Based on the motion picture written by Jean-Pierre Jeunet and Guillaume Laurant, "Amélie, A New Musical" will have its Broadway premiere at the Walter Kerr Theatre, beginning performances on March 9, 2017 and opening April 3, 2017.
Amélie captured our hearts in the 2001 French film. Now Amélie (played by Tony Award nominee Phillipa Soo) comes to the stage in an inventive and captivating new musical directed by Tony Award winner Pam Mackinnon ("Who's Afraid of Virginia Woolf?," "Clybourne Park"), with a book by three-time Tony Award nominee Craig Lucas ("An American in Paris"), music by Daniel Messé (of the band Hem), lyrics by Nathan Tysen("Tuck Everlasting") and Daniel Messé, musical staging and choreography by Sam Pinkleton, musical direction by Kimberly Grigsby, vocal arrangements by Kimberly Grigsby and Daniel Messé, and orchestrations by Tony Award winner Bruce Coughlin.
In addition to Phillipa Soo in the title role, features, in alphabetical order, Emily Afton, David Andino, Randy Blair, Heath Calvert, Adam Chanler-Berat, Alison Cimmet, Savvy Crawford, Manoel Felciano, Harriett D. Foy, Alyse Alan Louis, Maria-Christina Oliveras, Lily Sanfelippo, Tony Sheldon, Jacob Keith Watson and Paul Whitty.
Let's see what the critics had to say!
---
Jordan Riefe, The Hollywood Reporter: After trying out to encouraging reviews at Berkeley Repertory Theatre last year, Amelie, a New Musical has undergone an overhaul before arriving at the Ahmanson Theatre in Los Angeles en route to Broadway in the spring. The result is a lovingly crafted confection, impressive in its execution and endearing in its simplicity...Phillipa Soo leads the cast in her first role since her Tony-nominated breakout performance as Eliza in Hamilton...Carrying a show on her shoulders for the first time, she delivers with a requisite charm that is sweet but never saccharine...Credit director Pam MacKinnon...who juggles multiple moving parts, for making it all look easy and breezy...
Charles McNulty, The Los Angeles Times: But these quibbles likely won't keep you from getting swept up in the fun of this larky show. The music, which is nearly continuous, provides a magic carpet of orchestral strings upon which the production floats at will. Musical director, conductor and keyboardist Kimberly Grigsby draws out a sumptuous sound from her orchestra. And every time Soo opens her mouth to sing, the stars in Paris' night sky shine brighter.
Marc Snetiker, Entertainment Weekly: Here, Soo plays the role created with effortless whimsy by Audrey Tautou, and though the show collectively adds up to a wondrous little bauble of innocuous magic, its individual pieces could use a little polish before Amelie's Broadway dream is realized in April...As a blanket issue with both Soo's portrayal and director Pam MacKinnon's take on the tale, Amelie herself doesn't register as particularly quirky or endearing; she's more aloof and disconcerting...If only Amelie meddled in the music. Composer Daniel Messé and co-lyricist Nathan Tysen have crafted a mostly sung-through show that sounds perfectly pleasant but lacks layers and memorable melodies...That's how Amelie operates overall: Sweet and silly, but safe. B
Alysia Gray Painter, NBC Los Angeles: True, the movie was not a musical, but prepare to enjoy ditties from Daniel Messé, Nathan Tysen, and a book by Craig Lucas. If you dug the flick but long for an added dimension of sound and story, the on-stage spectacular could be just the whipped cream you've longed for to top this dessert-like story. But "dessert-like story" shouldn't imply that "Amélie, a New Musical" is frothy with no nutritional value. Au contraire: The show's message of reaching out, of connection, and of taking meaningful chances is something all magical realists can grok to, whether it is December or not.
Perez Reviews, PerezHilton.com: Thankfully, Amélie is worth seeing if for no other reason than Phillipa Soo. We first encountered her in 2013 when we saw her off-Broadway in The Great Comet. In this review, we called her "stunning". A little show called Hamilton happened since then and she is now a bonafide leading lady of the great white way.
Rob Stevens, Haineshisway.com: But all their love and dedication has failed to capture the intrinsic whimsical charm of the film (which made an international star of Audrey Tautou). A little bit of whimsy goes just so far on stage unless it is played full out. The creators haven't committed fully, staying somewhat in a neutral, realistic space that this piece doesn't quite work in. The goldfish, the Notre Dame tourist, the photo booth, The Glass Man and more plot items that were charming and funny in the film mostly don't work here.
---
Photo Credit: Joan Marcus