Review Roundup: A CHRISTMAS CAROL Opens On Broadway! See What The Critics Are Saying!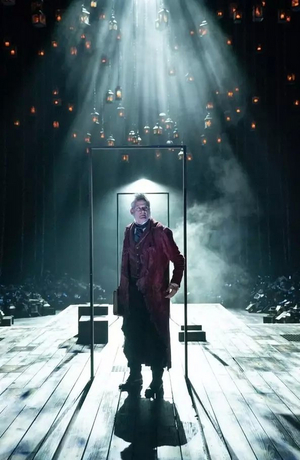 The holiday masterpiece, A Christmas Carol, opens tonight on Broadway, following critically acclaimed runs at The Old Vic, London. Playwright Jack Thorne and director Matthew Warchus offer a magical new interpretation of Charles Dickens' classic story.
This timeless - and timely - tale of redemption welcomes theatergoers of all ages into an immersive experience that's brimming with Christmas spirit. The production features dazzling staging, moving storytelling and 12 of the most cherished Christmas carols, including "Joy to the World," "Silent Night," and "It Came Upon the Midnight Clear."
A Christmas Carol stars Campbell Scott as Ebenezer Scrooge, two-time Tony Award-winner Andrea Martin as Ghost of Christmas Past, and Tony Award-winner LaChanze as Ghost of Christmas Present/Mrs. Fezziwig. They are joined by Erica Dorfler as Mrs. Cratchit, Dashiell Eaves as Bob Cratchit, Hannah Elless as Jess, Brandon Gill as Fred, Evan Harrington as Fezziwig, Chris Hoch as Father/Marley, Sarah Hunt as Belle, Matthew Labanca as George, Alex Nee as Ferdy/Nicholas, Dan Piering as Young Ebenezer, and Rachel Prather as Little Fan. Sebastian Ortiz and Jai Ram Srinivasan will share the role of Tiny Tim.
See what the critics are saying!
Ben Brantley, The New York Times; While retaining the jolliness and sentimentality associated with some 170 years' worth of stage versions (including a competitive flock that opened the year after its publication), Thorne and Warchus have polished the story's social conscience to a restored brightness. Be assured, though, that their "Carol," which stars Campbell Scott as Ebenezer Scrooge, never sings shrilly.
Michael Dale, BroadwayWorld: While much of the text may be new, the production leans on the traditional side, and attractively so. As audience members enter, music director Michael Gacetta's accordion and string ensemble play holiday favorites while cast members roam about the house offering guests clementines or packaged cookies.
David Cote, Observer: This being a holiday show for all ages, there's a broadly acted, crowd-pleasing vibe and frequent bits of audience interaction, especially after Scrooge's conversion. Carolers warble from every corner of the balconies; long sheets are unfurled to the stage to sluice apples, oranges and other treats into baskets for the Christmas feast; and stage snow drifts onto the audience. The kids at the matinee I attended squealed at the low-tech but delightful stage effects.
Adam Feldman, Time Out New York: At the Old Vic in London, where Warchus's production premiered two years ago and has become an annual staple since, the show is staged in the round. Perhaps it is more effective in that form; at the Lyceum, even at what should be the joyous climax of the production-when the audience is corralled into helping assemble a massive Christmas feast-the festivity has a faint sense of effort. And just when our spirits have been suitably raised, Thorne's script tamps them down again with a buzzkill of a coda. This A Christmas Carol has many lovely moments and atmosphere aplenty. What it lacks, just a little, is cheer.
David Rooney, The Hollywood Reporter: Every year around the holidays, adaptations of Charles Dickens' A Christmas Carol surface like regurgitated eggnog at regional theaters across the country. But Jack Thorne's retelling breathes new life into the old chestnut, creating an enchanting spectacle that really is something special. Staged with an ideal balance of sentiment and showmanship by Matthew Warchus and first seen in 2017 at London's Old Vic, where he is artistic director, the immersive production is infused with period atmosphere and heart-stirring music, fostering an infectious spirit of good cheer that reaches giddy heights with the movable feast of the play's climax.
Alexis Soloski, The Guardian: Its current Broadway incarnation, adapted by Jack Thorne, directed by Matthew Warchus and embellished with a dozen carols, is as gleaming as a Christmas goose. Which is to say, it's no turkey. But in readying the play for Broadway, Thorne has echoed his Harry Potter and the Cursed Child themes - the tension between fathers and sons, the ways we misunderstand the people we love - and borrowed a bit from Dickens's own life, turning a weird ghost story into a thin psychological allegory about a man whose daddy didn't love him enough.
Ruth Kinane, Entertainment Weekly: In a move in line with increased efforts for better representation in the arts, two young disabled actors play Tiny Tim, Sebastian Ortiz and Jai Ram Srinivasan, both of whom have cerebral palsy. Dashiell Eaves (The Lieutenant of Inishmore, The Sound of Music) is particularly memorable as the ever-optimistic Bob Cratchit, and the rest of the ensemble captivates with powerful, often musical, performances. The production subtly incorporates literal Christmas carols throughout, with the cast singing and sometimes playing instruments - most notably handbells - for a serene, film-score-like effect.
Greg Evans, Deadline: While not always faithful to its source (Young Scrooge, sweetly played by Dan Piering, is given a drunken, abusive father, and old Fezziwig, sympathetically played by Evan Harrington, is an undertaker, among other alterations and additions), Thorne's adaptation pays off in its gambles. If it feels abridged and rushed at first - some secondary characters are melded together, and we're done with the Christmas Present section by intermission - this Carol goes to new places with the inevitability of a clock chime.
Frank Rizzo, Variety: Those expecting a traditional take on Charles Dickens' classic holiday perennial may be in for a shock at the new Broadway version of "A Christmas Carol." Or at least they might be terribly perplexed by this dour production, whose additions only subtract from the potency of the transformative tale. While there have been many adaptations - from solo shows to musicals to ghostly imaginings - most stick pretty close to the storyline and character arc of the tightly crafted original. But this import from London's Old Vic - here starring Campbell Scott - would certainly have Dickens scratching his noggin.
Bob Verini, New York Stage Review: The most effective touch by far is the casting of two young actors with cerebral palsy, Sebastian Ortiz (at the performance I caught) and Jai Ram Srinivasan, in alternation as Tiny Tim. It's no stunt. Tootling along in his little walker to investigate Scrooge's bounty the next morning-sorry, can't reveal anything about that either-Ortiz placidly works within his body's limits with fortitude and grace, more movingly than any ordinarily-abled moppet ever could in that role. His encounters with Scrooge bring tears to Scott's eyes and to ours: not tears of pity, but of recognition that there are people all around us who merit our help and at the very least, our respect, and yet look how often we deny both.
Michael Sommers, New York Stage Review: One gets the impression that Thorne invents such dreary business simply so his version of A Christmas Carol is somewhat different than the countless other stage adaptations before it. A high moral tone that infuses the play as several characters chide Scrooge for his behavior stiffens the drama considerably.
Helen Shaw, Vulture: You start out with the comfortable sensation that you've come to your umpteenth revival of the Charles Dickens classic, ready for some beloved old wine in a new bottle. But as playwright Jack Thorne's adaptation proceeds, that feeling becomes the creeping suspicion that it's not really liquor in there. Some weird and unnecessary process has taken place: The story's deep social concern has been shifted out of the way in favor of an unconvincing self-realization tale. The already high-sugar-content sentiment of the original dissolves into goo, boneless without its moral armature.
Roma Torre, NY1: Director Matthew Warchus wastes no time putting us in a festive mood with the actors handing out cookies and Clementines as the audience enters under hundreds of lanterns strewn throughout the theatre. There is dance and music both original and traditional played sweetly at times with hand bells adding to the merriment. But unlike other versions of the iconic story, which attempt to dazzle with special effects, this one has a more introspective tone adding dimension to the characters that have come to be so familiar to us.
To read more reviews, click
here
!