ROSEMARY AND TIME to Receive New York City Premiere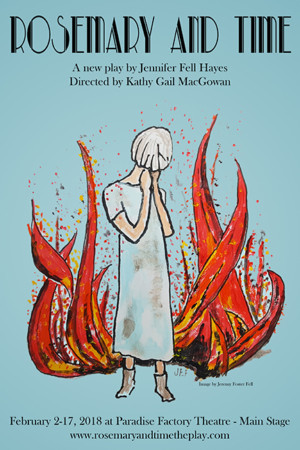 Award-winning playwright and published author Jennifer Fell Hayes, mesmerizing new play, Rosemary and Time is set to run at the Paradise Factory Main Stage February 2 through February 17, 2018. The limited run is directed by long time collaborator, Kathy Gail MacGowan who has worked extensively in Off and Off-Off Broadway theatre.
The playwright, Jennifer Fell Hayes, discovered this story while visiting her beloved Yorkshire in 2010. Unable to let the story go, she started researching the tale which eventually led to a meeting with the two women. In bringing this story to life with a multigenerational cast, she explores the healing power of women who support and nurture each other through their struggles. To that end the production has an all-female staff, design and production team.
Rosemary and Time, based on a true story, is about two women, working side by side in a school infirmary who discover a startling truth about one another. Set in Yorkshire England in the late 1970's, with flashbacks to 1941, the two women unearth secrets from the past and come to terms with ghosts, old relationships and time.
The production is led by Broadway veteran, Judith Barcroft, whose Broadway credits include, Dinner at Eight, Mating Dance, Betrayal, Elephant Man, All God's Chillun Got Wings, Shimada and Plaza Suite. The company features Kate Grimes (Stephen Spielberg's upcoming film THE POST), Mary Kate Harris (I Create/Lincoln Center's Clark Theater), Michael Markham (Mother Courage and Her Children with Meryl Streep/The New York Shakespeare Festival in Central Park), Virginia Roncetti (A Brush with Georgia O'Keeffe/St. Luke's Theatre), ZOE WATKINS (The Pigeon In The Taj Mahal/Irish Repertory Theatre), and introducing Eliana Grace Brenden (Diva Centipede in James and the Giant Peach), and Ciela Elliott (Occupied Territories/59E59).
The creative teams includes lighting design by Kia Rogers, scenic and costume design by An-Lin Dauber, sound design by Megan Culley, stage management by Ashely Nickas, production photography by Gerry Goodstein, with Nancy Nagrant serving as co-producer. The production is being produced in association with ANDTheatre Company.
Performances take place at the Paradise Factory Theatre Main Stage, 64 East 4th Street (between Bowery and 2nd Avenue), NYC 10003. Subways: F/M to 2nd Avenue, B/D Broadway-Lafayette, 4/5/6 to Bleecker Street, 6 to Astor Place. Running time: 2 hours. Tickets go on sale on tomorrow at www.rosemaryandtimetheplay.com
Performance Schedule:
Friday, February 2 @ 7:30 pm (Opening Night)
Saturday, February 3 @ 7:30 pm
Sunday, February 4 @ 3:00 pm
Tuesday, February 6 @ 7:30 pm
Wednesday, February 7 @ 7:30 pm
Thursday, February 8 @ 7:30 pm
Friday, February 9 @ 7:30 pm
Saturday, February 10 @ 7:30 pm
Sunday, February 11 @ 3:00 pm
Wednesday, February 14 @ 7:30 pm
Thursday, February 15 @ 7:30 pm
Friday, February 16 @ 7:30 pm
Saturday, February 17 @ 7:30 pm
More info available at www.rosemaryandtimetheplay.com
Facebook: www.facebook.com/rosemaryandtimetheplay
BIOGRAPHIES
Jennifer Fell Hayes (Playwright) is a proud Yorkshire woman living in New York City. A playwright with the Workshop Theatre Company, she is published by Samuel French and The Dramatic Publishing Company. She has been a finalist twice in the Samuel French Short Play Festival, and was a winner in the Theatre Resources Unlimited Play Reading Series in NYC and the Live Wire Play competition in Chicago with her play Endurance. Her play Seal Songs received an award in the Midtown International Theatre Festival in 2010. A Weekend in Filey was performed at the Workshop Theatre in 2011, and also for two runs at the Hen and Chickens Theatre in London over the summer 2014. Mother's Day received a three-day reading at the Workshop Theatre in NYC in 2015.
Her book, Pioneer Journeys: Drama in Museum Education (New Plays Inc.), co-authored with Dorothy Napp Schindel, won Distinguished Book of the Year award from the American Alliance of Theatre and Education in 1995. Jennifer was Director of Drama at Friends Seminary in New York, for twenty-two years, Head of the Arts Department at Riverdale Country School, and created the Performing Arts Department for the Spence school. She received a Yale award for distinguished teaching in 2007, and is a member of the Dramatists' Guild.
Kathy Gail MacGowan (Director) Rosemary and Time is Kathy's third collaboration with playwright Jennifer Fell Hayes. She has successfully helped to shape and usher new work to the New York stage with "clarity and intelligence." Kathy's production of Kentucky Cantata at HERE Arts Center was selected as "A Best of Off-Broadway" by Critic Howard Miller. Her production of The Dishonorable Discharge of Private Pitts by Daniel Damiano, was lauded as "an heroic underdog that points a dirty yet necessary mirror back at its viewers." Other highlights include her acclaimed productions of In The Summer Pavilion at 59E59 Street Theaters & FringeNYC (Daily News and Village Voice Highlight, Backstage "Critics Pick".), Broad Channel with the Up Theater Company, and The Golden Year with WorkShop Theater.
Last summer Kathy was thrilled to have helped curate and direct for the inaugural, new play festival at The Sheen Center staging six new plays by Catholic playwrights. Kathy also works with the NYU Acting Company and Conservatory Students at The
Stella Adler
Studio of Acting. She received her MFA from The New School of Drama in 2009 and was a 2010 Drama League Directing Finalist. She is a member of SDC and AEA. She is a proud member of the Curator's Circle at The Sheen Center.
www.kathygailmacgowan.com

Related Articles
More Hot Stories For You
Andrew Lloyd Webber's Really Useful Group Outlines Potential Guidelines to Be Put in Place When West End Reopens
Andrew Lloyd Webber's Really Useful Group is discussing guidelines that will need to be in place in order to safely reopen productions on the West End... (read more)

When Will Broadway Re-Open? "January," Hopes Broadway League President
'I actually am a little more optimistic than those who say Broadway will reopen in the spring, but I tend to be an optimistic person, I tend to think ... (read more)

Amanda Kloots Shares Nick Cordero is 'Day By Day, Hour By Hour' Getting Better
Amanda Kloots has shared another update on the health journey of her husband, Broadway veteran Nick Cordero.... (read more)

Social Roundup: Read How Audra McDonald, Randy Rainbow, and More Broadway Stars 'Ruined a Musical'
You might've seen this popular Twitter trend from Jared Gray going around! Read Audra McDonald, Randy Rainbow, Bebe Neuwirth, and more Broadway star's... (read more)

VIDEO: Watch Cynthia Erivo, Kelli O'Hara, Christopher Jackson and More in PBS National Memorial Day Concert
As BroadwayWorld previously reported, PBS will present the NATIONAL MEMORIAL DAY CONCERT, hosted by Tony Award-winner Joe Mantegna and Emmy Award-winn... (read more)

Meet Our NEXT ON STAGE College Top 15!
You voted, here they are! In no particular order, meet our top 15 in the college category.... (read more)