RELATIVELY CONSCIOUS Comes to New York Theater Festival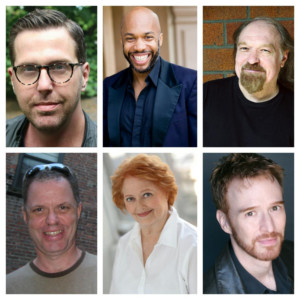 Veteran Broadway actor, Richard E. Waits, is bringing Jon-Marc McDonald's anticipated play, Relatively Conscious, to the stage in February at the New York Theater Festival. The play, which centers around the murder of James Byrd Jr in 1998, will run February 6, 7, and 10th at the HudsonGuild Theater in New York City.
Though Relatively Conscious takes place the morning after the real-life racially motivated murder of Byrd nearly 20 years ago, the issues tackled are as potent to our current strife and division in the United States as they were then, perhaps even more so. The play takes is set fictitious diner in Jasper, Texas, the town in which Byrd was murdered, and tells the story of four disparate characters brought together by chance. As the plot unfolds, it becomes a who-done-it mystery as each character grows increasingly suspect of the others while the manhunt for Byrd's killers takes place all around them. Racism, homophobia, AIDS-phobia, xenophobia, populism, tribalism, and more are issues covered in the one-act 75-minute play.
The playwright says his play is intended to provoke. "There are times in the play that are uncomfortable, moments that are going to make the audience cringe. Just when you think the play is settled, it gets upended once more. Relatively Conscious is historical fiction and semi-autobiographical. I was 21 years old and managing a congressional campaign in east Texas for Brain Babin, an extremely conservative candidate [now congressman from the 26th District and member of the notorious "Freedom Caucus"], when Byrd was viciously killed just miles from where I worked. A month later, I resigned from that campaign because I was gay. Byrd's murder and my resignation are what sparked the rage that gives this play its fire. Much of what I experienced on the campaign trail is woven throughout the narrative of the play, though by no means is my experience the central conflict of the play," McDonald, a current MFA candidate at Columbia University, said. "In fact, the central conflict is how these four characters at a diner during an extremely volatile time come to view each other and themselves, and the increasing suspicion each has of the other while the manhunt for Byrd's killers takes place all around them. And the play calls a lot of people out, some of whom you wouldn't expect. This play is going controversial and I meant for it to be. I want people walking out of the theater questioning everything, especially themselves," the playwright continued.
Relatively Conscious is being produced by veteran actor, Richard E. Waits, who has been with the play since its first reading. Waits, who started his career in a commercial with the legendary Ginger Rogers, has received rave notices for his work, including his performance as Curtis Taylor Jr in the Miramar Cultural Center's production of Dreamgirls, The Cop in The View UpStairs, The Master Gardener in Orchid, the Show, George in Uncle Tom's Cabin, The Lion in The Wizard of Oz, Boy Sam in The Difficulty of Crossing a Field, Horse in The Full Monty, and Sweet Daddy in Best of Both Worlds, directed by the Tony Award winning Diane Paulus. In addition to his role as Jimmy Arthur in Relatively Conscious, Waits took on the role of producer because of the play's urgent message. "Jimmy Arthur is a deliciously complicated and conflicted character. I call him 'Earth Father' and through his anger and frustration about the state of our country, he always hears a 'higher power' compelling him to do what's good for his humanity. With that said, I had to help this play come to life," Waits said of his decision to take on the role of producer.
Every member of the cast and crew are seasoned veterans of thestage and beyond. "As rote or cliché as it might sound, I am blown away by the quality of people who have chosen to give of their time to this play. Watching them work is mesmerizing. And seeing what the actors do with my words is at once humbling and unbelievable. Sometimes I think I will wake up and this will all have been a dream," McDonald said. "The fact is, five and a half years ago, I was on a hospital bed close to death from alcohol poisoning. I had spent the better part of my 20s and 30s drinking a half gallon of vodka a day. I shouldn't be here, and yet here I am. I take none of it for granted, including this play and the dream team we have assembled.
The director, Gerald vanHeerden, a graduate of The Boston Conservatory and an alumnus of Webster University Theater Arts Conservatory, has a long career working in the New York City theatre community. Artistic Director of Plays for the Midtown International Theatre Festival, Mr. vanHeerden, helmed Break A Leg Production's award winning presentation, Farm Hall in July 2014.
Wynne Anders who, like Waits, has been with Relatively Conscious since the first reading, plays Lily, the no-nonsense owner of the diner where the entire play is set. Anders was most recently seen in Retro Productions' And Miss Reardon Drinks where she played the role of Mrs. Pentrano. Anders says her favorite roles include Kimberly in Kimberly Akimbo, Halie in Buried Child, the three women in Red Herring, Reba in The Last Night of Ballyhoo, Dolores in Claymont, and Doris in Roquefort. "I am delighted to be involved with such a beautiful and truthful play, and thank Jon-Marc for creating the play and for creating Lily," Anders said recently of her role in Relatively Conscious.
Gary Ray, who plays Tony P., the rigid self-described redneck that is set in his good-ole-days ways. is a staple of the New York theatre scene. Founder of the 1980's East Village performance club Darinka, which helped launch the careers of Steve Buscemi and the band They Might Be Giants (the Darinka Archives at now part of The Downtown Collection at New York University), Ray's theatre credits include The Ensemble Studio Theatre, Naked Angels, The Ridiculous Theatrical Company, La Mama, PS 122, The Kitchen, Dixon Place many others. Gary also toured nationally with performance artist Karen Finley in her play The Theory of Total Blame. He's also appeared in many indie films like Desperately Seeking Susan and Todd Haynes,' Poison. His television work includes appearances on Law & Order and The Cape. Ray says of his role in Relatively Conscious, "I've always wanted to play a character like Tony P. A character that gives me the opportunity to expose a flawed logic that is usually repeated behind closed doors and reinforced by people keeping quiet. Sinking my teeth into Tony P. will allow me to rock the boat and show audiences that some people are not necessarily bad or hateful, but that their reasoning is irrational, ludicrous and archaic. It's these people that unknowingly perpetuate hate and bigotry because of their simple ignorance."
Paul Castree, the newest member of the ensemble cast, plays Preston-Scott, the irascible ex-campaign manager who has found his way in the diner simply to get something to eat. Castree's Broadway credits include Disaster!, 9 to 5, Young Frankenstein, High Fidelity, All Shook Up, Saturday Night Fever, Footloose, The Scarlet Pimpernel, and Grease!. In addition to television credits that include Nurse Jackie and Caroline In The City, Castree has been a part of seven original cast albums and the Grammy nominated Actors Fund concerts of Dreamgirls and Hair.
Castree's character in Relatively Conscious is based partially on the playwright.
Theatre veteran Roumel Reaux serves at the play's stagemanager.
Tickets for Relatively Conscious can be purchased at http://newyorktheaterfestival.com/relatively-conscious/
All ticket prices are $23.00.
Related Articles
More Hot Stories For You