Click Here for More Articles on Podcasts
Podcast: LITTLE KNOWN FACTS with Ilana Levine and Special Guest, Kate Rockwell!
Kate chats about all of her latest projects!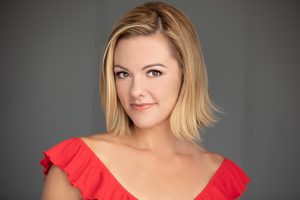 BroadwayWorld has teamed up with Broadway actress Ilana Levine, who makes her entrance onto the podcast stage with her critically acclaimed show Little Known Facts- a weekly podcast hosted by stage and film actress Ilana Levine. With over 150 interviews to date with today's most successful artists, Levine engages her celebrity guests in intimate conversations that are hilarious, vulnerable, revealing and inspiring. Ilana's unique brand of celebrity interview has been called "Podcast Vérité," because her conversations are unfiltered, raw, honest and uniquely funny.
Today's episode features BroadwayWorld's very own Next On Stage judge, Kate Rockwell, who chats about life since the shutdown, her final days in MEAN GIRLS, her wine expertise, and so much more!
Rockwell recently starred as the original Karen Smith in Mean Girls: The Musical at the August Wilson Theater, which garnered her a Drama Desk Nomination. A natural brunette, her previous Broadway dumb blondes include originating the role of Skylar in Bring It On: The Musical, as well as roles in Rock of Ages, Hair, andLegally Blonde. She's also been seen recently as Nina Bennett on Fox's Almost Family, and on High Maintenance, Deadbeat, and Sex and the City: the Movie. Rockwell released her debut solo album, Back To My Roots, in 2018 on Broadway Records, and has performed her solo concert by the same name at Birdland Jazz Club, City Winery, and other venues in NYC. She is a WSET-certified wine lover and has the two cutest dogs on the planet.
Related Articles