Click Here for More Articles on Podcasts
Podcast: BroadwayRadio's 'Tell Me More' Surveys the Breadth of Off-Broadway Work with Rebecca Naomi Jones, Derek DelGaudio, and Conor Ryan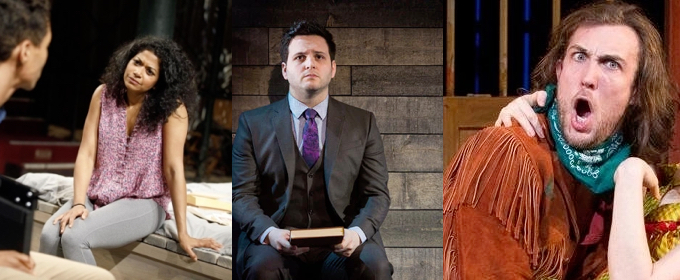 On this episode of BroadwayRadio's "Tell Me More," Matt Tamanini talks to stars of three very different Off-Broadway shows; Rebecca Naomi Jones of The Public's "Fire in Dreamland;" Derek DelGaudio, the star and creator of one-man show "In & Of Itself;" and Conor Ryan from the return engagement of "Desperate Measures."
Despite being incredibly disparate pieces, all three of these shows find a way to feel both intimate and all-encompassing, while combining to have only 10 cast members amongst them.
As they get into the specifics of each of these shows, it draws into focus how remarkably wide the breadth of work being done Off-Broadway is.
Timestamps:
00:00:07- Intro
00:01:35- Rebecca Naomi Jones
00:25:35- Derek DelGaudio
00:46:19- Conor Ryan
01:01:50- Outro
Listen to the episode here:
---
Rebecca Naomi Jones:
https://www.publictheater.org/Public-Theater-Season/Fire-in-Dreamland/
Twitter: @rebeccasername
Instagram: @onerebeccajones
Derek DelGaudio:
http://inandofitselfshow.com/
Twitter: @derek_del
Instagram: @derekdel
Conor Ryan:
http://desperatemeasuresmusical.com/
Instagram: @chakaconor
Contact Matt:
matt@broadwayradio.com
Twitter: @BWWMatt
Instagram: @BWWMatt
---
Theme music provided by www.bensound.com
Featured at the Theatre Shop
T-Shirts, Mugs, Phone Cases & More
Related Articles