Photo Flash: Winners of the 2018 SOUND BITES 5.0 Announced This Week
Last night, May 28, 2018, Theatre Now New York presented its Fifth Annual Festival of 10-Minute Musicals, SOUND BITES 5.0, on The Irene Diamond Stage at The Pershing Square Signature Center, to a sold-out house for the second year in a row. This annual, one-night only event showcases ten new musicals of up-and-coming musical theatre writing teams.
After a record-breaking amount of submissions this year, the ten musicals featured in SOUND BITES 5.0 competed for top festival honors including Best Musical, Best Direction, Best Choreography, Best Actor, Best Actress, Best Music, Best Lyrics, and Best Book. The award winners were determined by votes from a judging panel of industry professionals, which included Kristy Cates, Ken Cerniglia, Ciera Iveson, Casey McLain, Matt Murphy, Stephen Nachamie, and Zach Zamchik. The audience also voted for their favorite musical, which earned the coveted Audience Choice Award. The awards were announced by Thicket & Thistle's What's Your Wish? at an awards ceremony in the Signature lobby immediately following the performance.
SOUND BITES 5.0 AWARD WINNERS
BEST MUSICAL: The Almost In-Laws
AUDIENCE CHOICE AWARD: Dinosaur
BEST MUSIC: Bystander (Eric Grunin)
SOUND BITES 5.0 FEATURED MUSICALS
Directed by Rachel M. Stevens+
Music Direction by Adam Wiggins
Cast: Danny Kornfeld, Neda Lahidji, Kristen Kress Parness, Mikki Sodergren
Book & Lyrics by Charlie O'Leary
Book, Music, & Lyrics by Michael Finke
Directed by Rebecca Kenigsberg
Music Direction by Jane Cardona
Stage Managed by Erin Page
Additional Music by VENMC
Book, Music, & Lyrics by Tom Hyndman
Directed & Choreographed by Jonathan Stuart Cerullo+
Music Direction by Lulu Picart
Executive Producer & Assistant to Director, Peter Petkovsek
Assistant to Choreographer, Sam Given*
Cast: Sam Given*, Justy Kosek*, Daren Liff, Brian Losoya, Danielle Louise Mendoza, Danelle Rivera, Eddie Rodriguez Jr., Charles Sanchez, Kegan Witzki
Book & Lyrics by Cindy Sideris
+indicates member of Stage Directors and Choreographers Society
Photo Credit: Chris Giordano/Angelica Cabrera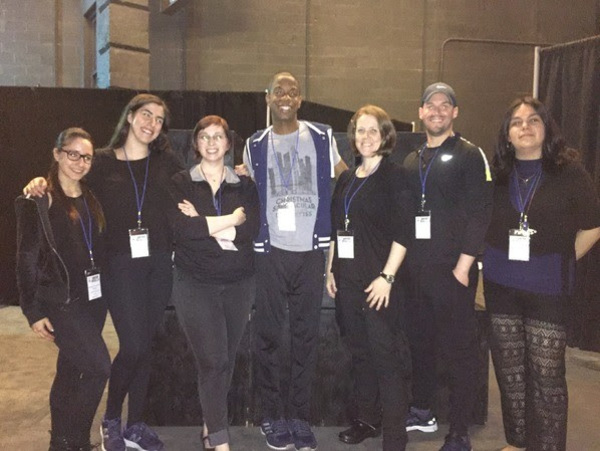 Adriana Guerrero Ferrer, Rachel Bass (ASM), Erin Edelstein* (ASM), Cory Ingraham, Amy Barrick, Brad Baker, and Emely Zepeda* (SM)

Brian Losoya, Daren Liff, Sam Given*, Kegan Witzki, Danielle Louise Mendoza, Charles Sanchez, Justy Kosek*, and Eddie Rodriguez Jr.

Angelica Cabrera, Cabrooks Films

Bettina Bresnan and Robert Berliner*

Tegan Miller, Taylor Coriell, Jordan Wolfe, Patricia Sabulis, Matt Giroveanu, and Alan Trinca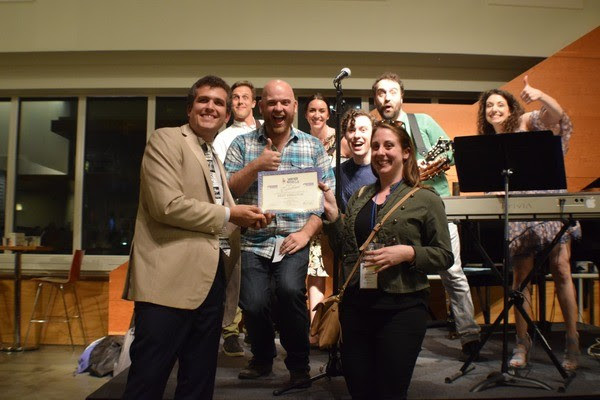 Assaf Gleizner, Thicket & Thistle, and Cindy Sideris

Jahbril Cook, Liz Damuth*, and Katie Emerson*

Thicket & Thistle and Lisa Mongillo

Mikki Sodergren, Neda Lahidji, and Danny Kornfeld

Thicket & Thistle and Eric Grunin

Kristin Serafini*, Laura Shoop*, Barrett Riggins*, and Greg Carter*

Thicket & Thistle and Laura Shoop*

Ben Yahr*, Corey Desjardins*, Robbie Torres*, Daniel Bender Stern, Andrew Lee, and Jo Walker

Thicket & Thistle and Laura Shoop*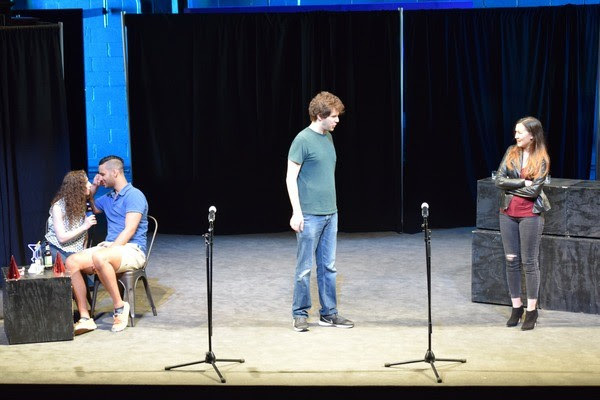 Brooke Wetterhahn, Tristan J. Shuler*, Zach Spound*, and Emily Gardner Xu Hall*

Thicket & Thistle, Emily Gardner Xu Hall*, Zach Spound*, Rebecca Kenigsberg, Tristan J. Shuler*, and Brooke Wetterhahn

Rebecca Odorisio*, Kyle Olsen*, Adrien Swenson, and Nicholas Alexiy Moran*

Best Musical Award & Best Actor Award (Kyle Olsen*) - The Almost In-Laws Pictured above: Thicket & Thistle, Adrien Swenson, Andy Roninson, Greg Edwards, Rebecca Odorisio*, Kyle Olsen*, and Erin Thompson

SOUND BITES 5.0 Judges Pictured above: Kristy Cates, Zach Zamchik, Matt Murphy, Ken Cerniglia, Ciera Iveson, Casey McLain, and Stephen Nachamie