Photo Flash: WAR HORSE Celebrates 5 Years in London!
The National Theatre's award-winning production of War Horse last night (25 October 2012) celebrated its fifth anniversary in London with a special performance at the New London Theatre, Drury Lane. Former cast members and the show's creative team gathered with VIPs and friends to celebrate five years on the London stage.
Guests included Richard Arnold, David Baddiel, Natasha Baker, Johnson Beharry VC, Darren Boyd, Celine Buckens, Alastair Campbell, Gemma Chan, Sophie Christiansen, Lily Cole, Tina Cook, Deborah Criddle, Vanessa Feltz, Nick Ferrari, Stephen Graham, Tyger Drew-Honey, Olivia Hallinan, Adam Hart-Davis, Isaac Hempstead-Wright, Gloria Hunniford, Ulrika Jonsson, Natasha Kaplinsky, Jack Kidd, Josh Lewsey, Eddie Marsan, Simon Mayo, Anthony Ogogo, JoAnna Page, Zac Purchase, Craig Revel-Horwood, Miranda Richardson, Daniel Roche, Lucille Sharp, Ed Speleers, Heather Stanning, Nina Toussaint-White, Perdita Weeks, Sophie Wells and Nicola Wilson.
Since its early experimental days at The National Theatre Studio, War Horse has become a national and international phenomenon. It opened at the National's Olivier Theatre in October 2007 and transferred to the New London in March 2009. More than 1.6 million people have seen the show in London with over 2.4 million people seeing the production worldwide. A ten month, nine-venue tour of the UK and Ireland will begin in Autumn 2013; productions of the show are currently running in New York, Toronto and on a North American tour, with future productions planned for Australia and Berlin.
Nicholas Hytner, Director of The National Theatre said: "War Horse caught the imagination of audiences from its very first outing at the National, but none of us could have foreseen that this astonishing production would still be engendering the same heartfelt response five years later. It's a show which could only have been developed in the subsidised theatre, where the ability to risk-take and experiment is beyond price. I salute the hundreds of theatre-makers, puppeteers and artists who have been part of War Horse's remarkable journey."
Michael Morpurgo, author of the original novel said: "From a Devon meadow a hundred and more years ago, to the battlefields of the First World War, to London, to New York, and soon to Australia and Berlin, our Joey keeps on running. It's five years since The National Theatre took this little known story, and transformed it, told it their way, wonderfully. Since that night in the Olivier when Joey first trotted out into the spotlight, millions of grown-up children and children around the world have come to know and love Joey's story, through play, film, concert and book. So thank you National Theatre, thank you Joey, and thank you especially to those actors and puppeteers who go on every night and make War Horse the unique theatrical event it has become."
Marianne Elliot and Tom Morris, co-directors of War Horse added: "We can't believe that War Horse is celebrating its fifth anniversary. We are so proud of our show. It was a huge team that made it happen – much bigger than any of the teams either of us have worked with before or since. What we ended up with was something far greater than any one of us could have ever imagined."
War Horse is the powerful story of a young boy called Albert and his beloved horse, Joey, who has been requisitioned to fight for the English in World War I. Caught in enemy crossfire, Joey ends up serving on both sides during the war before landing in no man's land, while Albert, not old enough to enlist, embarks on a treacherous mission to find his horse and bring him home. A remarkable tale of courage, loyalty and friendship, War Horse features ground-breaking puppetry work by South Africa's Handspring Puppet Company which brings breathing and galloping horses to life on stage.
Photo Credit: Ellie Kurttz


Michael Morpurgo

National Theatre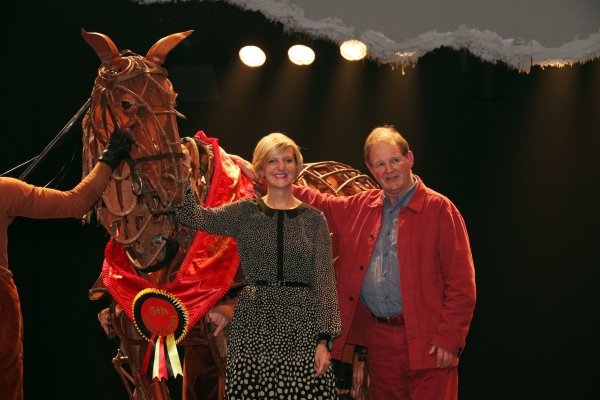 Marianne Elliot and Michael Morpurgo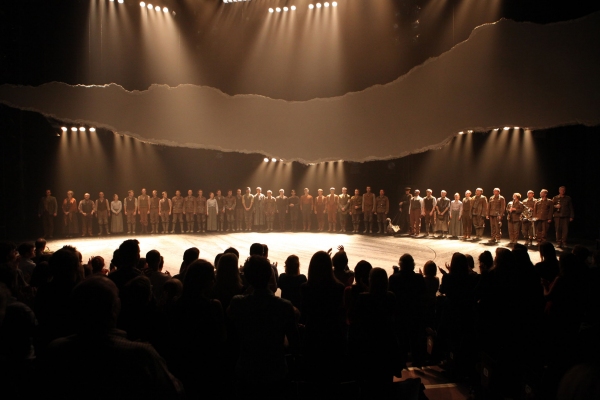 Curtain Call

Marianne Elliot and Michael Morpurgo

Related Articles
More Hot Stories For You
Voting Now Open For The 2019 BroadwayWorld Cabaret Awards, Presented by TodayTix!
Voting is NOW OPEN for the 2019 BroadwayWorld Cabaret Awards, brought to you by TodayTix! The BWW Cabaret Awards honor exemplary performers and produc... (read more)

Voting Now Open For The 2019 BroadwayWorld Los Angeles Awards, Presented by TodayTix!
Voting is NOW OPEN for the 2019 BroadwayWorld Los Angeles Awards, brought to you by TodayTix! The nominees are set, and now you can vote to make sure ... (read more)

Kerry Butler, Will Swenson & More Will Star in BROADWAY VACATION Reading
They've been to Wally World, Europe, and Vegas . . . and now The Griswolds are coming to Broadway!... (read more)

Voting Now Open For The 2019 BroadwayWorld Chicago Awards, Presented by TodayTix!
Voting is NOW OPEN for the 2019 BroadwayWorld Chicago Awards, brought to you by TodayTix! The nominees are set, and now you can vote to make sure your... (read more)

Photo Flash: First Look at the Cast of BABY
Out of the Box Theatrics has released "First Look" photos of the cast of their upcoming limited engagement production of BABY. Featuring a book by Syb... (read more)

THE SPONGEBOB MUSICAL: LIVE ON STAGE to Air on Nickelodeon Dec 7
Nickelodeon today announced that following a critically lauded run on Broadway, The SpongeBob Musical: Live On Stage!, which reunites members of the o... (read more)