Photo Flash: 'They're Your DREAMGIRLS', Angela, Mercado And Warren Lead 2009 National Tour
Producer John Breglio and the Apollo Theater Foundation, Inc. will present the premiere engagement of Dreamgirls at the Apollo Theater, prior to the national tour of the groundbreaking musical.
Dreamgirls will introduce Moya Angela as Effie White and feature, as The Dreams, Syesha Mercado as Deena Jones, Adrienne Warren as Lorrell Robinson, and Margaret Hoffman as Michelle Morris with Chaz Lamar Shepherd as Curtis Taylor, Jr., Chester Gregory is James "Thunder" Early, Trevon Davis as C.C. White, Milton Craig Nealy as Marty Madison in a cast of 26 that also features Tallia Brinson, Felicia Boswell, Ronald Duncan, Talitha Farrow, Brittney Griffin, James Harkness, Robert Hartwell, Eric Jackson, Chauncey Jenkins, Jared Joseph, Nikki Kimbrough, Brittany Lewis, Douglas Lyons, Kimberly Marable, Jarran Muse, Amaker Smith and Marc Spaulding.
The national tour of Dreamgirls premieres at Harlem's legendary Apollo Theater (253 West 125 Street) beginning previews Saturday, November 7, 2009, and opens Sunday, November 22, 2009, for 4 weeks only, through Sunday December, 6, 2009. Dreamgirls will be a highlight of the Apollo Theater's 75th Anniversary celebration in 2009.
The national tour has announced a series of cities and dates where the musical will visit, the current listing can be found by clicking here.
Dreamgirls is directed and choreographed by Robert Longbottom with co-choreography by Shane Sparks, scenic design by Robin Wagner, costume design by William Ivey Long, lighting design by Ken Billington, sound design by Acme Sound Partners, media design by Howard Werner for Lightswitch and is produced by John Breglio for Vienna Waits Productions. Following the Apollo Theater engagement, the national tour of Dreamgirls will play Baltimore, Pittsburgh, Milwaukee, Minneapolis, Chicago, Boston, Columbus, Los Angeles, Seattle, Portland, Costa Mesa, Cincinnati, Philadelphia, and more. 
"When we started planning this new production, I knew it was time to finally bring Dreamgirls to the Apollo. Throughout its history, the Apollo has been known as a proving ground where new talent has been discovered and nurtured and careers have been launched," said producer John Breglio. "And that's what Dreamgirls is all about. The very first scene in Dreamgirls takes place right here at the Apollo's famous Amateur Night. What better place to launch a new production of this groundbreaking show?"
Dreamgirls tells the rags-to-riches story of an up-and-coming 1960's girl group from Chicago, and the triumphs and tribulations that come with fame and fortune. The original Broadway production of Dreamgirls opened December 20, 1981 at the Imperial Theatre and won six 1982 Tony Awards. Dreamgirls closed on Broadway August 11, 1985, after 1,522 performances. Dreamgirls features music by Academy Award nominee Henry Krieger and book and lyrics by Tony and Grammy-Award winner Tom Eyen. The original Broadway production was directed by Michael Bennett and choreographed by Bennett and Michael Peters. Dreamgirls was adapted into a motion picture by DreamWorks Pictures and Paramount Pictures, and opened in December 2006.
Celebrating its 75th anniversary season in 2009-2010, the legendary Apollo Theater has been a driving force in shaping America's music and cultural landscape and has played a major role in the emergence of innovative musical genres including jazz, swing, bebop, R&B, gospel, blues, soul and hip-hop. Ella Fitzgerald, Sarah Vaughan, Billie Holiday, Sammy Davis, Jr., James Brown, Bill Cosby, Gladys Knight, Luther Vandross, D'Angelo, Lauryn Hill, and countless others began their road to stardom on the Apollo's stage. A distinctly American landmark, it is the one of the only institutions in the nation equally devoted to showcasing both emerging talent and legendary performers on the same stage, thereby creating an exceptional community of musicians and artists. Based on its cultural significance and architecture, the Apollo Theater received state and city landmark designation in 1983 and is listed on the National Register of Historic Places.
The Apollo Theater Foundation, a not-for-profit corporation founded in 1991, is dedicated to the preservation and development of the Apollo Theater. The Apollo's mission is to honor the influence and advance the contributions of African-American artists and advance emerging creative voice s across cultures and artistic media through the Apollo Experience of world-class live performances and educational programs. The Apollo is located in the heart of Harlem at 253 West 125 Street, between Adam Clayton Powell Blvd (7th Ave.) and Frederick Douglass Blvd (8th Ave.), and is easily accessible by public transportation via the A, B, C, D, 2, and 3 trains. For further information, visit www.apollotheater.org.
Moya Angela (Effie White) joins the cast from The Lion King's Gazelle and Cheetah tours (Disney). Her roles included Rafiki and Shenzi. She is a native of Indianapolis, IN where she won two Encore Awards in her roles as Sara in Ragtime and Adapearle in The Wiz. Moya will be making her NYC debut.
Syesha Mercado (Deena Jones) As a recording artist, Syesha released a single with two-time Grammy nominated jazz legend Boney James and has begun preparations for her first record, collaborating with a host of prominent writers and producers, including Grammy-winner Diane Warren, Scott Cutler, Anne Preven, Steve Diamond, Chris Rojas, and many more. She came to national attention as the second runner-up in the seventh season of Fox's "American Idol." She also participated in the subsequent "American Idol" LIVE Tour 2008, performing 53 concerts in 49 cities both in the United States and Canada. Syesha attended the Manatee School for the Arts, and was a theater major at Florida International University in Miami.
Adrienne Warren (Lorrell Robinson) is a recent graduate of Marymount Manhattan College. New York Theatre: The Wiz (Dorothy understudy for Encores! Summer Stars). Regional: Little Shop of Horrors, Cats, Big River, and the 25th anniversary of Dreamgirls starring Jennifer Holliday. Training: Ann Reinking's Broadway Theatre Project. Trans Siberian Orchestra 2008-2009 Winter Tour (Featured Vocalist).
For more information, please visit www.dreamgirlsonstage.com.
Photos by Joan Marcus

Adrienne Warren, Syesha Mercado and Moya Angela

Adrienne Warren, Syesha Mercado and Moya Angela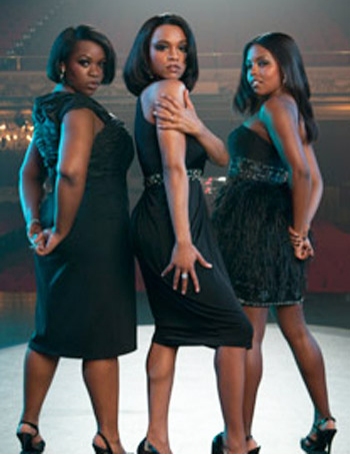 Moya Angela, Syesha Mercado and Adrienne Warren