Photos: TheaterLab presents LAST DITCH PLAYLIST
LAST DITCH PLAYLIST, a new play by Brad Baron, who is also featured in the production along with Ross McCorkell, Amy Stringer and Dontonio Demarco will be presented on August 17, 18 and 19 (Thursday - Saturday) at 8:00 p.m. and on Sunday, August 20 at 2:00 p.m. at Theaterlab, located at 357 West 36th Street, 3rd floor, between 8th and 9th Avenues. Tickets are $18 and can be purchased by visiting https://web.ovationtix.com/trs/pr/975828.
Climb inside Aaron's head where all his memories are shuffled like songs in a playlist. Dance through these memories as he reflects on his rocky romance with Wes and searches for the right words to say. Told in a series of non-chronological vignettes that scan memories both real and invented, LAST DITCH PLAYLIST is a modern mixtape eulogizing love lost and found.
LAST DITCH PLAYLIST will also be presented at the 2017 FringeArts Festival from September 12th - 15th 2017 at the Performance Garage in Philadelphia. http://fringearts.com/event/last-ditch-playlist.
Brad Baron
(Writer, "Aaron") has contributed works to the 2016 and 2017 New Jersey One Minute Play Festival (#1MPF), and his one acts
Homochondria
and
Queer Assumptions
were mounted as part of the 2015 and 2016 Rainbow Festivals with the La Strada Ensemble Theater.
Where We Always Go
was presented in the New Playwrights Series at The Villagers Theater, and
Last Ditch Playlist
premiered at the 2017 Capital Fringe in Washington, D.C. Brad was previously engaged as an Artist in Residence with Opera Memphis, and has appeared on stages with Bergen County Players, Bronx Opera, CLOC, Des Moines Metro Opera, inter
ACT Productions
, LSU Opera Theatre, Ohio Light Opera, Opera Louisiane, Opera Memphis, operamission, The Princeton Triangle Club, The Secret Opera, and Theatre Intime. He was a resident professional artist with the Ohio Light Opera for their 2015 and 2016 festival seasons. Brad is the founder and curator of QueerForceX, a YouTube Gaming Channel designed to lend more LGBTQ voices to online communities of nerds and "gaymers" everywhere. A Masters of Music recipient from Louisiana State University and a graduate of Princeton University, where he received an AB in English and Certificates in Theatre and Vocal Performance, Brad is a member of the Dramatists' Guild of America. For more information, please visit
www.brad-baron.com
or follow Brad on social media directly @BaronAsInRed.
Ross McCorkel
l ("Wes")
New York Theatre
credits include
Astronaut Love Show
(Off-Broadway, original cast recording),
Loch Lomond
,
Gods & Kings
. Regional favorites:
Pageant
,
Altar Boyz
(Lyric OKC),
Next to Normal
(Crown Uptown),
RENT
(Glow Lyric),
Sunset Boulevard
(MTWichita). Former company member: Alithea Creations, Clawson Dances, Wichita Contemporary Dance Theatre. A Scottish artist living in New York City Ross's current focus centers performance art, drag, and independent music. His drag persona Rosé is the current reigning champion of "Lady Liberty," New York City's largest drag competition. Rosé was also recently featured in an interview on the front page of Out.com. BFA Wichita State University. IG: @slayrosayqueen Dontonio Demarco ("Kellan"/"Willie") was last seen in ID Networks'
A Crime to Remember
, and
Oscar Wilde
's
Salome
, a Sacred Circle Production. He will also be in the upcoming performance of
We Are All Tourists
in September, a Trusty Sidekick production. Dontonio is also a member of Poetic Theater Productions. He was trained at the School for Dramatic Arts Conservatory. Amy Stringer ("Zara"/"Lexi") has performed at The Connelly Theater,
Robert Moss
Theater, and Theater for the New City. You can also see her starring in an episode of "Millennials of New York" - an Elite Daily-produced web series. Most recently Amy completed The Studio / New York's Nine Month Conservatory program. For The Studio's final rehearsal project, Amy played Elinor Dashwood in
Sense and Sensibility
.
www.amy-stringer.com
The creative team includes
James Johnson
(Lighting Designer), Jason Pomerantz (Composer,
Sound Designer
) and Joseph Prestamo (Videographer).
Photo Credit: Joseph Prestamo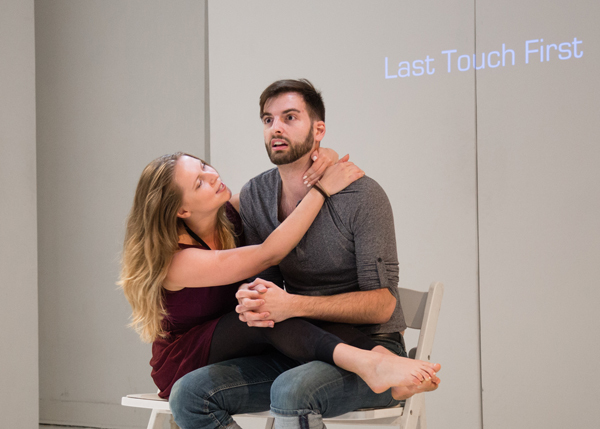 (l. to r.) Amy Stringer and Brad Baron in a scene for LAST DITCH PLAYLIST.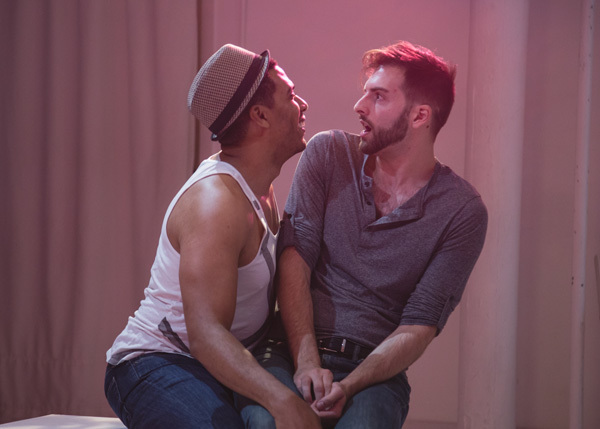 (l. to r.) Dontonio Demarco and Brad Baron in a scene for LAST DITCH PLAYLIST.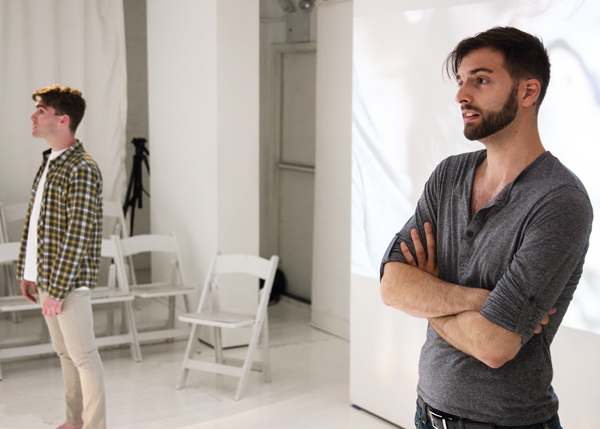 (l. to r.) Ross McCorkell and Brad Baron in a scene for LAST DITCH PLAYLIST.