Photo Flash: THE GIRLY SHOW, Starring Van Pelt and Lincoln, At Port 41 Bar
It happened in the least likely of places: a dimly-lit, unassuming dive bar across the street from Port Authority Bus Terminal on West 41st Street. It happened on the least likely of nights: a Monday night drenched in a heavy rainstorm. But despite the terrible weather, Port 41 Bar was filled to capacity, buzzing with the energy of a crowd that knew it was about to witness something important, new, and exciting.
"The Girly Show," described as a burlesque vaudeville variety show, brought to life the vibrant energy and sexual liberation of Kander and Ebb's fictitious KitKat Club in "Cabaret.". Co-creators Justin Van Pelt and Daniel Lincoln acted as our tour guides through an evening that included Jazz, Opera, Pop, theater standards, hilariously irreverent parody, steamingly sexy dance, and even a number where an innocent audience member was bound to a chair on stage and blindfolded. Though never offensively vulgar, "The Girly Show" appears intentionally rough around The Edges, as if all the makeup and the sparkles are barely concealing a dark underbelly that threatens to erupt at any moment.
It is with this combination of humor and almost intimidating sexuality that Justin Van Pelt - calling himself "Valentine" - welcomes the audience and wows in a series of knock-out numbers. Though he sometimes seemed to go up on his lyrics and choreography - this was the first performance, after all - his "Valentine" persona never wavered, and the audience couldn't help but forgive any misstep. A relative newcomer to the New York cabaret scene, Van Pelt has already proven himself to be a promising talent worth following.
Van Pelt was accompanied by nightlife icon Daniel Lincoln, deliciously scantily clad and playing as ferociously as ever. Lincoln has gained a reputation as a highly sought-after music director and songwriter (his musical, "Queen Bea: A Soapsical" recently enjoyed a sold out run), and his skills are put on full display here. Together, Van Pelt and Lincoln are a mighty - and incredibly sexy - nightlife duo.
But "Girly Show" is a variety show, and the praise must be shared with all the guest acts that joined Van Pelt and Lincoln. A particular standout was Avery Ragsdale, who appeared as the hilariously irreverent "Lady Bukkake," singing deliciously off-color parody numbers about unfortunate romantic encounters. And infamous nightlife diva Emily McNamara made a splash with a reinterpretation of "Hey Big Spender" that nearly stopped the show.
"The Girly Show" is not for the politically or sexually conservative. It makes no apologies, and there is still a list of kinks to be worked out. But if you are willing to succumb to it, you will be transported to an exciting world of sweaty flesh, fabulous music, and total liberation. "The Girly Show" is not to be missed - it offers the perfect blend of sassy irreverence and undeniable talent that New York audiences deserve, and will undoubtedly become Manhattan's newest nightlife institution.
The next "Girly Show" is scheduled for Monday, April 12th (8:30pm) at Port41, 355 West 41st Street near 9th Ave. More information on "The Girly Show" Facebook FanPage.
Photo Credit: Jason Woodruff


Justin Van Pelt and a member of the audience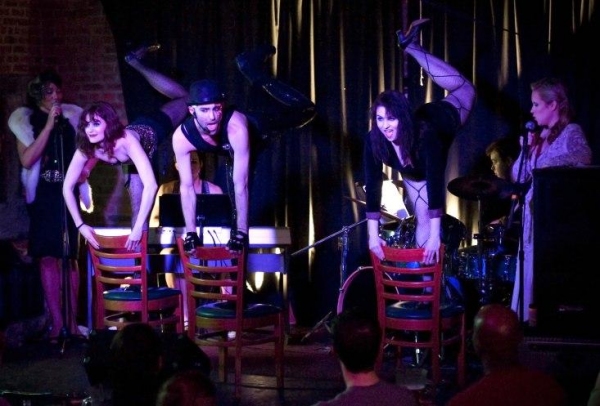 "Girly Show" Cast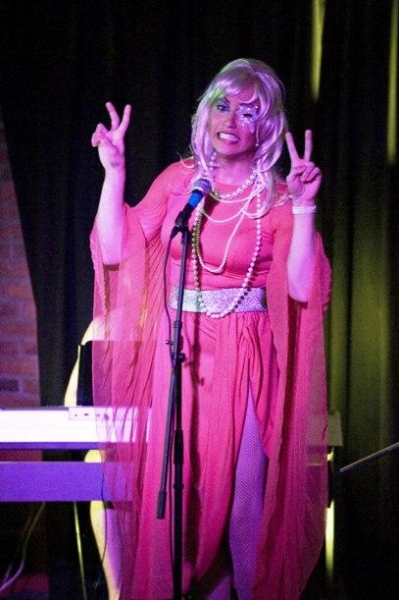 Avery Ragsdale as "Lady Bukkake"

Emily McNamara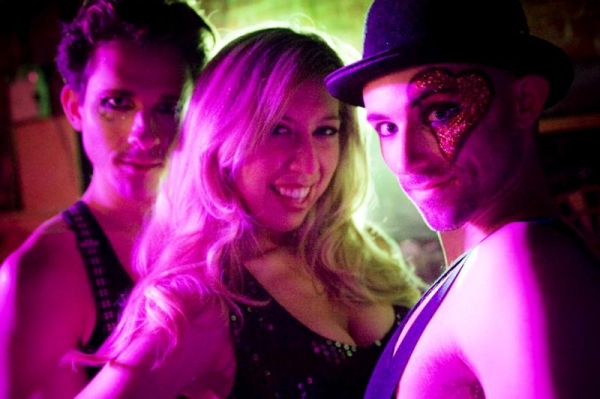 Daniel Lincoln, Justin Van Pelt, and Emily McNamara

Daniel Lincoln and Justin Van Pelt

Featured This Week on Stage Door
Shoutouts, Classes, and More from Your Favorite Broadway Stars
Related Articles
More Hot Stories For You
NYTW Gala To Celebrate 25th Anniversary Of RENT Featuring Original Cast Members Anthony Rapp, Adam Pascal, Idina Menzel, and More!
Today marks the 25th Anniversary of RENT's first performance at New York Theatre Workshop. The NYTW has announced that its 2021 Annual Gala will celeb...

Final Lineup Announced For SAVE BIRDLAND: A Celebration Of Music, History, And Community
The fundraising campaign for Birdland Jazz Club will conclude on January 24th with a free streaming concert titled Save Birdland: A Celebration of Mus...

VIDEO: On This Day, January 24- Happy Birthday, Daveed Diggs!
For his performance in Hamilton, Daveed won the 2016 Tony Award for Best Featured Actor in a Musical, as well as a 2016 Grammy Award for the cast albu...

VIDEO: Broadway Jumps on the BRIDGERTON Musical Bandwagon
The new Netflix series Bridgerton has been gaining popularity since its premiere in December of 2020. Part of that popularity comes from the clever mi...

VIDEO: Get a Sneak Peek at Jeremy Jordan in Hallmark's MIX UP IN THE MEDITERRANEAN
Jeremy Jordan is returning to your screens with the all new Hallmark movie, Mix Up in the Mediterranean....

VIDEO: Chita Rivera, Bebe Neuwirth, and More Perform 'All That Jazz' During SAVE BIRDLAND Fundraiser
Notables from President Bill Clinton and Whoopi Goldberg to musicians Wynton Marsalis and Sting joined together on Sunday, Jan 24th to "Save Birdland"...