Photo Flash: SPRING AWAKENING's Amanda Castanos in New Cuban Musical PEDRO PAN at FringeNYC
PEDRO PAN, a new bi-lingual children's musical, explores the struggles of Pedro, a young boy, sent to the US by his parents to escape the growing dangers of revolutionary Havana. Once in the U.S., Pedro must learn to adapt to a new language, culture, and country. Check out photos from the show below!
Based on the real-life events of Operación Pedro Pan, Pedro must navigate a new world without the safety and comfort of his parents. Pedro soon faces discrimination as an immigrant but Roger, a young boy from Mexico, teaches Pedro how to assimilate and become an "American." Together they form the "Lost Boys Club" to hide their cultural heritage, until they meet Wendy, a young black girl from Alabama, who teaches them to embrace their differences despite the discrimination they will continue to face.
Operacíon Pedro Pan occurred between 1960-1962. Over 14,000 Cuban children were sent alone on a journey from Cuba to the United States by their parents, who feared the Communist government would take away their parental rights and send their children to military schools and to Soviet Labor Camps.
"Although the story takes place in 1962, the themes of cultural acceptance and race relations remain heated topics in 2015," says writer/director Rebecca Aparicio. "We have all experienced being the new kid or dealing with the sense of a lost identity. As the daughter of two Cuban exiles, I can identify with children immigrating today and the discrimination they face. My hope is that children can identify with Pedro and find comfort knowing they are not alone in their journey. "
WHY THIS MUSICAL? As a Cuban-American originally from Miami, I grew up in a beautiful bubble where everyone shared the collective experience of being a first-generation American building our lives upon the sacrifices our family made for freedom. Stories of the Castro regime and the losses suffered at the hands of the Communist government filled my childhood. Stories about my grandfather fighting for democracy in Cuba which ended in his imprisonment for having "ideas against the government." During his seven-year sentence, my uncle was sent to the US at the age of 14, leaving behind his entire family. Years passed before my grandmother was finally able to join my eldest uncle in America with her two younger sons not knowing if she would see her husband again. Both my parents and uncles share gaps in childhood memories due to the trauma of leaving their country and their family behind. They escaped to the U.S. where they faced discrimination as do so many young immigrants and children of color today. In the wake of attacks against the young immigrants community by the likes of Donald Trump and Ann Coulter, it is even more important to highlight the Hispanic experience in a positive and educational way.
CAST (*denotes member of Actors Equity): Rebecca Aparicio, (Little is Big, The Shadow Box Theatre); Amanda Castaños* (Spring Awakening, Broadway); John Ryan Del Bosque, (Hands on A Hard Body, TUTS); Bobby Gamez, (Charlotte's Web, Theatreworks USA); Joey Lozada ( The Waiter Project, Theatre for the New City); Luis E. Mora*(SkippyJon Jones, Theatreworks USA); and Destinee Rea* (Dreamgirls, North Shore Music Theatre; The Wiz, Maltz-Jupiter).
PRODUCTION TEAM:
Rebecca Aparicio
/
Stephen Anthony
Elkins, Executive Producers;
Jason Styres
, CSA, Casting Director (A Gentleman's Guide to Love and Murder); Desmond D. Porbeni (Chamber Music Society of Lincoln Center), Producer; Rick Cekovsky, (The TRUF Theatre), Producer; Rachel Rehome Dozier-Ezell (Classical Theatre of Harlem), Costume Design; Guillermo Laporta (Cre.Art Project), Projections and Set Design; and Jason Fok (Classical Theatre of Harlem), Lighting Design.
Direction & Book by: Rebecca Aparicio
Music & Lyrics by: Stephen Anthony Elkins
Presented as part of the New York International Fringe Festival
SUN 8/16 @ 3:45 WED 8/19 @ 2 SAT 8/22 @ 1:45 TUE 8/25 @ 2 FRI 8/28 @ 2
All performances at the 14th StreetY, 344 E 14th Street
For more information, go to www.pedropanthemusical.com.
Pedro Pan is an Equity approved showcase.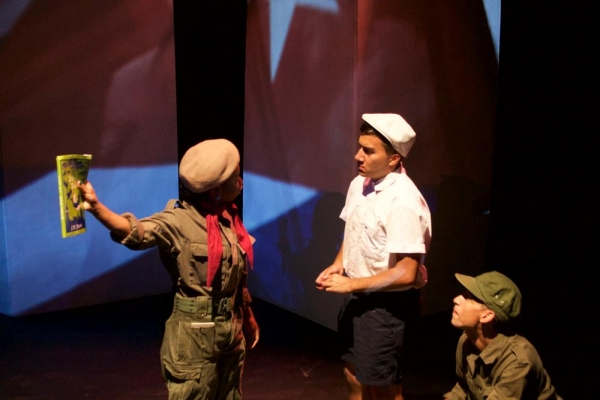 Amanda Castaños and Luis E. Mora*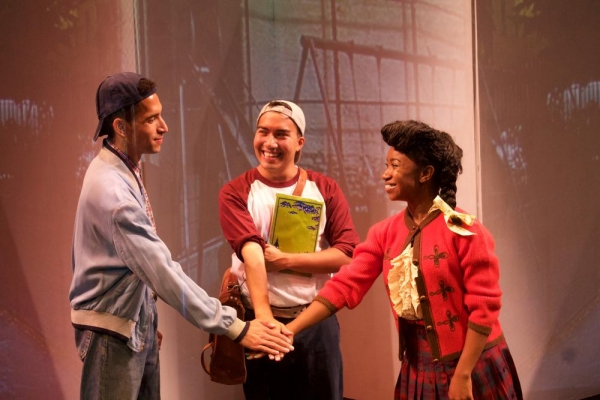 Joey Lozada, Luis E. Mora*, (R) Destinee Rea*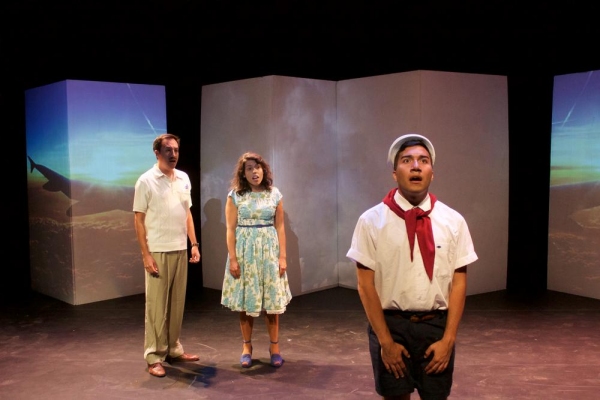 Bobby Gamez, Rebecca Aparicio, Luis E. Mora*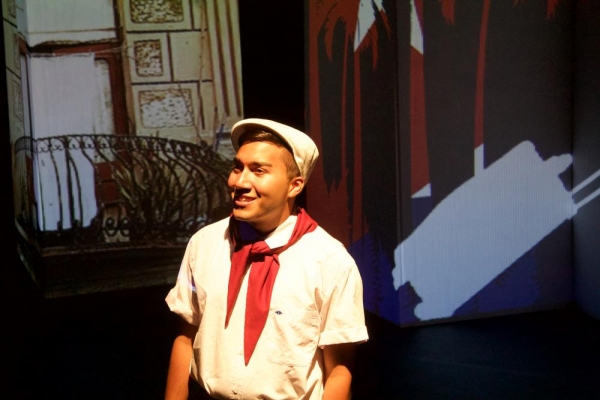 Luis E. Mora*
---
Shop BroadwayWorld

Shop this season's new musicals! Get dressed up for a night at the theatre, or just a night at home, with merch from some of Broadway's biggest hits including SOME LIKE IT HOT, KIMBERLY AKIMBO, and more!
---
Related Stories