Photo Flash: SHOGUN MACBETH at Pan Asian Rep
Pan Asian Repertory Theatre launches their 32nd season with SHOGUN MACBETH, an adaptation by John R. Briggs from the play by William Shakespeare. Directed by Ernest Abuba (Pacific Overtures, Yellow Fever) with Japanese movement by Sachiyo Ito (2008 Japan Foreign Minister's Commendation) and fight choreography by Michael G. Chin (Rashomon), SHOGUN MACBETH begins performances at the Julia Miles Theatre (424 W. 55th Street between 9th & 10th Aves) on November 4th with opening night set for November 12th at 7:00 p.m.
A cultural transmutation, SHOGUN MACBETH channels Shakespeare's tragic tale of power and greed to the feudal military dictatorship of 12th century Japan (Kamakura Period), a time of warring clans.  The three witches are "Yojo's," obaki creatures with spiritual and supernatural powers.  While incorporating the classical Japanese art forms of Noh and Kyogen, SHOGUN MACBETH retains Shakespeare's language and historical medieval period.
The cast
stars Kaipo Schwab from Hawaii, who is making his Pan Asian debut as MacBeth and
Rosanne Ma
(CHINA DOLL), along with other veteran artists: Keoni Scott (ALOHA LAS VEGAS), Marcus Ho (RASHOMON),
Tom Matsusaka
(THE JOY LUCK CLUB), Ron Nakahara (CAMBODIA AGONISTES), Ken Park (RASHOMON),
Shigeko Suga
(KWATZ! The Tibetan Project) as well as the next generation of artists: Calvin Ahn, Claro Austria, Claro de los Reyes, Ariel Estrada, Emi F Jones, Nadia Gan, Yoko Hyun and
Sacha Iskra
. The set design is by Charlie Corcoran (YOHEN) with costumes by Carol Pelletier (THE JOY LUCK CLUB) and lighting design by Victor En Yu Tan (CAMBODIA AGONISTES) and stage managed by
Elis C. Arroyo
."Pan Asian Rep is honored to continue our Masterpiece Cycle with a new production of SHOGUN MACBETH," said
Tisa Chang
, Artistic Director.  "The classic tragedy opens up the world of Japanese culture and history while maintaining the integrity of Shakespeare's tale.  John Briggs' inspiration came from the parallels of Shakespeare's tragic characters with the philosophy that guided the samurai way of life."SHOGUN MACBETH has performances Tuesday – Saturday at 7:30 p.m. with matinee's on Saturday and Sunday at 2:30 p.m. Tickets are $50.   For tickets, please visit www.telecharge.com or call (212) 239-6200.JOHN R BRIGGS (Adapter) specializes in adaptations of classics: JULIO CESAR, THE COWBOY COMEDY OF ERRORS, and for Pan Asian Rep SHOGUN MACBETH and DOLL'S HOUSE. He has extensive experience as writer and director with original musicals: ROMANCIN' THE ONE I LOVE, ILLYRIA, DRACULA, A ROCK OPERA and co-wrote CRAZY LOVE. He has directed at major theaters in the nation including: Asolo Theatre, Barter Theater,
Alabama Shakespeare Festival
,
Florida Stage
Company, and Tennessee Shakespeare Theater.  He is the artistic director of OFFSQUARE THEATRE in Jackson, Wyoming.
Ernest Abuba
(Director) is a veteran actor, director, and playwright.  On Broadway in LOOSE ENDS by
Michael Weller
, the original cast of PACIFIC OVERTURES as well as the 1985 revival starring as the Reciter; SHIMADA, ZOYA'S APARTMENT and won an Obie for his role in YELLOW FEVER at Pan Asian Rep where he is a Senior Artist with over 20 shows as actor, director and playwright.  Films and TV include: 12 MONKEYS, KING OF NEW YORK, KUNG FU, ADDERLY and is the voice of the Dalai Lama on the audio book THE ART OF HAPPINESS. Directing favorites include: LEIR REX at LaMama, SPEAK TRUTH TO POWER at
Sarah Lawrence
College, LEMON SKY at Chen & Dancers, and is delighted to be at the helm of the new production of SHOGUN MACBETH having created the title role in the its world premiere. Abuba has been on the
Sarah Lawrence
theatre faculty for 13 years.
Tisa Chang
(Artistic Producing Director) celebrates 45 years in the American Theatre as dancer, actress, director, producer, and founded Pan Asian Repertory Theatre to empower Asian American artists.  Directing highlights include last season's THE JOY LUCK CLUB,  2003's RASHOMON which was invited to the Havana Theatre Festival, CAMBODIA AGONISTES which was invited to arts festivals in Cairo and Johannesburg and had a popular return to New York in 2005.  Chang is also active in public service having served on panels for DCA, NEA, NYSCA, FULBRIGHT, and has been recognized with honors for Lifetime Achievement Award from OCA – LI; 2004
Alfred Drake
Award from Brooklyn College; 1991 Medal of Distinction from Barnard College and 1988 Special Theatre World Award. She is on the Executive Board of SSDC, the union of stage directors & choreographers. Founded in 1977, PAN ASIAN REP is the pioneer producer of Asian American theatre east of the Rockies, with a full New York season off-Broadway, training programs, international and national touring. For more than 30 years, Pan Asian Rep has celebrated the artistic expressiveness of Asian American theatre artists with the highest standards of professional theatre.  The company encourages new plays with contemporary themes, that draw upon the unique heritage of Asian history, music and movement.  Benchmark productions have focused on the historical acmes and nadirs of migration, assimilation, internment, bias killings, joys and celebrations of Asian American society. It is timely that a 5 year Masterpiece cycle of iconic classics from the repertoire, as well as new works, was launched in 2007 to challenge Pan Asian Rep's veteran Senior Artists Core, and the next generation of Emerging Artists, in conjunction with a long-range plan to ensure artistic continuity and institutional growth. The Masterpiece Cycle began with the critically acclaimed 2007 new production of THE JOY LUCK CLUB by
Susan Kim
and based on the novel by
Amy Tan
, and future seasons will include the New York premiere of IMELDA, a new musical in the fall of 2009 and INDIAN INK by
Tom Stoppard
in 2010.
TICKET INFORMATION
SHOGUN MACBETH begins performances November 4th at the
Julia Miles
Theatre (424 W. 55th Street between 9th & 10th Aves). Via Subway, take the 1/A/C/B/D trains to Columbus Circle or the C/E to 50th Street/8th Ave. **Performances are Tuesday – Saturday at 7:30 p.m. with matinees on Saturday and Sunday at 2:30 p.m. Tickets are $50. Senior tickets are $35 and student tickets are $20. For tickets, call Telecharge.com (212) 239-6200. Discounted rates available for groups of 15 or more are available by calling 212-868-4030.STUDENT MATINEES: Thursday, November 6th; Wednesday, November 12th;Wednesday, November 19th and Tuesday, November 25th at 11:00AM.NO PERFORMANCE: Thursday November 13th, Tuesday November 18th, or Thursday November 27th (Thanksgiving).SPECIAL ADDED PERFORMANCE: Monday, November 10th at 7:30PM.
For more information, please visit www.PanAsianRep.org.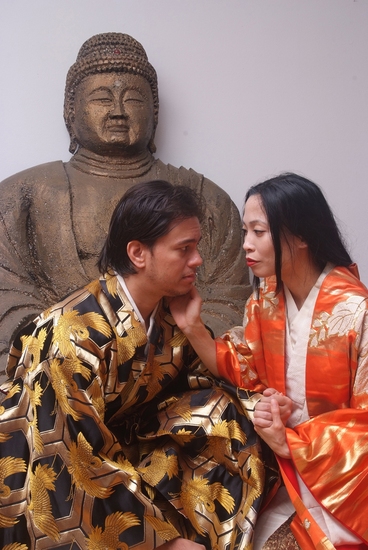 Kaipo Schwab and Roanne Ma

Ensemble of Shogun Macbeth

Claro Austria, Shigeko Suga and Emi F. Jones