Photos: Robert Klein, Martin Charnin & More Celebrate Madeline Kahn at Drama Book Shop
New York City's Drama Book Shop hosted a panel discussion on the life & career of Madeline Kahn (1942-99), the Oscar-nominated, Emmy & Tony-winning actress on June 11, 2015. Star of such hit films as Blazing Saddles, Young Frankenstein, Paper Moon & Clue & Broadway shows On the Twentieth Century, The Sisters Rosensweig & Two by Two, Kahn is the subject of a new biography, Madeline Kahn: Being the Music • A Life (University Press of Mississippi) by William V. Madison, moderated the panel.
The panel was composed of Kahn's colleagues & friends, including comedian RoBert Klein, (Kahn's most frequent co-star - New Faces of 1968, The Sisters Rosensweig, Mixed Nuts, etc.), Martin Charnin (lyricist, Two by Two), Lee Roy Reams (director, Hello, Dolly!), Scott Ellis (director of Kahn's final theatrical appearance & of the current Roundabout Theatre revival of On the Twentieth Century), Jonathan Lynn(writer/director, Clue), Walter Willison (Tony-nominated co-star, Two by Two), Joan Copeland (co-star, Two by Two),Maddie Corman (Kahn's niece on the George C. Scott sitcom, Mr. President) & Lawrence Leritz (guest star, "The Cosby Show").
Born in Boston in 1942, Madeline Kahn "was one of the most popular comedians of her time - and one of the least understood," Madison writes. She was often ambivalent about a performing career & she complained of typecasting, beginning when she was a college student. Trained as an opera singer, she made her New York debut in nightclub revues before going on to Broadway & Hollywood. Best known for her work with directors Mel Brooks & Peter Bogdanovich, she was nominated for Oscars for best supporting actress in 1973 & 1974 for Paper Moon & Blazing Saddles & won a Daytime Emmy in 1987. Kahn died of ovarian cancer in New York City, on December 3, 1999.
Photos by Matty Baker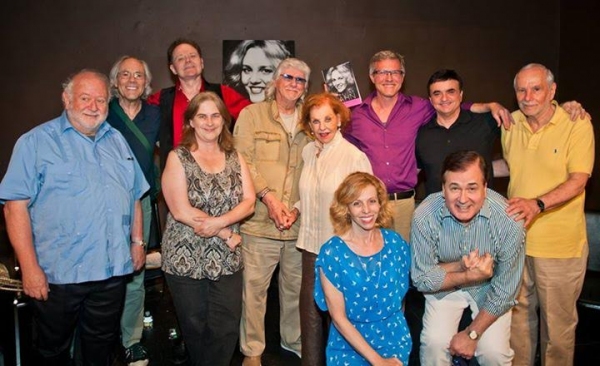 Foreground: Maddie Corman (co-star, 'Mr. President'), Lee Roy Reams (director, 'Hello, Dolly!'). Standing: Jonathan Lynn (writer/director, 'Clue'), RoBert Klein (co-star, 'Sisters Rosensweig), Walter Willison (co-star, 'Two by Two'), Carol J. Bawer (production assistant, 'Betsy's Wedding'), Martin Charnin (lyricist, 'Two by Two'), Joan Copeland (co-star, 'Two by Two'), author William V Madison, Lawrence Leritz (guest star, 'Cosby'), Michael Cohen (composer, 'Das Chicago Song'). Drama Book Shop, June 11, 2015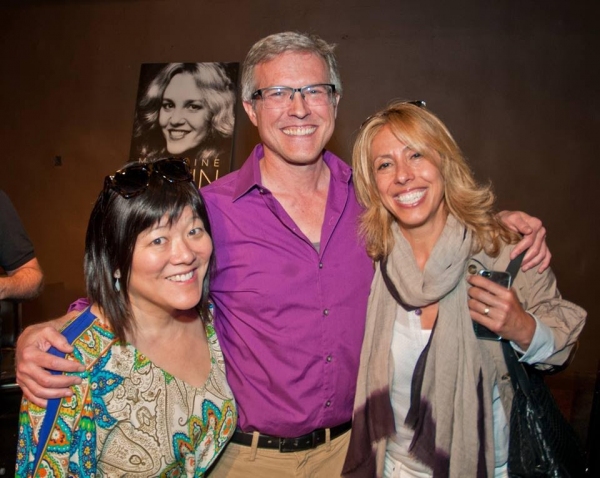 William V Madison, Ann Harada, Amanda Green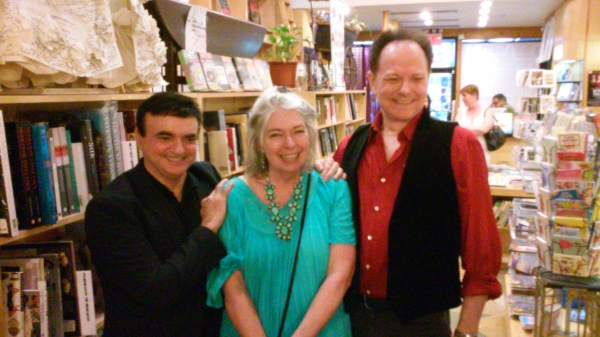 Lawrence Leritz ('Fiddler'), Jill O'Hara ('Promises, Promises') and Walter Willison ('Two By Two')