Photo Flash: President Obama Gives HAMILTON a Standing Ovation
The Broadway community has been a-buzz today with chatter about President Obama attending Saturday's matinee of HAMILTON on Broadway, as BroadwayWorld reported. Now, we bring you photographic proof! Below, check out pics posted by a fellow audience member of the President applauding the show, and of Javier Muñoz bowing as 'Alexander Hamilton.'
Also in the audience, however, was HAMILTON creator Lin-Manuel Miranda. Though he usually stars in the show, he had already made plans to watch his musical today as part of his pre-opening evaluation process, as BroadwayWorld previously reported. Click here to see his post-show tweets from the matinee. Click here to watch the 'Schuyler Sisters' perform a special song in honor of the president attending their show.
'Alexander Hamilton' alternate Javier Muñoz had the honor of performing as 'Alexander Hamilton' for Barack Obama
Michelle Obama was not in attendance, presumably because she saw HAMILTON during its run at the Public Theatre. Click here to check out pictures of the First Lady with the cast!
HAMILTON is inspired by the book Alexander Hamilton by Ron Chernow and features book, music, and lyrics by Lin-Manuel Miranda, choreography by Andy Blankenbuehler and direction byThomas Kail, who previously collaborated on IN THE HEIGHTS.
The new musical follows the scrappy young immigrant who forever changed America: Alexander Hamilton. Tony and Grammy Award winner Lin-Manuel Miranda wields his pen and takes the stage as the unlikely founding father determined to make his mark on a new nation as hungry and ambitious as he is. From bastard orphan to Washington's right hand man, rebel to war hero, loving husband caught in the country's first sex scandal to Treasury head who made an untrusting world believe in the American economy, Hamilton is an exploration of a political mastermind. George Washington, Thomas Jefferson, Eliza Hamilton, and lifelong Hamilton friend and foe, Aaron Burr, all attend this revolutionary tale of America's fiery past told through the sounds of the ever-changing nation we've become. Tony Award nominee Thomas Kail directs this new musical about taking your shot, speaking your mind, and turning the world upside down.
Photo credit: Sherry Diamond

Barack Obama applauds the HAMILTON cast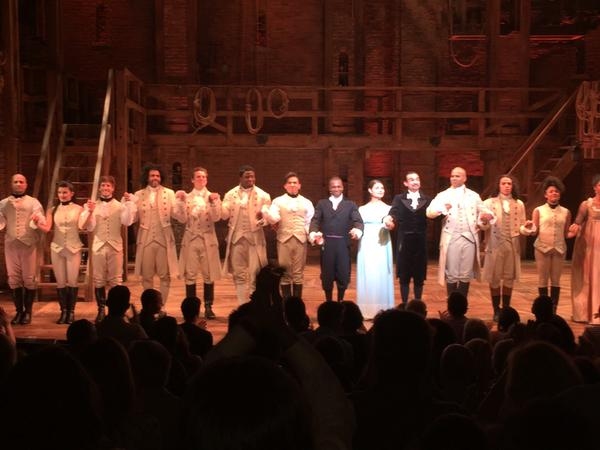 Javier Munoz and HAMILTON Cast Take Bows