Photo Flash: Phallacy Opening Night
From May 15th through June 10th at the historic Cherry Lane Theatre (38 Commerce St.), Redshift Productions is presenting the American Premiere of award-winning scientist and writer Carl Djerassi's Phallacy. The show stars Lisa Harrow (Wit) and Simon Jones (Waiting in the Wings, The School for Scandal) as "Regina" and "Rex," and also features Vince Nappo and Carrie Heitman. Elena Araoz directs.
Press notes state, "She's a top art historian in a world famous museum. He's a distinguished professor of chemistry. She searches for artistic truth through connoisseurship; he finds scientific fact through cold material analysis.  Between them stands the object of her affection: a revered classical statue long thought to be a roman original…and he just proved it to be a 16th century cast.  As personal rivalries and professional reputations clash, how far will each go to prove the other wrong?"   
Djerassi, emeritus professor of chemistry at Stanford and renowned inventor of the birth control pill, has spent the past 20 years writing on the human aspects of science. He has written multiple fiction and non-fiction works, and was awarded the National Medal of Science by President Nixon, at a time when he appeared on Nixon's infamous "Enemies List." 
Tickets are $35, and are available by calling 212-239-6200 or 800-432-7250.
Photos courtesy of Springer Associates PR

Cast – Simon Jones, Carrie Heitman, Lisa Jones and Vince Nappo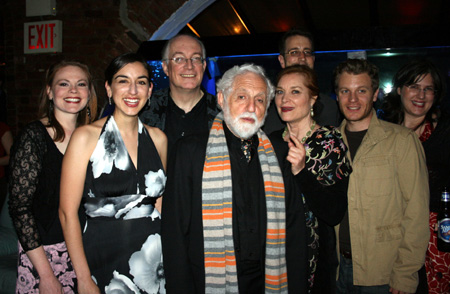 Cast and creatives - Carrie Heitman, Elena Araoz (director),
Simon Jones
, Carl Djerassi (playwright), Lisa Harrow and Vince Nappo , in the back Max Evjen and Megan Halpern (producers / red shift productions)