Photo Flash: OMOTENASHI JOURNEY Welcomes New Cast Members
"OMOTENASHI Journey" is a brand new musical-in-progress, presenting featured songs at the New York's Got Talent Finals at The Elektra Theater on Tuesday April 26th.

In "OMOTENASHI Journey," the Japanese call their hospitality "OMOTENASHI," meaning warmth, understanding, respect, gratitude and kindness. Inspired by the slogan for the 2020 Olympic Games to be held in Japan and with aims of Magical Realism, this performance will give audiences a firsthand experience to the true Magic of Japanese hospitality.

"We are thrilled with this amazing cast! And, I really appreciate my talented people's friendships. I realize how much people enjoy this show not only audience but also our cast. I feel the world is ready to see this diversity together on stage. We are super excited to be one step closer to a Sponsored 6-Week Off-Broadway Run!!," Writer & Musical Director Noriko Sunamoto (Japanese Production of The Phantom of the Opera, Wicked, Mamma Mia!, Off-Broadway's The Jackie Mason Musical) said.
Noriko Sunamoto (Writher and Musical Director)
Noriko Sunamoto is a music director, composer, arranger, orchestrator and pianist from Japan. She studied at Berklee and New York University Tisch. Noriko has performed with "Mamma Mia!", "The Phantom of the Opera", "Wicked", Takarazuka, and numerous Disney Productions. Her original musical/dance performance "OMOTENASHI Journey" has been performed at such venues as New York's Carnegie Hall and Bandshell, Central Park. Currently Noriko works for several Off-Broadway musicals and Regional such as "The Jackie Mason Musical," "Yaki Yim Bamboo," "A Chorus Line," and "Rent." She would like to thank all the OMOTENASHI Journey Family and is honored to work with such wonderful people. Her dream is to give the hospitality of the Japanese culture to the world and perform at the Japanese Pavilion at the Epcot at Walt Disney World in Florida. Noriko can be reach at www.norikosunamoto.com.
Kristina Coia (Script Advisor, Actress)
Kristina has just completed her run as a Gryffindor Prefect at the Wizarding World of Harry Potter in Orlando, FL. Her recent credits include several roles at the Walt Disney World Resort and some Shakespeare, including Midsummer Night's Dream (Hermia) and Twelfth Night (Olivia).
Atsushi Eda (Choreographer, Actor)
Atsushi is thrilled to be continuing his journey with his dear friends. His first performance in US was with the original cast of OMOTENASHI Journey. Atsushi thanks the entire OMOTENASHI family especially his friend Musa who offered opportunity to be a part of this production. Credits include: Anything Goes, Mary Poppins, Guys and Dolls, Aida and Tokyo Disney.
Chris"Chrisy"Kakurai (Choreographer, Actress)
Chris"Chrisy"Kakurai from Japan is a dancer, actor, model and choreographer. She studied Ballet at Princesse-Grace classic ballet Academy in Monte-calro by award of scholarship . Her performance experience in Japan ranges from various nightclub gigs to work as a main dancer of Tokyo Disney and many Theater. Chrisy has performed/choreographed at New York City Center staring Shirley MacLaine, Carnegie Hall, Simphonyspace staring Melba Moore , Dumbofestival, Work shop and various Theater in NY. She looks forward to choreograph and perform with "OMOTENASHI" again!
Mary Lauren
(Choreographer, Actress)
Mary Lauren is an actor, singer, dancer, director/choreographer, writer and anything else you would like her to be. Mary has performed/choreographed Off-Broadway and regionally at The Davenport Theatre, St. Lukes (Jackie Mason Musical), WorkShop Theatre (Believers), Cherry Lane Theatre (Sarah Was Mine), Sierra Repertory (Thoroughly Modern Millie), Secret Theatre (Hair), June Havoc Theatre (Sophia) and many others. She has enjoyed creating many original roles in new works, including portraying Natalie Wood, Ginger Rogers and Gisele MacKenzie.
Yui Hasegawa (Ballet Choreographer, Actress)
Yui was born in Nagoya, began her ballet training at the age of eight. She studied with Yukari Kanbara and joined many performances. she came to NY in 2011 and has been performing in NY and LA with M performing Arts, Hariyama Ballet and joined Japan Day At Central Park 2014.
Mio Nakanishi (Japanese Dance Choreographer, Kimono Dresser, Actress)
Mio Nakanishi is an original member of this omotenashi project as a performer and a choreographer of Japanese traditional dance since Japan day 2015. She is a graduate of the American Musical and Dramatic Academy (AMDA) in NYC and Osaka College of Music in Japan. She performed with Universal Studios in Japan as part of the JAWS presentation. Stage credits include Miss Saigon as Yvonne and Mimi, The King and I as Lady Thiang and Eliza; leading woman in the new musical "Angels at work, etc.
Mai Nishioka
(Yosakoi Dance Choreographer, Actress)
Mai Nishioka
was born in Kochi, Japan.
She is New York based Musical actress, Singer, Dancer, and choreographer.
Mai graduated from Showa University of Music's School of Misical Theater as the top student.
Right after the school, Mai became a professional dancer of Tokyo Disney Land for two years. She was part of many Disney shows and parades.
Mai's theater credit in Japan include FAME (Carmen), Sound of Music (Brigitta), The gift of the Magi (Ensemble)
Anthony Wright (African Dance Choreographer, Actor)
Anthony is super excited to be a part of Omotenashi Journey, where he is able to learn about the Japanese culture and work with such wonderful people! Anthony graduated form
Syracuse University
with a dual-degree in Television/Radio/Film and Spanish, but is a passionate performer. Some New York/Regional credits include, Richie in A Chorus Line, Angel in Rent, and Seaweed in Hairspray. Anthony would like to thank the Omotenashi team and give a huge congratulations on the success thus far. @antsinyapantzz
Tomo Watanabe
(Japanese Princess)
Tomo Watanabe
is thrilled to be a part of OMOTENASHI Journey!!
She is originally from Japan and graduated from AMDA NY in 2014.
Her previous credits are Off-Broadway, Alice in Wonderland (Dodo and Featured dancer), Grudgical the parody musical (Toshio), Miss Saigon (Gigi) It's a Bird... It's a Plane... It's Superman! (Mother Ling) and Miss Saigon (Yvette). She also played Japanese Princess in OMOTENASHI Journey.
Miki Kikuch (Mother)
Miki Kikuchi was born in Miyagi, Japan. She graduated college as a education (vocal) master from the Iwate college. She is a singer, teacher,psychologist, counselor who came to NYC in 2014.
Nobuki Momma (King)
Nobuki Momma, a baritone, graduated from Tokyo National University of Arts with an MFA in Voice. He also graduated summa cum laude from the Nikikai Opera Institute in 2010. He is a member of Tokyo Nikikai opera company and currently studies voice at Mannes College The New School for Music. He has been awarded a fellowship to study in New York by the Agency for Cultural Affairs under the Japanese government, which sends talented artists abroad for a year-long program.
Sayaka Aiba (Actress)
Sayaka is an amazing actress, singer and Japanese traditional dancer.Credits include her own show by Director
Susan Campanaro
and Singing coach
Mary Setrakian
.Sing at
Carnegie Hall
, Public performance at Japan day Central Park, A performance at Mets stadium, Her appearance in Princess Kaguya and Princess Astuhime of Japanese production.
Stacie Cannon (Actress)
Stacie Cannon is from Portsmouth, V.A. She graduated from the Conservatory of Shenandoah University with a BFA in Dance, in 2009. She then moved to the Washington, D.C. area working as an intern at Dance Place, teaching dance and performing in numerous dance projects. She later moved to New York to further her training in 2012. Stacie attended the Certificate Program at Peridance Capezio Center, graduating from their ballet/contemporary track in 2014. Currently, she is teaching dance in schools around NY and performing in other local productions. Stacie is honored to be apart of the making of Omotenashi Journey!
Bobby Gámez (Actor)
Originally from California, Bobby has lived and worked in and around New York City primarily as a children's theatre performer for the past ten years. Past roles include: an iguana, a worm, a rat, a dancing copy machine, and an evil giant taco.
Seriously.
Thanks to Noriko for the opportunity! Enjoy the show!
Janaki Gerard (Actress)
Janaki Gerard is an Australian born singer, actor and dancer. She is a 2015 graduate of the American Academy of Dramatic Arts. Her most recent credits include Off Broadway- "Sisters Keeper" at Theatre for the New City. Off-Off Broadway "Freestylin" & "Powder Puff Heist" at The Manhattan Repertory. "A Funny Thing happened on the way to the forum" with Little Radicals theatrics inc. In 2016 Janaki has been performing with Surati dance company & will be in the premiere of "Steppenwolf" a new musical which opens this May in collaboration with The New School. Janaki is currently part of the cast of "Yaki Yim Bamboo" which opens this April at the 13th st Repertory Theatre. Janaki would like to thank Noriko for this wonderful opportunity!
Shiori Ichikawa
(Actress)
Shiori is a NYC based "Artivist(Artist+Activist)", born and raised in Tokyo, Japan, graduated from Marymount Manhattan College with BA in Musical Theater. Off Broadway:Comfort Women, a new musical(St.Clement Theater), Double Suicide at Ueno Park(Ensemble Studio Theater), Emergency or the World Takes a Selfie, a new musical(Theater for the New City). Off off Broadway: as Connie in A Chorus Line(The Secret Theatre), Sweet Charity(New Haarlem Arts Theater) and many more. She is so excited to be perfoming in "Omotenashi Journey" and introduce the best part of her own culture "hospitality" through performing arts and be the bridge between Japanese and American culture.
www.shiori-ichikawa.com
Seika Itoh (Actress)
Seika Itoh is a singer, actress, and dancer educated in Japan and NYC. At the age of 12, she debut on film directed by Junji Sakamoto. She appeared in numerous musical theatres, TV commercials and scripted TV series, music videos in Japan. Her notable apperarences include Nintendo and Ikeda Mohando Co., Ltd's Muhi. She was also radio reporter at FM Yokohama. In 2015, she played Liat in South Pacific in NYC.
Satoko Mori (Actress)
Satoko Mori is a pianist and singer from Japan. She started playing the piano from the age of 3. During her student life, she has acted in many plays. After she graduated, she started to compose and arrange her original songs and sung with some bands around Tokyo. She moved to NY in 2014 to expand her music career. Now she's performing as a pianist in various places including a hospital, a church, and musical theaters. Sometimes she also performs as a singer in musical showcases.
Seira Nakanishi (Actress)
Seira was born in Ishikawa, Japan and started performing when the age of 5 with her mother in the local musical theatre. She came to NYC in 2012 for blushing up dancing, singing and acting skills.
She is very excited to join this "Omotenashi journey" !!
Mai Odaira (Actress)
Mai Odaira was born in Saitama, Japan, graduated from Toho Gakuen College of Drama and Music. Since she came to USA, she performed at Carnegie Hall and many theatres in New York City as an actress, model, singer and dancer.
She is pleased to join OMOTENASHI journey.
Angelique Smith (Actress)
Angelique Smith hails from the metropolitan area of Washington, DC. Performing since the age of 7, she received intense training from the Dance Institute of Washington under the direction of Fabian Barnes and has gone on to perform on the stages of the Kennedy Center, the Carter Barron Amphitheatre, and the Warner Theatre. Ms. Smith was accepted into the elite Dance Theatre of Harlem's Residency and received four consecutive scholarships to their Summer Intensive. Angelique received her B.A. in Communication Arts and Photography at Marymount Manhattan College, and is thrilled to join the Omotenashi Journey!
MacConnell Evans (Japanese Taiko)
Mac is an East Coast Taiko Drummer, playing semi-professionally with two New-York-Based groups: Soh Daiko and Taikoza. Mac started playing Japanese drums recreationally while at Bowdoin College in Maine, and was a leader of the collective Rutsubo Taiko while living in Boston. Mac has had the pleasure of working and studying with many drummers and fellow artist. Mac is on an ongoing mission to always be ready to adapt taiko to performances by drawing from classic and contemporary taiko elements and styles. He has been with the Omotenashi collective since Japan Day 2015.
Kenneth Hutchinson (Juita Shamisen)
Ken was born in New York City learning piano and guitar in his youth. In 1990 Ken temporarily relocated to Japan to pursue a career in architecture. A chance discovery of a shamisen in his grandmother's Tokyo home eventually led him to study with Masayo Ishigure at the New York Sawai Koto Academy in 2007. Since then he has performed regularly with Ms. Ishigure at Japanese cultural events in the U.S. and Australia.
Currently Ken is an Architect and Director of Construction for the Wildlife Conservation Society, headquartered at the Bronx Zoo. NEW YORK's GOT TALENT
6 different Acts compete in Times Square each week for YOUR VOTE to win New York's Got Talent. Who moves on to the next round? YOU VOTE - YOU DECIDE! NEW YORK's GOT TALENT is New York's best live talent show showcases the best, yet to be fully discovered, talent who hail from/reside in New York City and NYC's greater area. All talent is pre-screened and contains acts including: singers, dancers, magicians, jugglers, pet training tricks, burlesque, bands, guitarists, drummers, comedians, weird acts of all kinds, ventriloquists, drag-queens, lip syncers, sideshow, cirque, tappers, tumblers, gymnasts, balance acts, impersonators, acapella groups, and any other alternative performance art. The Elektra Theater is located at 300 W 43rd Street. 6 groups will perform on Tuesday, April 26th at 7:30pm. For more information and to reserve your ticket, go to
http://timesscarenyc.com/shows/nygottalent/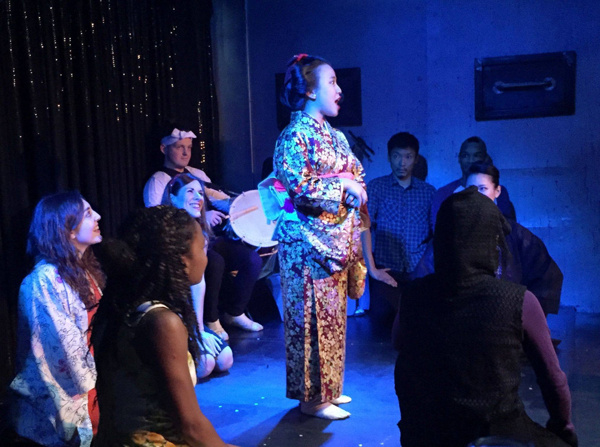 (From left to right) Nobuki Momma, Mio Nakanishi, Tomo Watanabe and Miki Kikuchi. Nobuki Momma (King) and Miki Kikuch (Mother) are amazing opera singers who captured the audience in seconds.

(From left to right) Mary Lauren (Lyricist and Choreographer), Noriko Sunamoto (Writer and Musical Director) and Cooper Jordan (Host and Producer).