Photo Flash: New Production Shots of Ace Young and Company in 'Grease'
The current cast of GREASE stars American Idol's Ace Young, NBC's "Grease: You're the One That I Want" finalists Derek Keeling as "Danny" and Ashley Spencer as "Sandy" along with Ryan Patrick Binder as "Doody," Susan Blommaert as "Miss Lynch," Will Blum as "Roger," Jeb Brown as "Vince," Janine DiVita as "Rizzo," Allison Fischer as "Patty," Robyn Hurder as "Marty," Lindsay Mendez as "Jan," Jose Restrepo as "Sonny," Jamison Scott as "Eugene" and Kirsten Wyatt as "Frenchy."  The ensemble of GREASE™ features Ashley Arcement, Brian Crum, Natalie Hill ("Cha-Cha"), Keven Quillon, Josh Rouah, Allie Schulz, Brian Sears, Christina Sivrich, Amber Stone, Anna Aimee White.
After spending a hopelessly devoted summer with Sandy Dumbrowski, the new girl in town, Danny Zuko's world is thrown upside down when Sandy appears at Rydell High on the first day of school. What follows is a rock n' roll celebration of growin' up, cruisin' with friends and goin' steady.  The new production of
Grease
features songs from the smash hit 1978 motion picture for the first time ever on Broadway including "Sandy," the Academy Award nominated song "Hopelessly Devoted to You,"  "
Grease
" and "You're the One That I Want" both of which were #1 hits on the Billboard Top 100 list.  These songs will be heard in addition to the Jacobs/Casey songs made famous by the original stage production including "Summer Nights," "
Grease
d Lightnin'" and "We Go Together."
GREASE opened on Broadway at the Brooks Atkinson Theatre (256 West 47th Street) on Sunday, August 19, 2007 following preview performances which began on Tuesday, July 24, 2007.  Directed and choreographed by two-time Tony Award-winner Kathleen Marshall (The Pajama Game, Wonderful Town),   GREASE features book, music and lyrics by Jim Jacobs and Warren Casey.

The new production of GREASE features scenic design by Tony Award nominee Derek McLane (The Pajama Game), costume design by two-time Tony Award winner Martin Pakledinaz (Thoroughly Modern Millie, Kiss Me Kate), lighting design by Tony Award winner Kenneth Posner (The Coast of Utopia, Wicked) and sound design by Brian Ronan (Spring Awakening, Curtains).
GREASE is produced on Broadway by
Paul Nicholas
and
David Ian
,
Nederlander Presentations, Inc.
and
Terry Allen
Kramer by arrangement with
Robert Stigwood
For more information please visit www.greaseonbroadway.com

Ace Young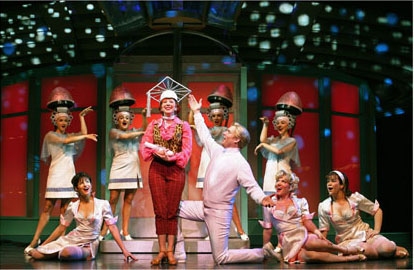 Kirsten Wyatt and the company perform "Beauty School Dropout"

"Born to Hand Jive"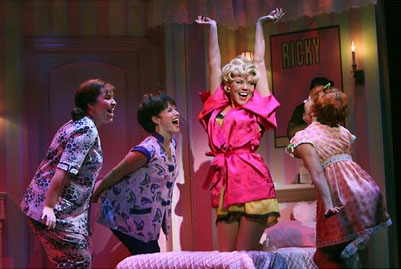 Lindsay Mendez, Jenny Powers, Robyn Hurder and Kristen Wyatt

Ryan Patrick Binder and the company perform "Magic Changes"

Ryan Patrick Binder, Will Blum and Ace Young

Ashley Spencer, Derek Keeling and the company perform "Summer Nights"

Ace Young

Ace Young (center), Derek Keeling, Ryan Patrick Binder and Will Blum
Photos by Joan Marcus