Photo Flash: Marilyn Maye, Faith Prince, and More Visit MIDNIGHT AT THE NEVER GET in Provincetown
Midnight at The Never Get, the award-winning and critically-acclaimed musical hit of last summer's New York Musical Festival, is enjoying its New England premiere this summer in a co-production by Visceral Entertainment (Michael Chase Gosselin and Tim Sulka) and Dustin Sparks Productions. Some theatre luminaries have dropped into the production recently. Check out some photos from visits with Faith Prince, Marilyn Maye, and more below!
Midnight at The Never Get stars Sam Bolen and Mark Sonnenblick (with a special appearance by Jody O'Neil) and is conceived by Mr. Bolen and Mr. Sonnenblick, with book, music and lyrics by Mr. Sonnenblick, choreography by Andrew Palermo (Allegiance, The Other Josh Cohen), music direction & arrangements by Adam Podd (The Spidey Project, Fiction in Photographs) and direction by Max Friedman (Ruby Manger Live!, Charlie Rosen's Broadway Big Band).
Featuring a sultry score fashioned after the American Songbook, Midnight at The Never Get imagines two men who never existed at a time that very much did. Trevor Copeland (Sam Bolen) and Arthur Brightman (Mark Sonnenblick) have the perfect New York romance. That's swell. In 1965, it's also against the law. So, in the back room of "The Never Get," an illegAl Greenwich Village gay bar, they put together a show called "Midnight" - a queer nightclub act where Arthur writes love songs for Trevor to sing to a man. But as they hurtle towards the end of the decade and tensions in the Village reach a breaking point, the lovers find themselves caught in a relationship they can't control and a movement they don't understand.
The Midnight at The Never Get musicians are Mark Sonnenblick (piano), Ryan T. McBride (drums), Brian Kilday (bass), Jared Newlen (reeds), Lucas Swanson (trumpet), Tyler Barboza (trombone).
The creative team includes Christopher & Justin Swader (set), Vanessa Leuck (costumes), Jamie Roderick (lighting), Kevin Heard (sound), Addison Heeren (prop design) and Preston Ridge (creative consultant). The Production Stage Manager is KJ Morton.
Midnight at The Never Get will play Monday - Friday at 8:30pm and Saturday at 6:00pm & 9:30pm. Tickets are priced at $25-$65 and beginning July 3rd, may be purchased online at www.brownpapertickets.com or by calling 1-800-838-3006.
Photo Credit: Richard Hillman PR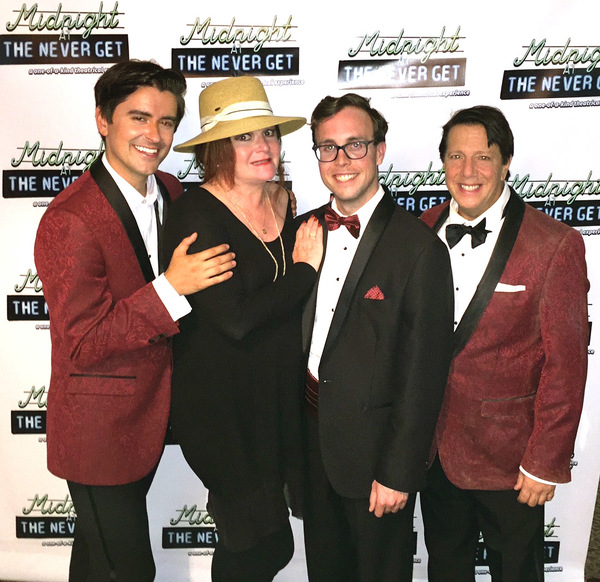 Sam Bolen, Faith Prince, Mark Sonnenblick, Jody O'Neil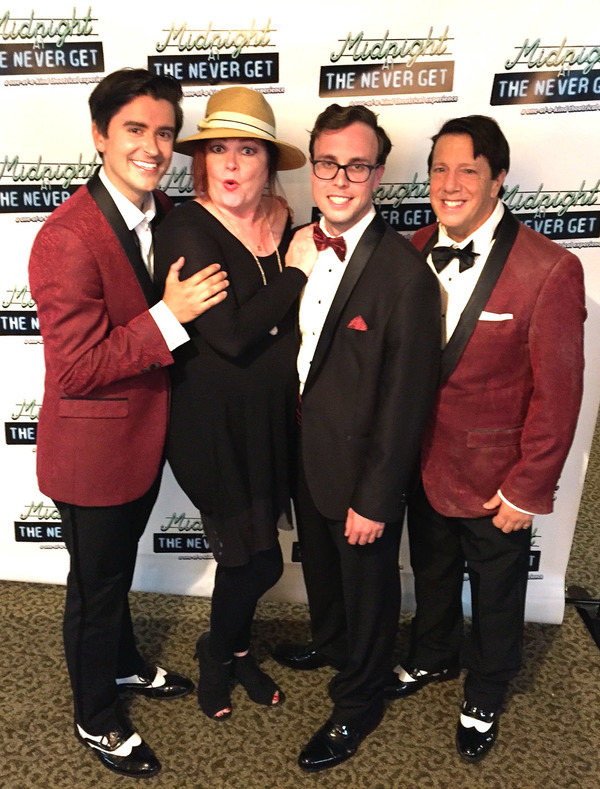 Sam Bolen, Faith Prince, Mark Sonnenblick, Jody O'Neil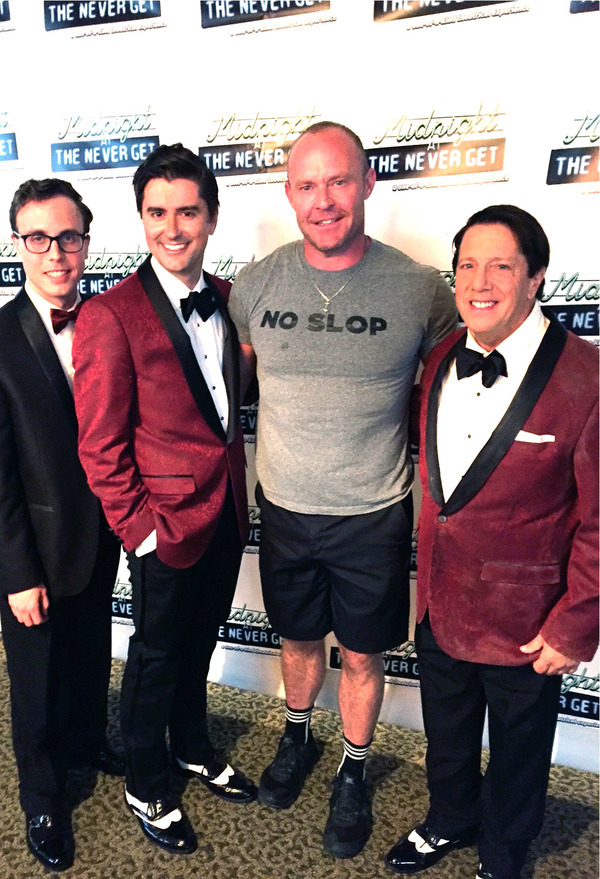 Mark Sonnenblick,Sam Bolen, Jeffrey Roberson, Jody O'Neil

Mark Sonnenblick,Sam Bolen, Jeffrey Roberson,Jody O'Niei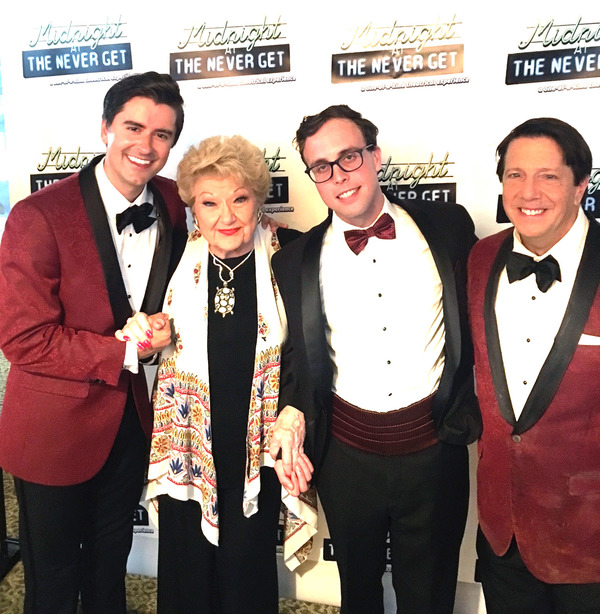 Sam Bolen, Marilyn Maye, Mark Sonnenblick, Jody O'Neil

Mark Sendroff, Marilyn Maye,Sam Bolen, Mark Sonnenblick, Jody O'Neii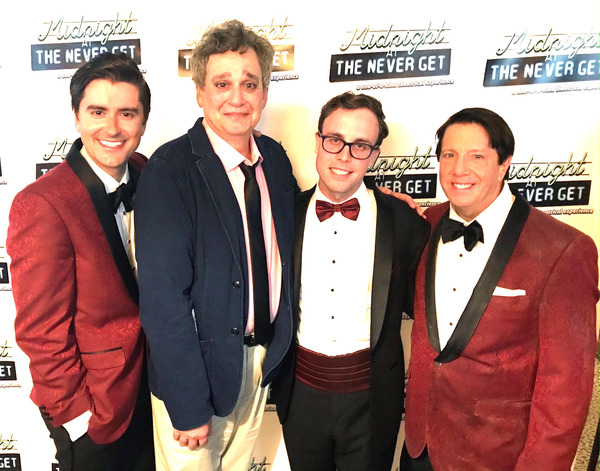 Sam Bolen, Sidney Meyer,Mark Sonnenblick, Jody O'Neill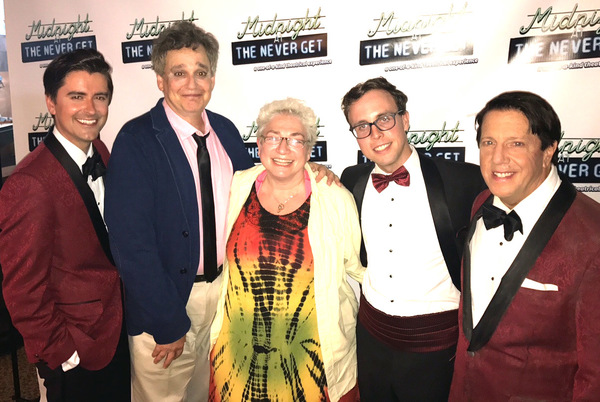 Sam Bolen, Sidney Meyer,Debra Barsha, Mark Sonnenblick, Jody O'Neil

Michael Chase Gosselin, Debra Barsha, Tim Sulka
Related Articles
More Hot Stories For You