Photo Flash: Inside LOST IN LOVE Reading with Constantine Maroulis, Andrea McArdle, and More!
Broadway may soon make way for "Lost In Love," a new musical based on the hit songs of iconic duo Air Supply. The show has a "Downton Abbey" feel and features 18 classic songs by Air Supply with four new tunes penned by the duo's own Graham Russell.
Theatre stars Andrea McArdle (Broadway's original "Annie,"), Tony-nominated actor Constantine Maroulis ("Rock of Ages," "American Idol") and Justin Matthew Sargent ("Rock of Ages," "Bonnie & Clyde") were cast for the April 23-24 industry-only readings of "Lost In Love" written by Melissa Bell. Both readings drew a packed audience of producers and Broadway insiders.
Check out photos from tthe reading below!
No band defines romance better than Air Supply and sparks were flying when Maroulis and newcomer Kristin Piacentile sang "The One that You Love," and "Why do I Love you," a new love song penned by Russell for the musical.
McArdle read the role of "Mrs. Rutledge," an aristocratic woman of a certain age who seems to know everything about everyone, and performed one of the four new songs written for the show by Graham Russell, who had a hand in selecting the cast. McArdle sprang to fame in early 1977 when she became the youngest performer ever to be nominated for a Tony Award as Best Lead Actress in a Musical.
Maroulis played young Prince Eduardo whose intentions come into question as he pines for "Katherine" played by Kristin Piacentile ("When Midnight Strikes," "Chautauqua!") while wooing her best friend "Margo" played by Lynn Craig ("Cats," "The Legend of Julie Taymor"). Margo's billionaire industrialist stepbrother Armitage, played by Paul Jackel ("The Secret Garden" "The Fantasticks") has an eye for antiquities and for Katherine.
Rounding out the cast as "Lord Ashton" and "Lady Ashton" were Broadway veterans Beau Allen ("Best Little Whorehouse," "Jesus Christ Superstar," original production, and "Obama in Naples" which opened April 25 at the June Havoc Theater) and Adinah Alexander (slated to perform in "Kinky Boots" later this year and the original Broadway casts of "Wicked" and "The Wedding Singer"). Other casting includes William Blake ("American Idol" Season 4), Brian Golub (Disney's "When In Rome" and Off-Broadway show "Naked Boys Singing"), Georgia Haege ("Lizzie Borden the Musical," Off Broadway, and tours with singer Meatloaf), and Jamie Kolnick ("The Velveteen Rabbit," "The Little Mermaid" with Literally Alive Children's Theater).
The director of "Lost in Love" is Robyn C. Lee, a former Broadway performer ("Merlin," "5 6 7 8 Dance!") who has directed several Off-Broadway shows ("Adore The Spirit!," "HELP/DESK"). Stage Manager is David M. Beris ("Chita Rivera: The Dancer's Life," "The History Boys"), Musical Director is Jonathan "Jivie" Ivie (regional tour of "Rock the Presidents") and assistant M.D. is Josh Freilich.
In addition to hits like "Sweet Dreams" (the opening number), "Making Love Out of Nothing At All," "Lost in Love," "Here I Am (Just When I Thought I Was Over You)," "Two Less Lonely People in the World" and "All Out of Love," the show included "I Can Wait Forever," "The Way I Feel," "Someone" and "Always." Four new pieces by Russell included "A Little Piece of You," "Why Do I Love You," "Run Away" and the quirky and humorous vaudevillian flavored "Two Little Ducks."
Last Friday, Air Supply performed such mega-hits as "Lost in Love," "The One That You Love," and "Making Love Out of Nothing at All" at B.B. King Blues Club & Grill in NYC with Maroulis as their special guest. The "Lost in Love" cast sat ringside, joining in with the rest of the audience as Maroulis, Hitchcock and Russell sang one final chorus of "All Out of Love."
Photo Credit: Bruce Glikas/FilmMagic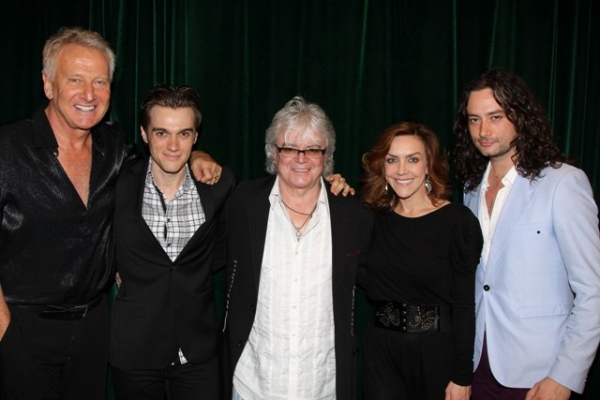 Graham Russell, Justin Sargent, Russell Hitchcock, Andrea McArdle and Constantine Maroulis

Graham Russell and Russell Hitchcock of Air Supply, and Constantine Maroulis

Graham Russell and Russell Hitchcock of "Air Supply" pose with the cast at The Air Supply Musical LOST IN LOVE