Photo Flash: CRAVEN MONKEY AND THE MOUNTAIN OF FURY Returns to The Brick Theater
By popular demand, Piper McKenzie is presenting a remount of Craven Monkey and the Mountain of Fury, one of the critical and popular hits of December 2009's Fight Fest at The Brick Theater. Can one perverted simian overcome his family, a gang of grotesque predators and Mother Nature herself to evolve to the next level of life? Or will he end up just another damn dead monkey?
Combining elements of comparative mythology, silent comedy, capoeira, video game violence and modern dance, Craven Monkey and the Mountain of Fury features a troupe of actor/dancers performing in the unique wordless style of Piper McKenzie's "Bizarre Science Fantasy" series, which yielded Macbeth Without Words, Sexadelic Cemetery and a number of other singular theatrical experiences. The result is a savage, sexy, slapstick spectacular that pumps new theatrical life into the notion of "survival of the fittest."
Craven Monkey is written and directed by Jeff Lewonczyk (2009 FringeNYC hit Willy Nilly; Babylon Babylon) and features fight direction by Vampire Cowboys' own Qui Nguyen (Soul Samurai, Fight Girl Battle World) and Adam Swiderski. Starring as the Craven Monkey is Adrian Jevicki (Movementpants Dance Theater Group; Babylon Babylon) with a cast that features Piper McKenzie regulars Fred Backus, Becky Byers, Hope Cartelli, Jessi Gotta, Jeff Lewonczyk, Mateo Moreno, Melissa Roth, and Art Wallace. Other personnel include costume designer Julianne Kroboth ( The Granduncle Quadrilogy: Tales from the Land of Ice; No Applause, Just Throw Money); lighting designer Ian W. Hill (NYIT Award nominee for The Granduncle Quadrilogy; Babylon Babylon) and stage manager Guinevere Pressley.
Craven Monkey will perform at The Brick Theater (575 Metropolitan Avenue between Union and Lorimer Street in Williamsburg, Brooklyn) at the following dates and times:
Friday, February 26, 10:30pm
Saturday, February 27, 10:30pm
Thursday, March 4, 8pm
Friday, March 5, 8pm
Saturday, March 6, 8pm
Thursday, March 11, 8pm
Friday, March 12, 8pm
Saturday, March 13, 8pm
All performances are open for review.
Tickets to all shows ($12) may be purchased online at www.bricktheater.com or by calling 212-352-3101 or 212-868-4444.
Piper McKenzie (pipermckenzie.com) has been a fixture of the downtown and Brooklyn scenes since being founded by Hope Cartelli and Jeff Lewonczyk in 1998. Called "brazenly experimental, unapologetically populist, and surprisingly endearing" by IndieTheater.org, Piper is dedicated to exploring the middle ground between high and low culture, comedy and tragedy, history and the future. Their unique aesthetic of genre love, unsettling comedy, physical storytelling and cultural mythology (pop and otherwise) have yielded such recent works as this past summer's hit FringeNYC musical Willy Nilly: A Musical Exploitation of the Most Far-Out Cult Murders of the Psychedelic Era, the critically acclaimed The Granduncle Quadrilogy: Tales from the Land of Ice, the cult favorite sci-fi romance serial Lady Cryptozoologist (featured in the Vampire Cowboys' Saturday Night Saloon series), and the celebrated Bizarre Science Fantasy dance-theater series, whose most popular installment, Macbeth Without Words, was a standout of 2007's Pretentious Festival at The Brick.
Photo credit: Ben VandenBoom


Jessi Gotta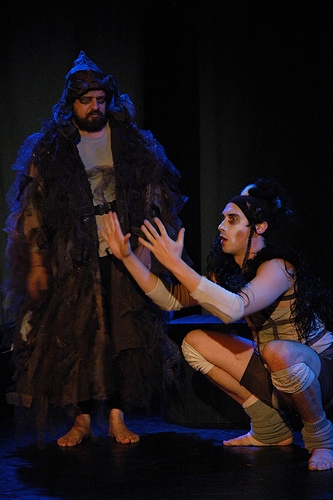 Art Wallace and Adrian Jevicki

Adrian Jevicki and Fred Backus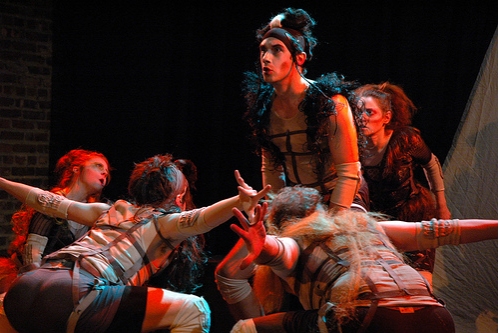 Becky Byers and Mateo Moreno, Fred Backus; (standing) Adrian Jevicki, Melissa Roth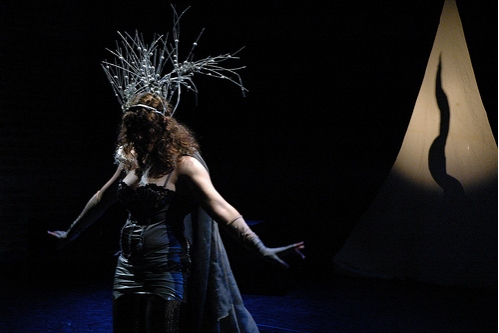 Hope Cartelli