Photo Flash: Betty White Honored by Actors and Others for Animals
Not only does the world love Betty White, but as Jamie Lee Curtis so poignantly pointed out at the 40th annual Actors and Others for Animals, Celebration of Caring, it seems every inhabitant of the world also wants Betty White to love them. Adding to a long list of organizations wanting, pleading and begging Ms. White to be their honoree, Actors and Others for Animals holds a very special place in Betty's heart. An organization she has been apart of since its first meetings, that helps those to whom her heart is fondest - Pets. A point Ms. Curtis illustrated by dawning puppy attire (furry floppy ears and paws), before bestowing the honoree with doggy kisses.
A life-long animal advocate for animals, Betty White was honored by Actors and Others for Animals at its annual luncheon. Ms. White was the first recipient of the "Betty White Inspirational Award," honoring individuals who have inspired public awareness and appreciation of animals and their need for protection and care.
Held on Saturday, April 9, 2011 at the Universal Hilton Hotel in Universal City, the event included a star-studded dais of toasters including Valerie Bertinelli, Wendie Malick, Jane Leeves, Jennifer Love Hewitt, Jamie Lee Curtis, Susan Lucci, Ken Howard, Georgia Engel. Peter Marshall, Bob Stewart, Fred Willard and Master of Ceremonies' Michael Burger and audience members such as Lee Meriwether, Tippi Hedren, Anne Jeffreys, Ilene Graff, Cathy Silvers, Ann Rutherford, Carole Cook, Tom Troupe and many more.
"It is only fitting that we salute the wonderful Betty White on our 40th anniversary as she and her late husband, Allen Ludden have been members from the beginning." said Joanne Worley, President of Actors and Others for Animals.
Of particular interest at this years celebration was a live auction featuring a lunch with Betty White and a VIP set visit to her hit television series "Hot in Cleveland," which garnered $8,000 as well as an autographed copy of White's script from her hosting appearance on "Saturday Night Live," which went for a generous amount at $4,500.
In addition, the PETCO Foundation will receive the 2011 Award of Caring for championing and supporting animal welfare organizations throughout the United States. The PETCO Foundation is a Golden Paws Sponsor of the Anniversary event. The PETCO Foundation has raised more than $75 million since its inception in 1999 to help promote and improve the welfare of companion animals. The Foundation works with and supports more than 7,000 local animal welfare groups across the country to help find homes for adoptable animals, promote and fund spay/neuter programs, and assist in celebrating and promoting the human/animal bond.
Actors and Others for Animals is a California 501 (c) (3) non-profit corporation. It is dedicated to eliminating pet overpopulation, ensuring the care and protection of pet companions and improving the quality of life economically challenged, disadvantaged and undeserved pet guardians by providing referral and financial assistance for spay/neuter and veterinary medical procedures together with other animal/human bond enriching programs. For more information visit www.actorsandothers.com
Photo Credit: Matthew Fried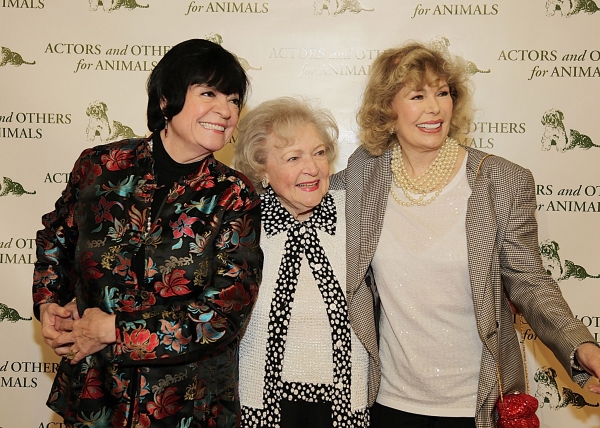 Joanne Worley, Betty White and Loretta Swit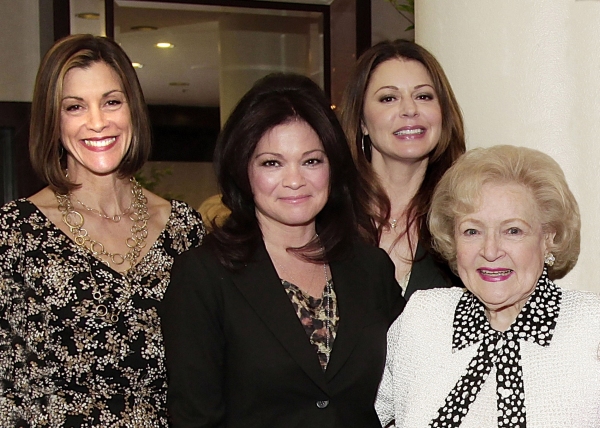 Wendie Malick, Valerie Bertinelli, Jane Leeves and Betty White

etty White, cast of Forever Plaid

Bob Stewart, Wendie Malick, Valerie Bertinelli, Jane Leeves, Betty White, Ken Howard, Susan Lucci, Peter Marshal, Georgia Engel and Fred Willard

Peter Marshall, Susan Lucci, Jenifer Love Hewitt and Georgia Engel

Jamie Lee Curtis