Photo Flash: Australian Play FLOOD receives US Premiere Reading
SHEA DELVES PRODUCTIONS presented a staged reading of the powerful Australian play, FLOOD by Chris Isaacs, on February 10th, in New York City
Previously, FLOOD had critically acclaimed productions in Perth & Sydney, Australia. The topical play centers on race relations and cultural understandings in Australia and indeed the world.
The US premiere reading featured an All-Australian cast.
"It was supposed to be the trip of a lifetime. Six close companions set off on a camping adventure across remote Australia, when an unexpected turn of events results in terrible, life changing consequences. They thought their dark secret was safe, but a flood unearthed the truth, and the cracks in their friendship begin to appear.
What do they do? Who can they tell? And how can they live with themselves with what has happened?
FLOOD delves into the reality of what an upbringing that has somewhat ignored the truths of its Indigenous populations can result in, when confronted."
FLOOD premiered at Perth's Black Swan State Theatre Company in 2014 to critical acclaim, under the direction of Adam Mitchell.
The reading, which was also directed by Connor Delves, has plans of developing into a full scale production in the fall of 2018.
THE CAST
Connor Delves (MIKE) - Born and raised in Perth, Australia, Connor is an actor, director and producer that has worked in Australia, the UK and the US. Connor recently completed a 6-month run at The Davenport Theatre, in the Off-Broadway musical, Endangered!, playing Crankee The Crocodile. Some recent credits include: George, Me and the Girls: A Noel Coward Musical (Understudy to Alan Cumming) written and directed by Douglas Carter Beane; Sam, Precious Little Talent (NY Premiere) directed by George C. Heslin; Pinocchio (Opposite Matthew Broderick) Fairycakes (MTC Reading); Fleance, Macbeth directed by Rory McGregor (Columbia Stages); Brady, Partners directed by Ethan Heard. Connor is also currently starring in the series, Femme. He is a graduate of The NY Academy Company (Three-year conservatory program) at The American Academy of Dramatic Arts. In addition to this, he has written, directed and produced two plays of his own in Australia. Connor is represented by I.T.S Models and Talent Management. connordelves.com
Maddison Ridley (FRANKIE) - Born and raised in country NSW, Australia, Maddison has worked on stage and screen in both Sydney and London. She most recently made her Off-Broadway debut in the critically-acclaimed, West End transfer of People, Places & Things by Duncan Macmillan (directed by Jeremy Herrin) at St. Ann's Warehouse. In the UK, her professional UK acting debut was on the West End in 2013, in The Woman in Black. Recent U.S. theatre credits include HENRY IV (Hamlet Isn't Dead), Overshadowed (Origin Theatre Company) and Measure for Measure (Scranton Shakespeare Festival). She recently shot a commercial for QANTAS, directed by Josh Whiteman, and starred as the lead in WitchHunt by Definite Films (set for release in 2018). Recent credits include 100 Awkward Ways to Be A Person (La Mama E.T.C), HENRY IV (Hamlet Isn't Dead), and Measure for Measure (Scranton Shakespeare Festival). TV; Random Acts of Flyness (HBO/Terence Nance). She just appeared in a commercial for Australian airline QANTAS, directed by Josh Whiteman, and starred as the lead in WitchHunt by Definite Films (set for release Summer 2018). Maddison is represented by THE LUEDTKE AGENCY (Theatrical) and INGBER & ASSOCIATES (Commercial). www.maddisonridley.com
Hannah Bailey (ELIZABETH) Australian born actor, Hannah Bailey, is currently training at AADA, New York, where she will be performing the role of Juliet in their upcoming 'Romeo and Juliet'. In Australia, she studied at The National Theatre and Victorian College of the Arts during which time she featured in a number of short films, musicals and pantomimes. In 2015, Hannah's original solo work was featured in the Victorian TopClass Drama production at Arts Centre Melbourne. Recently, she created and directed a showcase in Melbourne featuring the music of Sondheim, Duparc, Jason Robert Brown, Monteverdi and more. Hannah is very grateful for the opportunity to play in the company of her Australian colleagues, and to share this important work with audiences here.
Brooke Henzell (VANESSA) - is an Australian actress currently pursuing a double major in Theatre and English Literature at Barnard College, Columbia University. During her time there, she has participated in numerous devised pieces and played Nastya in the Columbia University Player's production of The Fairytale Lives of Russian Girls. Prior to university she attended an intensive Shakespeare course at LAMDA, whilst throughout her time at school she appeared in two short films, several plays, and musicals - Machinal, Oliver!, You're a Good Man, Charlie Brown, Man Friday, Cats, Les Misérables, Alice in Wonderland, and A Midsummer Night's Dream. The latter two productions she performed in through NIDA's Open Program.
Nick Newling (SAL) - Born in Upstate New York, Nick was raised between Sydney, Rome and Singapore until returning to the United States to attend the American Academy of Dramatic Arts. Nick was selected to join the prestigious Academy Company where he performed for a year in repertory theatre. Nick's textured upbringing exposed him to many cultures and their art. He has cultivated a rich understanding of both theatre and classical art, and it's impact on individual societies.
Kane Parker (STEVE) - Kane recently moved to New York from his hometown of Perth to study at The American Academy of Dramatic Arts. He will be performing in The Academy's upcoming production of Coriolanus as part of their Shakespeare series. Previous theatre credits include In a Bony Embrace, 80 Minutes No Interval, Melancholy Play, Teeth 2 Tail and The Bear. He is excited to share this Australian script with American audiences and it brings him great joy to be able to work alongside fellow Aussie actors. Kane would like to thank his family, friends and teachers for their overwhelming generosity and continual inspiration.
THE TEAM
Shea Delves Productions - Eliza Shea and Connor Delves, hailing from London, UK and Perth, Australia, respectively, made their producing debut with the NY premiere of Precious Little Talent by Ella Hickson. They met whilst training at The American Academy of Dramatic Arts, NYC, and have since collaborated with Roundabout Theatre Company, Manhattan Theatre Club (MTC), and Broadway Cares/Equity Fights AIDS. Most recently, they produced Building Pain, in association with Origin Theatre Company, for the 1st Irish Theatre Festival. SheaDelvesProductions.com
Eliza Shea - Originally from London, Eliza is an actor and producer now based in New York City. Recent NY credits include Margie (opposite Alan Cumming) in Me and the Girls: A Noël Coward Musical, written and directed by Douglas Carter Beane; Elvira, Blithe Spirit (Chenango River Theatre); Alice, Your Alice (Ophelia Theatre); Cinderella/Aurora, Fairycakes (MTC Reading), opposite Matthew Broderick and Jessica Hecht; Joey, Precious Little Talent (NY Premiere), directed by George C. Heslin; Fluorine, The House on Poe Street (Yonder Window Theatre Company); Storyteller, Le Nid (Broadway Cares); Mark Antony, Julius Caesar.
UK credits include, Eliza Doolittle, Pygmalion; Dorine, Tartuffe; Audrey, Little Shop of Horrors; Marianne, Constellations; Regina, Ghosts; Lady Brute, The Provoked Wife; Crispinella, The Dutch Courtesan. She also appeared in The Secrets of Quantum Physics (BBC Television), with the original song, 'Tangled Up With You'. In May 2018, Eliza will be appearing Off-Broadway at BAM as the title role in Your Alice. She is represented by Synergy Talent (Theatrical) and Buchwald (Commercial). ElizaShea.com
CHRIS ISAACS is a writer, devisor, performer and a founding artist of The Last Great Hunt. He has had works performed nationally and internationally. His play 'The Great Ridoplhi' was a hit of Perth FringeWorld 2016, winning three awards, including Best New WA Script and The Martin Simms Award. Other writing credits include the multiple award winning 'FAG/STAG' (co-written with Jeffrey Jay Fowler), award winning 'Old Love' (Audience Development Award - Blue Room) and award winning 'Flood' (PAWA best new play). As a co-devisor/performer Chris' work includes 'All That Glitters' (The Last Great Hunt), 'Falling Through Clouds' (The Last Great Hunt) and the award winning 'It's Dark Outside' (ArtsHub Innovation Award - 2013 and Helpmann nominated) for The Last Great Hunt. In 2012, he was a member of Griffin Theatre Company's inaugural StoryLab group and is a graduate of The BLACK SWAN Emerging Writer's Program.
Ruby Vadiveloo (ASSISTANT DIRECTOR & DRAMATURG) - is an Australian actor based in New York City. She moved to NYC in 2013 to study at the American Academy of Dramatic Arts (AADA) and was selected to become a member of their Academy Company 2015/16. Recent New York theatre includes: Love and Information, The Hall of Magic, 29 Rooms, The Polar Express, Sleep No More, Rabbit Hole, Twelfth Night. Film/TV: Outbreak, Opera of Cruelty, Trimester 24, Sacred Ground, Optus ASOC (commercial). Ruby is currently working as Frank Langella's personal assistant. Ruby is thrilled to be involved with such a relevant and thought-provoking piece, and thanks Shea Delves Productions for their commitment to producing Australian work. www.rubyvadiveloo.com
Connor Delves directed the reading.
For more information visit: sheadelvesproductions.com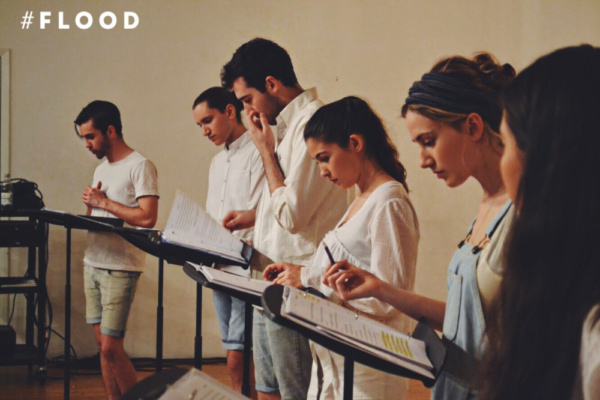 From left to right: Connor Delves, Kane Parker, Nick Newling, Brooke Henzell, Maddison Ridley, Hannah Bailey

From left to right: Kane Parker, Brooke Henzell, Connor Delves & Maddison Ridley

Hannah Bailey, Maddison Ridley and Nick Newling in the staged reading of the Australian play, FLOOD by Chris Isaacs

Hannah Bailey (Elizabeth) & Nick Newling (Sal) in the FLOOD reading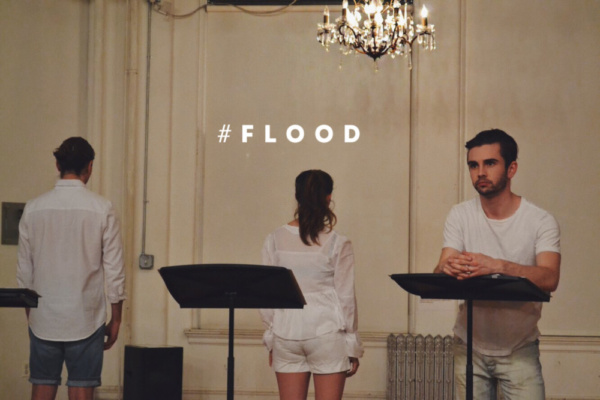 Connor Delves (Mike) in the FLOOD reading
Related Articles
More Hot Stories For You