Photo Flash: Alan Menken, Glenn Slater Lead Master Class for BMI Musical Theatre Workshop
Broadcast Music, Inc. (BMI) recently held their bi-annual Master Class for the renowned BMI Lehman Engel Musical Theatre Workshop. The Master Class brings in celebrated composers and lyricists from the Broadway world to give feedback and critique musical theatre pieces developed by members of the esteemed workshop. Scroll down for photos, featuring writing team Alan Menken and Glenn Slater!
The night began with an introduction by moderator, David Spencer, followed by performances. Workshop participant Katya Stanislavskaya performed her piece, "Resident Alien," for a packed room. Next up Laurel Haines and Stephanie Singer performed their piece "Delicatessen," which they worked on together throughout the workshop. After a short break, both pieces were critiqued by legendary composer and workshop alum, Alan Menken and renowned lyricist, Glenn Slater.
The purpose of the BMI Lehman Engel Musical Theatre Workshop is to bring writers together to work under the guidance and supervision of experienced professionals in order to develop new creative talent in American musical theatre. A springboard for new works, the workshop creates a learning environment for members to experiment, take risks and learn from moderators and other participants.
A recipient of the Tony Honors for Excellence in Theatre Award, the BMI Lehman Engel Musical Theatre Workshop consists of approximately 250 composers, lyricists and book writers who are currently writing and developing new works for the musical theatre. The BMI Foundation presents The Harrington Award, The Jean Banks Award and The Ellen Schwartz Award to the participants with the most outstanding works.
The first year class runs from mid-September through June and is moderated by BMI's Director of Musical Theatre, Patrick Cook, and Workshop Administrator, Frederick Freyer.
Workshop alumni include Academy Award and Tony Award-winners Robert Lopez (Frozen, The Book of Mormon, Avenue Q), Alan Menken (Newsies, Beauty and the Beast, Little Shop of Horrors), Academy Award-winner Kristen Anderson Lopez (Frozen, In Transit), and Tony Award-winners Edward Kleban (A Chorus Line), Maury Yeston (Titanic, Grand Hotel, Nine), Jeff Marx (Avenue Q), Michael John LaChiusa (Queen of the Mist, Marie Christine, The Wild Party) and Tom Kitt and Brian Yorkey (Next to Normal).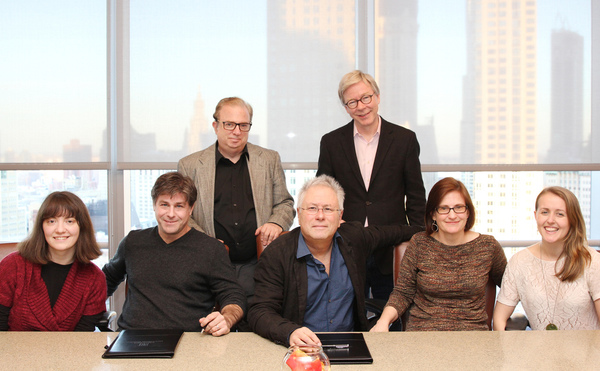 (top) Moderator
David Spencer
and BMI's Pat Cook; (bottom) workshop participant
Katya Stanislavskaya
, lyricist
Glenn Slater
, composer
Alan Menken
, workshop participants Laurel Haines and Stephanie Singer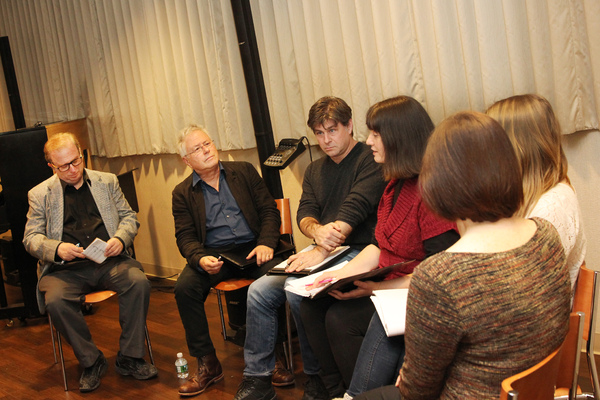 Composer
Alan Menken
, lyricist
Glenn Slater
and workshop participants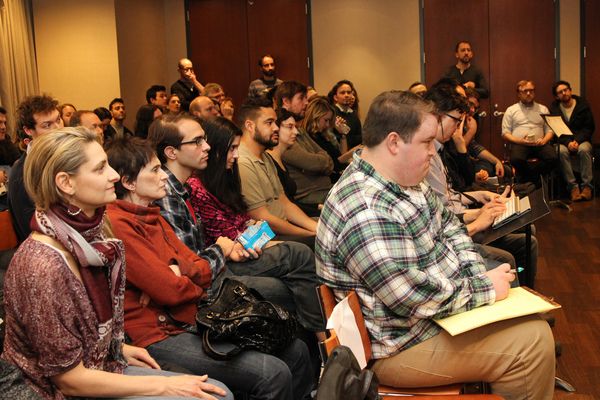 Workshop participants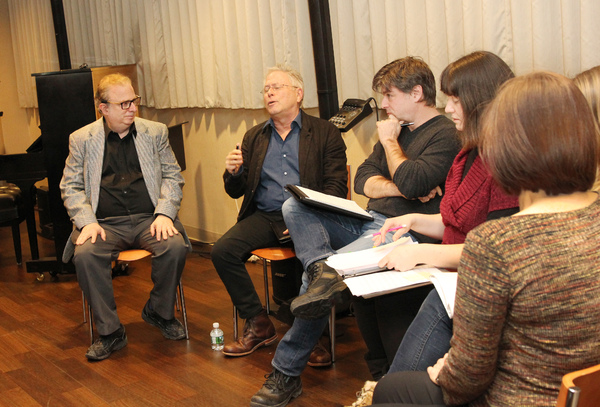 Composer
Alan Menken
, lyricist
Glenn Slater
and workshop participants