Click Here for More Articles on AMERICAN IDOL
Photo Coverage: Shout! CD Signing
J&R Music and Computer World brought the Off-Broadway musical Shout! The Mod Musical to Park Row during its Fall Camera Expo on Friday, November 10.
The cast--
Denise Summerford
,
Erin Crosby
,
Erica Schroeder
,
Julie Dingman-Evans
and
Marie-France Arcilla
--performed and signed autographs in celebration of the recent
Shout!
cast album release. Arriving in convertible mini-Coopers provided by Mini Manhattan, the stars performed several songs featured on the release, which includes 30 standards from the '60s.
Shout! The Mod Musical
was co-created by
Whoop-Dee-Doo
! veterans George and Lowenstein, and is the story of five young women coming of age during the liberating days of the 1960's that made England swing. It's "a non-stop journey through the infectious and soulful pop anthems and ballads" associated with
Petula Clark
("Downtown"), Dusty Springfield ("Son of a Preacher Man") and Lulu ("To Sir With Love"), among others.
Visit www.shoutthemodmusical.com for tickets and more information.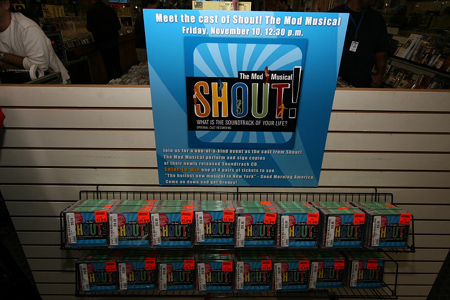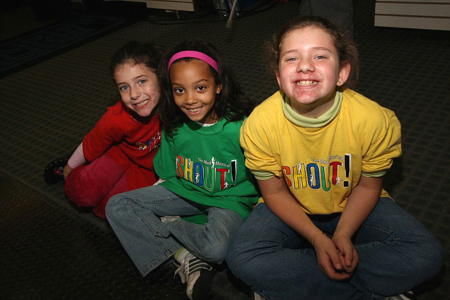 Shout! Fans: Grace DiModugno, Riley Alvaro, and Darcy DiModugno

Erin Crosby, Marie-France Arcilla, Denise Summerford, Erica Schroeder and Julie Dingman-Evans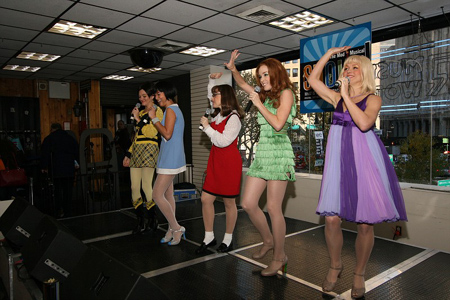 Erin Crosby, Marie-France Arcilla, Denise Summerford, Erica Schroeder and Julie Dingman-Evans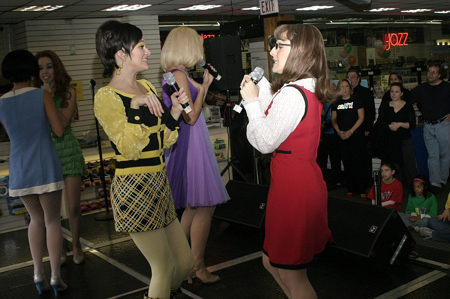 Marie-France Arcilla, Erica Schroeder, Erin Crosby, Julie Dingman-Evans and Denise Summerford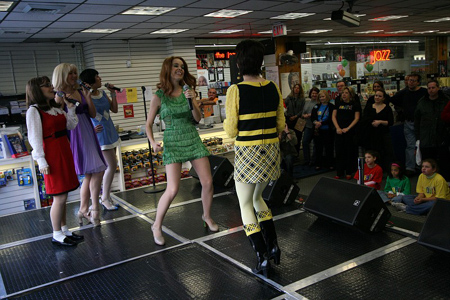 Denise Summerford, Julie Dingman-Evans, Marie-France Arcilla, Erica Schroeder and Erin Crosby

Denise Summerford, Erin Crosby, Marie-France Arcilla, Erica Schroeder and Julie Dingman-Evans

Julie Dingman-Evans, Erica Schroeder and Marie-France Arcilla

Denise Summerford, Marie-France Arcilla and Erica Schroeder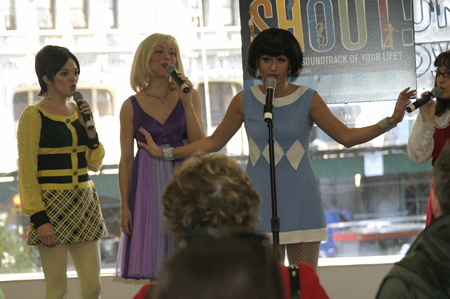 Erin Crosby, Julie Dingman-Evans and Marie-France Arcilla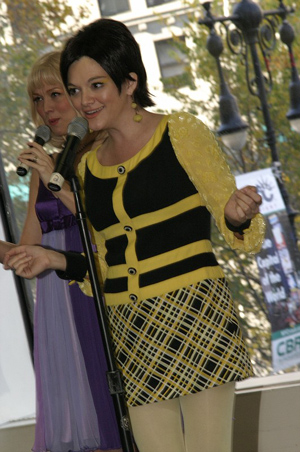 Julie Dingman-Evans and Erin Crosby

Marie-France Arcilla, Julie Dingman-Evans, Erin Crosby, Denise Summerford and Erica Schroeder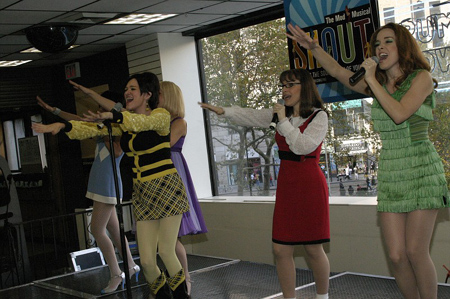 Marie-France Arcilla, Julie Dingman-Evans, Erin Crosby, Denise Summerford and Erica Schroeder

Marie-France Arcilla and Denise Summerford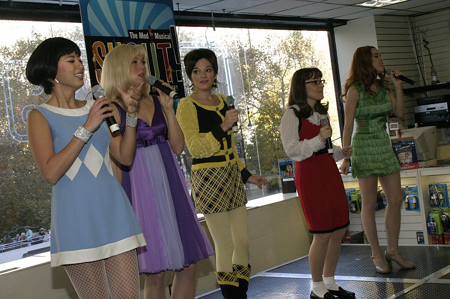 Marie-France Arcilla, Julie Dingman-Evans, Erin Crosby, Denise Summerford and Erica Schroeder

Denise Summerford and Erica Schroeder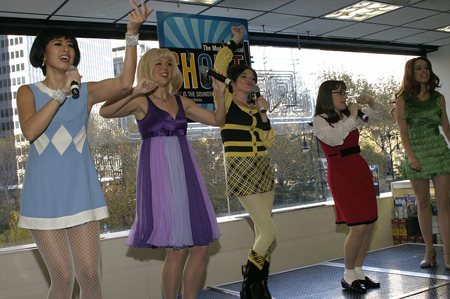 Marie-France Arcilla, Julie Dingman-Evans, Erin Crosby, Denise Summerford and Erica Schroeder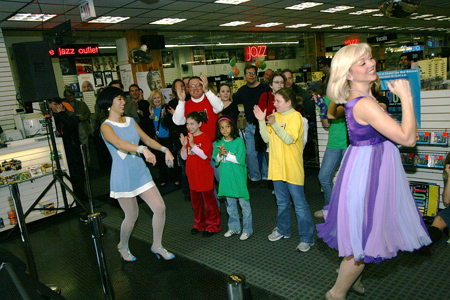 Marie-France Arcilla and Julie Dingman-Evans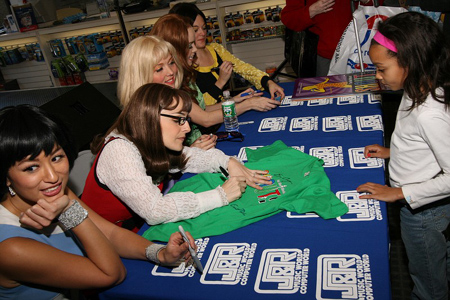 Marie-France Arcilla, Denise Summerford, Julie Dingman-Evans, Erica Schroeder and Erin Crosby with young fan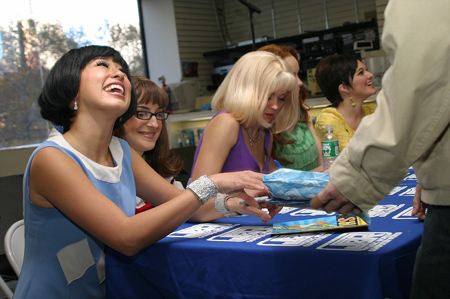 Marie-France Arcilla, Denise Summerford, Julie Dingman-Evans, Erica Schroeder and Erin Crosby

Marie-France Arcilla, Denise Summerford, Julie Dingman-Evans, Erica Schroeder and Erin Crosby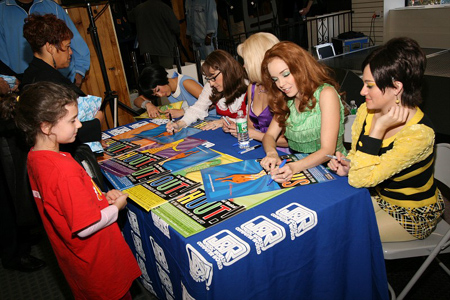 Marie-France Arcilla, Denise Summerford, Julie Dingman-Evans, Erica Schroeder and Erin Crosby

Marie-France Arcilla, Denise Summerford, Julie Dingman-Evans, Erica Schroeder and Erin Crosby

Marie-France Arcilla, Denise Summerford, Julie Dingman-Evans, Erica Schroeder and Erin Crosby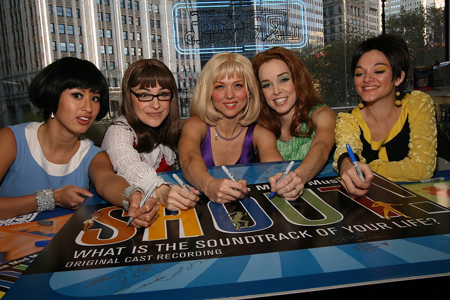 Marie-France Arcilla, Denise Summerford, Julie Dingman-Evans, Erica Schroeder and Erin Crosby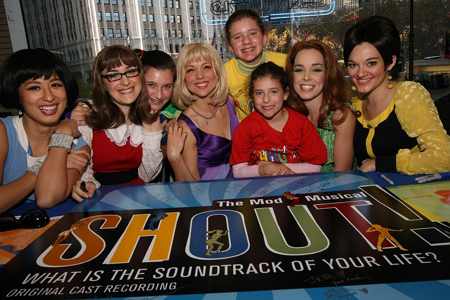 Marie-France Arcilla, Denise Summerford, Riley Alvaro, Julie Dingman Evans, Darcy DiModugno, Grace DiModugno, Erica Schroeder, and Erin Crosby

Marie-France Arcilla, Denise Summerford, Scott Newsome, Julie Dingman Evans, Erica Schroeder and Erin Crosby

Marie-France Arcilla, Denise Summerford, Jana Llynn (Stage Manager), Julie Dingman Evans, Nathan Claus (Asst. Stage Manager), Erica Schroeder, and Erin Crosby

Marie-France Arcilla, Denise Summerford, Jared Fine, Julie Dingman Evans, Victoria Lang, Erica Schroeder, Mark Schwartz, and Erin Crosby

Erica Schroeder and Nicole Tieri (Scooter Girl - "American Idol" - Season 3)
Related Articles
Ben Strothmann has been a portrait and theatrical photographer since 1995. Since building his first darkroom in his hometown of Milwaukee WI, his portrait studio (read more...)