Photos: Remembering Dixie Carter (1939-2010)
Readily recognized for her long time tenure on TV's "Designing Women" as Julia Sugarbaker and for her starring roles in seven other TV series, Dixie Carter passed away at the age of 70 on April 10, 2010. "This has been a terrible blow to our family," her husband HAl Holbrook told ET. 
Carter was last seen on stage in "Southern Comforts" back in 2006, in which she starred with her husband HAl Holbrook in Coconut Grove, Florida. Carter was also seen at Washington, D.C.'s Shakespeare Theatre where she played a standing room only run as Mrs. Erlyn in Oscar Wilde's "Lady Windermere's Fan."
Broadway fans of course know Carter for her earlier appearances in "Thoroughly Modern Mille," as Maria Callas in "Master Class," for her role as Melba in the Circle in the Square production of "Pal Joey," and for her run in "Sextet" at the Bijou Theatre.
In 2006 and 2007, Dixie Carter found played the "disturbed and disturbing" Gloria Hodge on Desperate Housewives, earning an Emmy nomination for her work on the series.
Her Off-Broadway credits included New York Shakespeare Festival: The Winter's Tale (Perdita); Public Theatre: Taken in Marriage (Dixie Avalon), Fathers and Sons (Calamity Jane), Buried Inside Extra (Liz Conlon), Gogol (Chained Woman), Jesse and the Bandit Queen (Belle Starr); Music Theatre of Lincoln Center: Carousal, The King and I, The Merry Widow; Astor Place Theatre: A Coupla' White Chicks Sittin' Around Talkin'; Upstairs at the Downstairs.
Regional Credits include Matrix Theatre, LA: Names (Stella Adler), A Streetcar Named Desire (Blanche DuBois), The Applecart, Kiss Me Kate, A Little Night Music, Mame, Babes in Arms, Oklahoma, Brigadoon, The King and I, The New Moon, The Student Prince, Romeo and Juliet, Much Ado About Nothing, Twelfth Night. In addition to her most well known television role, that of Julia Sugarbaker on Designing Women, she has starred in seven other television series.
She has recieved numerous honors including Southeastern Theatre Conference; National Corporate Theatre Fund; The Shakespeare Theatre Millennium Recognition Award; Theatre World Award: Jesse and the Bandit Queen; Drama Desk Nomination: Fathers and Sons; Dramalogue: Names.
The Dixie Carter Performing Arts Center (The Dixie) opened in November 2005 in Huntingdon, Tennessee.
Born in McLemoresville, Tennessee, she is a graduate of the University of Memphis. She and Mr. Holbrook met while filming the CBS-TV movie, The Killing of Randy Webster. Carter and Holbrook reside in Los Angeles.
Click here for a Photo Tribute to some of Dixie Carter's stage work.
Click here for a 30 minute in-depth video interview with Dixie Carter.
Photos Courtesy of Retna Ltd.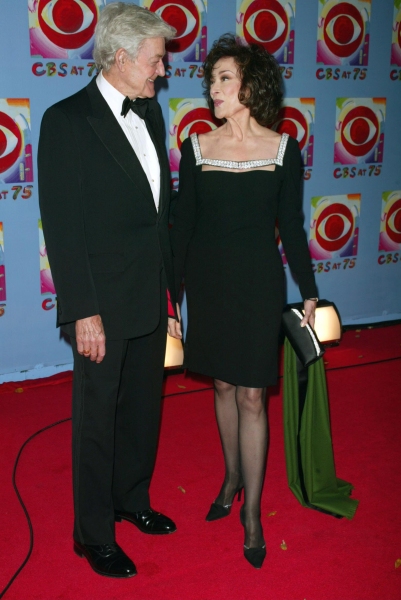 Dixie Carter and HAl Holbrook at CBS's 75th Anniversary
NYC 11/2/2003 c. Walter McBride / Retna Ltd.

Dixie Carter at CBS's 75th Anniversary
NYC 11/2/2003 c. Walter McBride / Retna Ltd.

Dixie Carter at CBS's 75th Anniversary
NYC 11/2/2003 c. Walter McBride / Retna Ltd.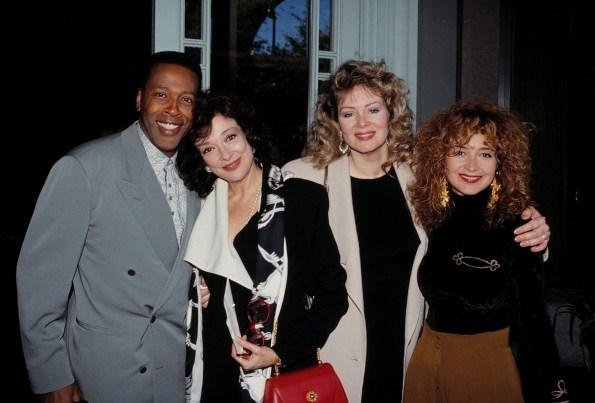 Meshach Taylor, Dixie Carter, Jean Smart and Annie Potts of DESIGNING WOMEN at the NATPE TV Convention
 New Orleans 1/14/1991 c. Walter McBride / Retna Ltd.