Photo Coverage: Jonathan Groff, Michael C. Hall, Sally Field & More Take Bows in GROSS INDECENCY
The Tectonic Theater Project just presented its star-studded one-night-only special benefit reading of Moisés Kaufman's GROSS INDECENCY: THE THREE TRIALS OF OSCAR WILDE, the award-winning play about Oscar Wilde and the trials for his "crime" of homosexuality. All funds raised benefit Tectonic Theater Project and the International Gay and Lesbian Human Rights Commission.
Michael Emerson, who starred in the original production at the Minetta Lane Theatre, reprised the role of "Oscar Wilde" in the one-night only benefit alongside Tony Award nominee Jonathan Groff (Broadway's Hamilton, "Looking") as "Bosie", two-time Academy Award winner Sally Field (Norma Rae, Places In The Heart, Lincoln), Golden Globe winner and six-time Emmy nominee Michael C. Hall (Broadway's Hedwig and the Angry Inch, "Dexter"), Tony Award and four-time Emmy Award winner David Hyde Pierce (Broadway's Curtains, "Frasier"), Pulitzer Prize winner Tony Kushner (Angels in America), Tony and Emmy Award winner Judith Light (Broadway's Other Desert Cities, "Transparent"), Emmy Award nominee Darren Criss (Broadway's Hedwig and the Angry Inch, "Glee"), Emmy nomineeTituss Burgess ("Unbreakable Kimmy Schmidt"), David Burtka (Broadway's It Shoulda Been You, "How I Met Your Mother"), Andy Mientus (Broadway's Les Miserables, "Smash"), Jose Llana (Broadway's The King And I, Here Lies Love), Will Carlyon (Broadway's Cabaret), and Jake Shears (Bent, The Scissor Sisters).
TECTONIC THEATER PROJECT is an award-winning company whose plays have been performed around the world. The company is dedicated to developing innovative works that explore theatrical language and form, fostering an artistic dialogue with audiences on the social, political, and human issues that affect us all. In service to this goal, Tectonic supports training for students around the country in our play-making techniques.
THE INTERNATIONAL GAY AND LESBIAN HUMAN RIGHTS COMMISSION. (IGLHRC) founded in 1990, is a leading international human rights organization dedicated to improving the lives of people who experience discrimination or abuse on the basis of their sexual orientation, gender identity or expression. We are dedicated to strengthening the capacity of the LGBT human rights movement worldwide to effectively conduct documentation of LGBT human rights violations and by engaging in human rights advocacy with partners around the globe. IGLHRC holds consultative status at the United Nations as a recognized Non-Governmental Organization representing the concerns and human rights of lesbian, gay bisexual and transgender people worldwide.
Photo Credit: Walter McBride


The Program for 'Gross Indecency: The Three Trials Of Oscar Wilde' at Gerald W. Lynch Theatre on October 5, 2015 in New York City.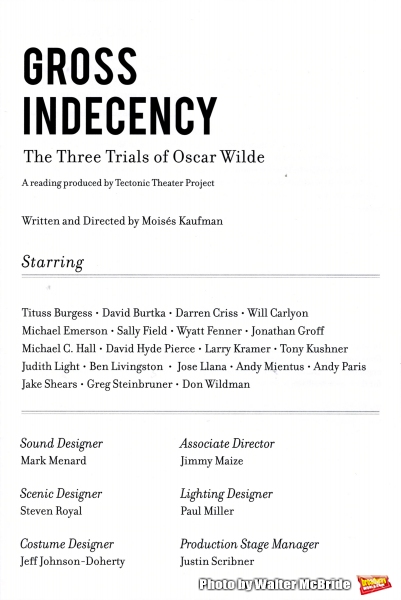 The Program for 'Gross Indecency: The Three Trials Of Oscar Wilde'

Jonathan Groff, Larry Kramer, Michael Emerson, Jose Llana, Judith Light, David Hyde Pierce, Andy Paris, Tituss Burgess, Jake Shears, Darren Criss, Andy Paris, Sally Field, Greg Steinbruner, Don Wildman, Ben Livingston and the cast of 'Gross Indecency: The Three Trials Of Oscar Wilde'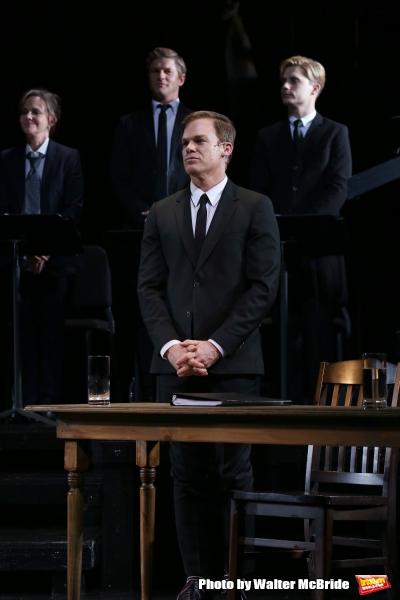 Sally Field, David Burtka, Michael C. Hall, Andy Mientus and the cast of 'Gross Indecency: The Three Trials Of Oscar Wilde'

Don Wildman and the cast of 'Gross Indecency: The Three Trials Of Oscar Wilde'

Jonathan Groff and the cast of 'Gross Indecency: The Three Trials Of Oscar Wilde'

Sally Field and David Burtka and the cast of 'Gross Indecency: The Three Trials Of Oscar Wilde'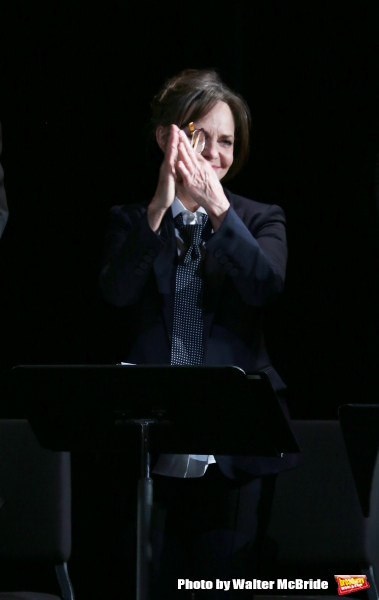 Sally Field and the cast of 'Gross Indecency: The Three Trials Of Oscar Wilde'

Sally Field and the cast of 'Gross Indecency: The Three Trials Of Oscar Wilde'

Sally Field and Moises Kaufman with the cast of 'Gross Indecency: The Three Trials Of Oscar Wilde'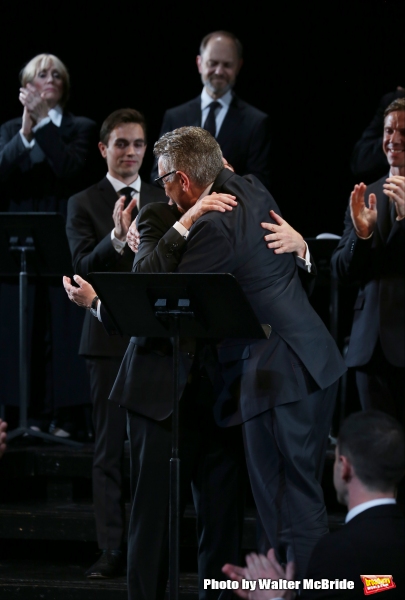 Judith Light, Will Carlyon, David Hyde Pierce, Moises Kaufman, Jake Spears, and the cast of 'Gross Indecency: The Three Trials Of Oscar Wilde'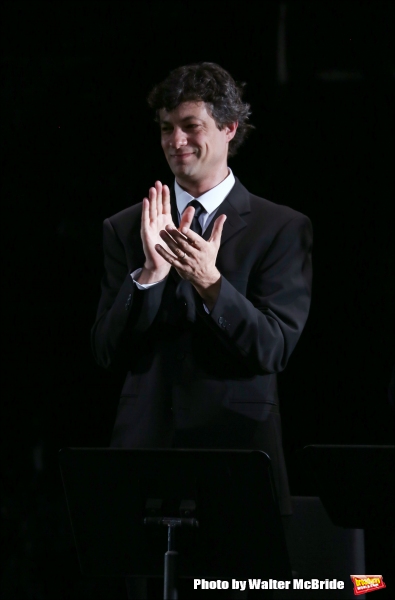 Andy Paris and the cast of 'Gross Indecency: The Three Trials Of Oscar Wilde'

Sally Field and the cast of 'Gross Indecency: The Three Trials Of Oscar Wilde'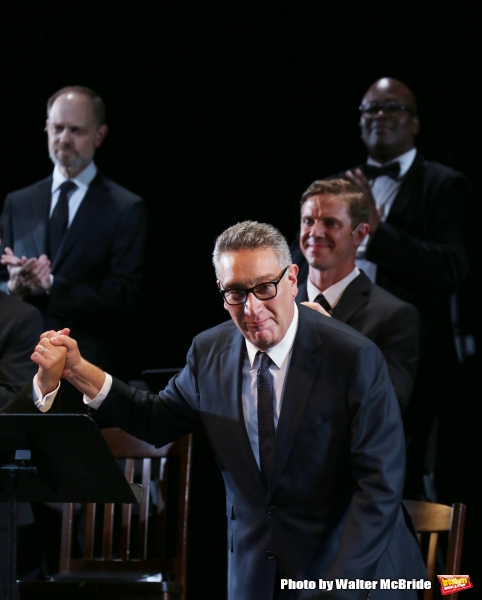 David Hyde Pierce, Moises Kaufman, Jake Shears, Tituss Burgess and the cast of 'Gross Indecency: The Three Trials Of Oscar Wilde'

Tituss Burgess, Darren Criss, Andy Paris and Sally Field and the cast of 'Gross Indecency: The Three Trials Of Oscar Wilde'

Jose Llana, Michael Emerson, Judith Light, Will Carlyon, David Hyde Pierce, Moises Kaufman, Jake Spears, Tituss Burgess and the cast of 'Gross Indecency: The Three Trials Of Oscar Wilde'

Related Articles