Photos: Glengarry Glen Ross Press Preview
Alan Alda
,
Liev Schreiber
,
Jeffrey Tambor
,
Frederick Weller
,
Tom Wopat
,
Gordon Clapp
, and
Jordan Lage
make up the all-star cast in the first major Broadway revival of GLENGARRY GLEN ROSS, David Mamet's Pulitzer Prize-winning drama, to be staged by Tony Award winner Joe Mantello.
GLENGARRY GLEN ROSS will have sets designed by Santo Loquasto, costumes by Laura Bauer and lighting by Kenneth Posner. Performances are scheduled to begin Friday, April 8th at 8pm and opening night is set for Sunday, May 1st with an 8:00 pm curtain at the Royale Theatre (242 W. 45th Street).
The stakes are high at a fly by night Chicago real estate office: 1st prize- a new Cadillac, 2nd prize- a set of steak knives, 3rd prize- you're fired! GLENGARRY slices to the core of the American dream and exposes the depths people will go to stay on top of the game. Mamet himself worked in a real estate office in Chicago in 1969 setting up appointments for salesmen, and the play is influenced by the cutthroat politics he encountered.
Click Here to Purchase Tickets and For More Info on This Show!
Jeffrey Tambor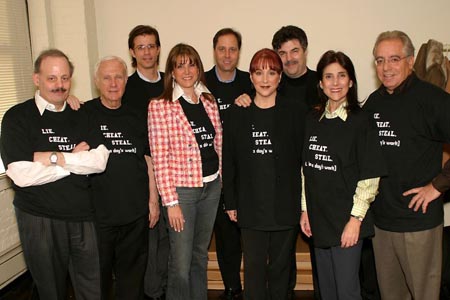 The Producers (L to R): Jeffrey Richards, Jerry Frankel, Marc Falato, Stephanie McClelland, Steve Traxler, Cindy & Jay Gutterman,
Jane Bergère, Barry Weisbord

Scenic Designer: Santo Loquasto

Scenic Designer: Santo Loquasto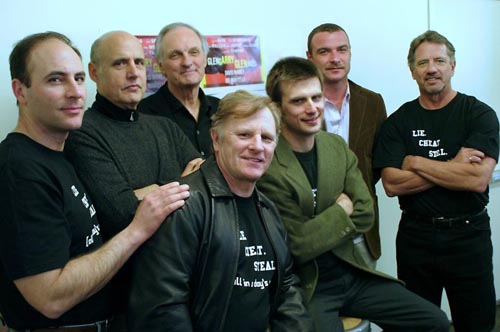 Jordan Lage, Jeffrey Tambor, Alan Alda, Gordon Clapp, Frederick Weller, Liev Schreiber, Tom Wopat