Photo Coverage Exclusive: Don't Quit Your Night Job 5!
On October 26th at Joe's Pub, Steve Rosen (Monty Python's Spamalot), Sarah Saltzberg (25th Annual Putnam County Spelling Bee), David Rossmer (Fiddler on the Roof), in conjunction with Joe's Pub, presented the fifth installment of "Don't Quit Your Night Job," a new monthly comedy benefit featuring a revolving cast of Broadway and Off Broadway's brightest stars performing without a net.  More shows will be presented on 11/30 and 12/21; all are at 11:30 PM.

The show is an evening of improv, music, original sketch comedy and backstage anecdotes all to benefit Wendy Wasserstein's Open Doors Initiative.
The evenings feature musical direction by Dan Lipton, with
Sean McDaniel
on drums. The show is aided and abetted by People's Improv Theatre Teachers Yang Miller and
Ali Farahnakian
.
"Open Doors, TDF's theatre arts mentoring program for high school students, was started in 1998 by TDF with playwright
Wendy Wasserstein
. It's goal is to explore the relevance of theatre in the lives of today's youth. Dedicated theatre professionals each mentor a group of eight underserved high school students, who have had no exposure to the theatre, for an entire school year. They attend six Broadway and/or Off Broadway productions, followed by a lively, 90 minute post-performance discussions. The students keep a journal to document, expand and reflect on their experiences." Tickets are $15.  Call 212-539-8778 between the hours of 11-5 daily to purchase tickets and make a table reservation for this show.  No on-line tickets are available for this event. There is a two drink minimum or a twelve dollar food minimum per person. Seating or standing room will be on a first-come, first-served basis without table reservations.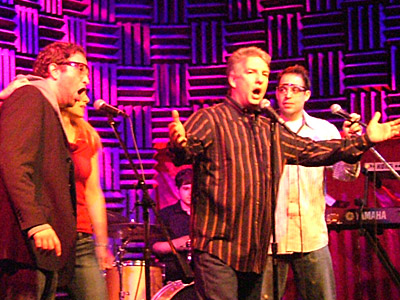 Marc Summers (TV's Double Dare, Unwrapped) belts out
the Double Dare Musical number (notice the protective eyewear!)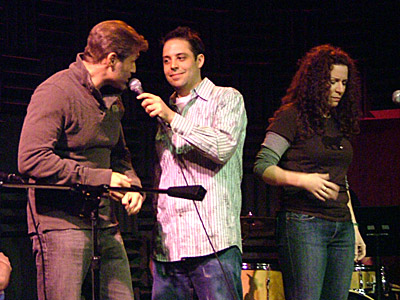 Marc Kudisch, Steve Rosen and Lisa Jolley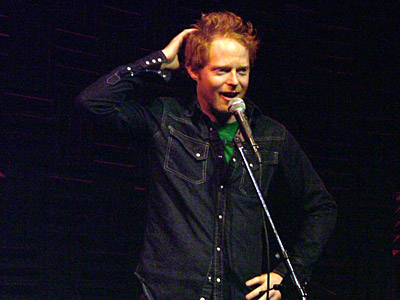 Jesse Tyler Ferguson shares his backstage stories
Special musical guest - Stephen Lynch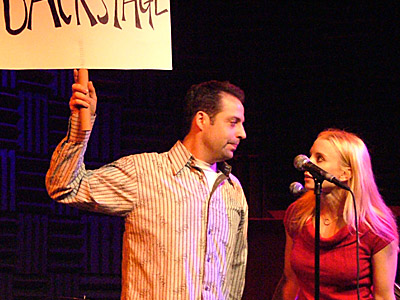 Steve Rosen and Sarah Saltzberg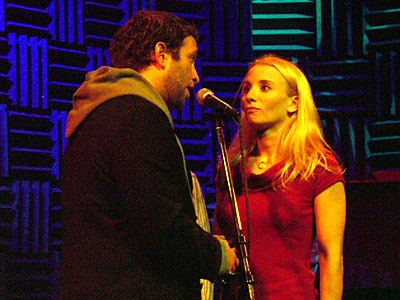 David Rossmer and Sarah Saltzberg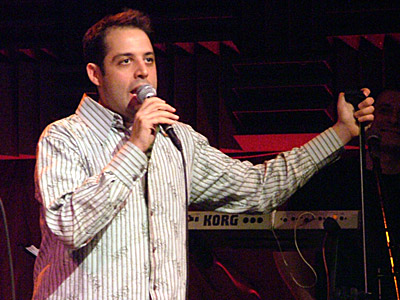 Steve Rosen
[title of show]'s Hunter Bell and Susan Blackwell show off
their "Special Skills"
Alan Campbell (Sunset Boulevard) sings the title song with a twist -
Mad Lib style
Spelling Bee's Kate Wetherhead, Todd Buonopane, Josh Gad with
Jayson Raitt
Spelling Bee Love backstage - Sarah Saltberg, Todd Buonopane
and Derrick Baskin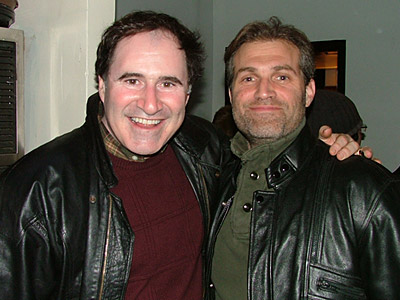 Funny Leading Men, Richard Kind and Marc Kudisch
Susan Blackwell, Hunter Bell and Stephen Lynch
Jordan Gelber, Asmeret Ghebremichael and Alan Campbell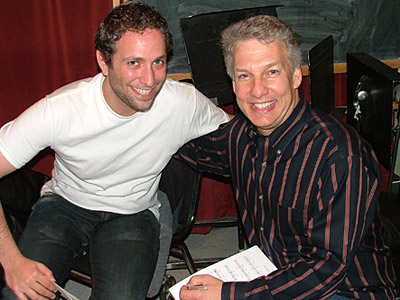 David Rossmer and Marc Summers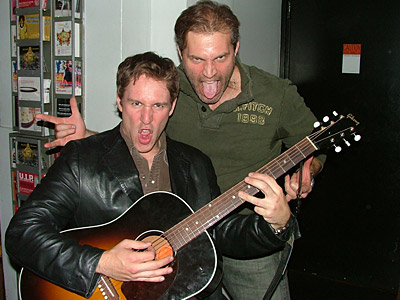 Stephen Lynch and Marc Kudisch rock out backstage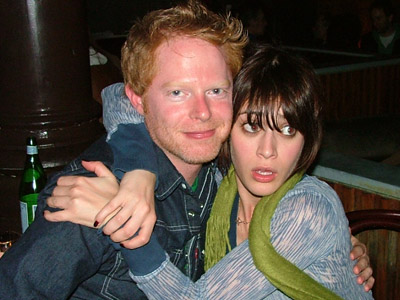 Jesse Tyler Ferguson with "Class"mate Lizzy Caplan ham it up for
BroadwayWorld.com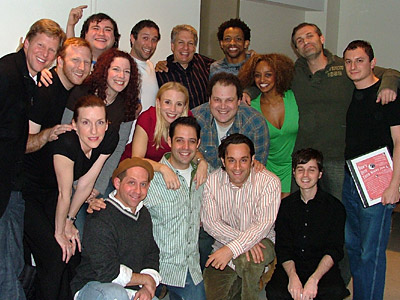 Don't Quit Your Night Job 5 Class Photo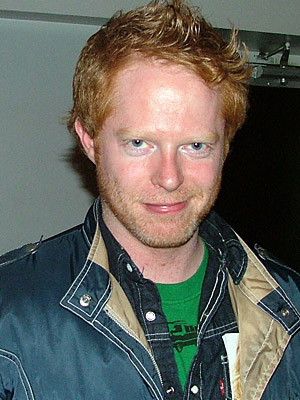 Parting shot of Jesse Tyler Ferguson who returns
to LA on Sunday...