Click Here for More Articles on AVENUE Q
Photo Coverage: Dori Berinstein Receives CTI's Robert Whitehead Award
Dori Berinstein, three-time Tony award-winning Broadway producer and award-winning producer, director, and writer of film and television, was presented with The Commercial Theater Institute's Robert Whitehead Award for "outstanding achievement in commercial theatre producing" at a reception at Sardi's Restaurant on Tuesday, March 10th, 2009. BroadwayWorld was there to cheer her on and capture all the fun of the afternnon at Sardi's!
The Robert Whitehead Award, established in 1993 by The Commercial Theater Institute (CTI), honors "outstanding achievement in commercial theatre producing" by a graduate of CTI. "Dori Berinstein's passion in life is theatre," said Jed Bernstein, CTI's Program Director. "Mr. Whitehead was a mentor to Dori when she first started producing, so I'm sure he would be proud to have such a talented producer following in his footsteps."
"As an active member of The Broadway League who sits on multiple committees and is passionately involved in enhancing audience development programs such as Kids' Night on Broadway, we know how much she values her association with CTI," commented Charlotte St. Martin, Executive Director, The Broadway League. "Dori's tireless efforts in encouraging the next generation of theatre professionals makes this prestigious recognition well-deserved."
Victoria Bailey, Theatre Development Fund's Executive Director added, "Robert Whitehead produced over 80 Broadway productions and they included original works by the greatest playwrights of the 20th Century -- including Arthur Miller, Eugene O'Neill, William Inge and Harold Pinter. TDF is honored to be connected with the award that bears Mr. Whitehead's name and we congratulate this year's recipient, Dori Berinstein."
CTI is the nation's only formal training program, which professionally trains commercial theatre producers. A joint project of The Broadway League and Theatre Development Fund, CTI was founded in 1981 by the late Frederic B. Vogel. The five decade long career of legendary producer Robert Whitehead inspired this award. Mr. Whitehead died in 2002.
Dori Berinstein is a three-time Tony® award-winning Broadway producer and an award-winning director, producer, and writer of television and film. She serves on the Education and Marketing Committees of The Broadway League. Her Broadway productions include Legally Blonde: The Musical, Thoroughly Modern Millie (Tony® Award), The Crucible , One Flew Over The Cuckoos Nest (Tony® Award), Flower Drum Song , and Fool Moon (Tony ® Award). "ShowBusiness: The Road to Broadway", Dori's documentary directorial debut, released theatrically in '07, captures the passion, exhilaration, drama, sweat and high-stakes creative and financial risk of four new Broadway musicals - "Wicked", "Avenue Q", "Taboo" and "Caroline, or Change" - from inception through the Tony Awards. The award-winning film was an International Documentary Association Best Documentary Finalist in 2006.
Dori is co-founder of Camp Broadway, a behind-the-scenes national program aimed at giving kids a life-long love of the arts, and recently co-launched Thru The Stage Door, a new arts education company dedicated to creating extraordinary theatre experiences and cutting edge arts learning tools. Dori's next film, "Gotta Dance," about the first-ever, senior citizen hip-hop dance team for the New Jersey Nets Basketball Team, is being released theatrically this May. A Broadway adaptation is in the works. Dori is a proud graduate of the CTI program.
The Commercial Theater Institute, now in its 28th year, is a project of Theatre Development Fund (TDF) and The Broadway League. The nation's only formal program, which professionally trains commercial theatre producers, CTI provides resources and guidance to individuals interested in the various paths one can take towards creating commercial productions for the stage.
Commercial Theater Institute is a joint project of The Broadway League, Charlotte St. Martin, Executive Director and Theatre Development Fund, Victoria Bailey, Executive Director.
Theatre Development Fund (TDF) has played a unique role in strengthening live theatre and dance in New York City for the past 40 years. This not-for-profit service organization's programs have filled over 72 million seats at discount prices (with theatre lovers who would normally not be able to attend live performance) and returned over 1.6 billion dollars in revenue to thousands of theatre, dance and music productions. Best known for its TKTS Discount Booths, TDF's membership, voucher, access and education programs as well as its Costume Collection, help to make the unique experience of theatre available to everyone. For more information, go to: www.tdf.org.
THE BROADWAY LEAGUE, founded in 1930, is the national trade association for the Broadway industry. The League's 600-plus members include theatre owners and operators, producers, presenters, and general managers in over 240 North American cities, as well as suppliers of goods and services to the theatre industry. Each year, League members bring Broadway to nearly 30 million people in New York and on tour across the U.S. and Canada. Visit www.BroadwayLeague.com.
Photos by Walter McBride/Retna Ltd.

Dori Berinstein receives the Commercial Theater Institute's Robert Whitehead Award

Dori Berinstein receives the Commercial Theater Institute's Robert Whitehead Award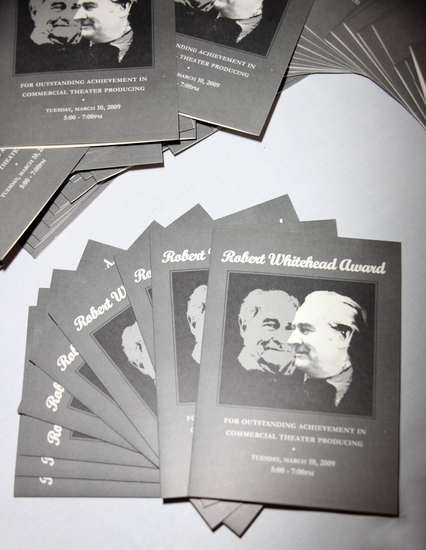 Dori Berinstein receives the Commercial Theater Institute's Robert Whitehead Award

The Commercial Theater Institute's Robert Whitehead Award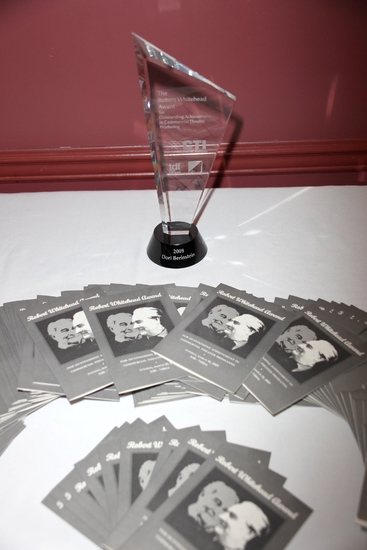 The Commercial Theater Institute's Robert Whitehead Award

Dori Berinstein receives the Commercial Theater Institute's Robert Whitehead Award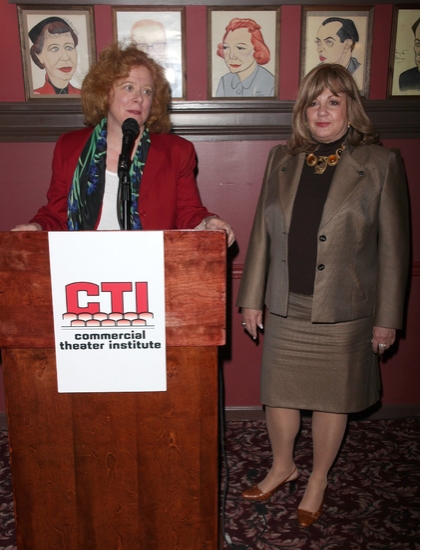 Victoria Bailey and Charlotte St. Martin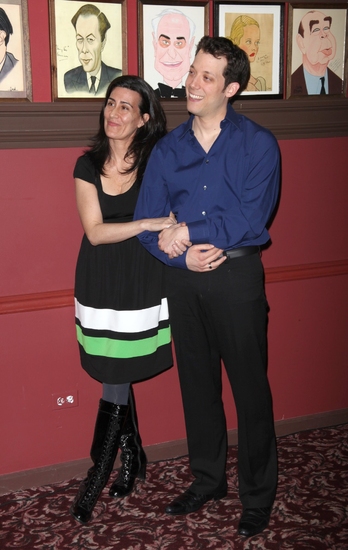 Jeanine Tesori and John Tartaglia

Raul Esparza, Jeanine Tesori and John Tartaglia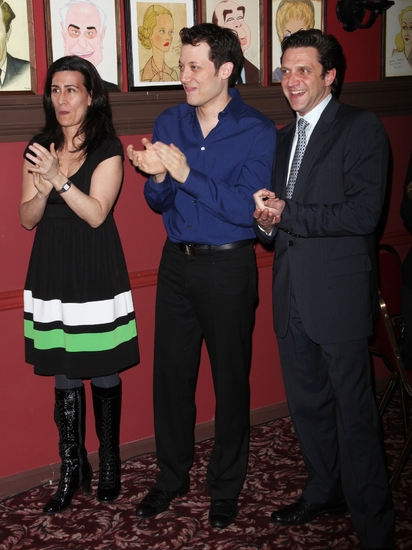 Jeanine Tesori, John Tartaglia and Raul Esparza

Dori Berinstein and Zoe Caldwell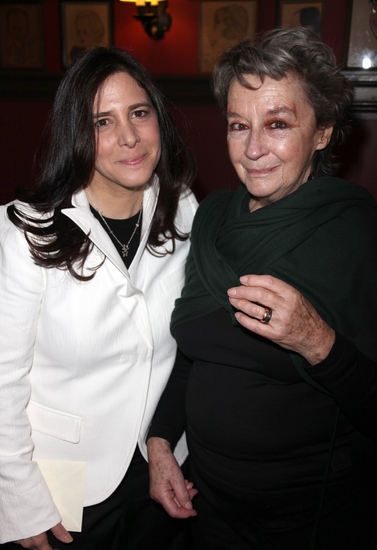 Dori Berinstein and Zoe Caldwell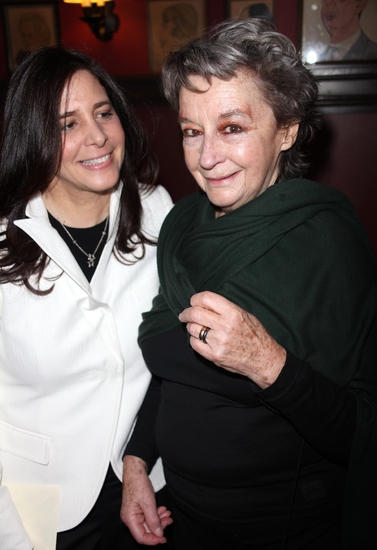 Dori Berinstein and Zoe Caldwell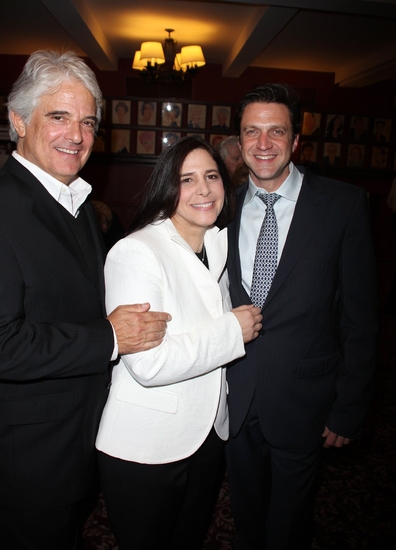 Mitchell Cannold with wife Dori Berinstein and Raul Esparza

John Tartaglia and Raul Esparza

John Tartaglia and Raul Esparza

John Tartaglia, Dori Berinstein, Jeanine Tesori and Raul Esparza

Dori Berinstein and John Tartaglia

John Tartaglia, Dori Berinstein, Jeanine Tesori and Raul Esparza

John Tartaglia, Dori Berinstein, Jeanine Tesori and Raul Esparza

Related Articles