Photo Coverage: Christine Jimenez' Les Miz Artwork, Part 2
On November 9th, 2006, the opening night of Broadway's Les Miserables, BroadwayWorld introduced the artwork of Christine Jimenez.  Recently, the talented artist created more caricatures and portraits of Les Miz stars, and is pleased to share them with BWW readers.
Jimenez has been creating artworks (mostly for the various casts of Les Miserables) for the last 3 1/2 years.  She began creating the portraits before the Broadway company closed, and has also produced art for the Third National Tour company and for the London company. 
Les Miserables, in its highly anticipated Broadway return, began previews at the Broadhurst Theatre (235 West 44th Street) on Saturday, October 24th, and will open on Thursday, November 9th.  The epic musical plays a limited engagement through the summer. 

With music by Claude-Michel Schönberg, lyrics by Herbert Kretzmer, with original French text by Alain Boublil and Jean-Marc Natel and additional material by James Fenton, Les Miserables is based on the sprawling novel by Victor Hugo.  Directed by Trevor Nunn and John Caird, Les Miserables originally ran on Broadway from 1987 through 2003.  The current production of Les Miserables stars Alexander Gemignani, Norm Lewis, Daphne Rubin-Vega, Celia Keenan-Bolger, Ali Ewoldt, Adam Jacobs, Aaron Lazar, Gary Beach and Jenny Galloway, among others.
More of Jimenez' artworks and portraits can be viewed at her website at www.onstageandbackstage.com.  Some of her art is also for sale.  Visit www.lesmis.com for more information on Les Miserables.

Artwork of Gary Beach as Thenardier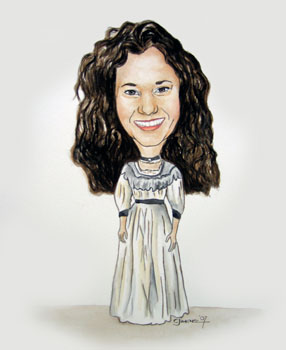 Artwork of Ali Ewoldt as Cosette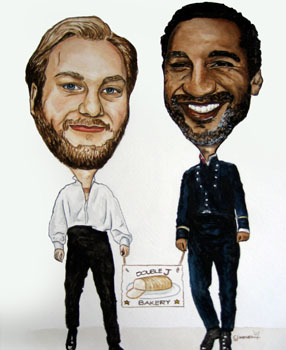 Artwork of Alexander Gemignani as Valjean and Norm Lewis as Javert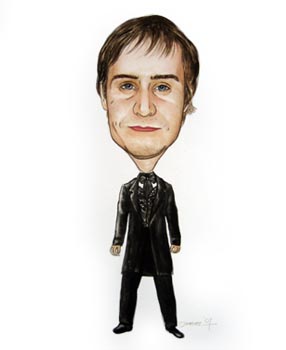 Artwork of Blake Ginther as Feuilly

Artwork of James Chip Leonard (Claquesous, Bishop of Digne)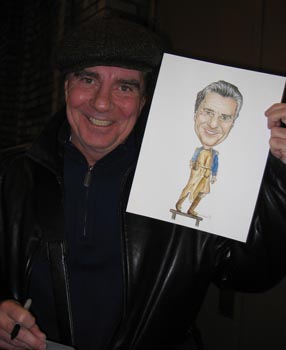 Gary Beach with artwork

Alexander Gemignani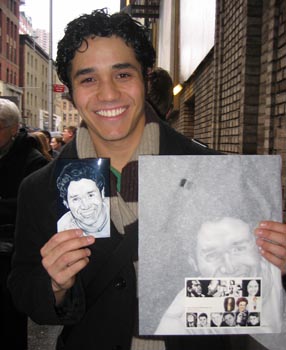 Adam Jacobs (Marius)

Celia Keenan-Bolger (Eponine)

Aaron Lazar (Enjolras)

James Chip Leonard

London Mary Poppins star Gavin Creel with his "Bert" artwork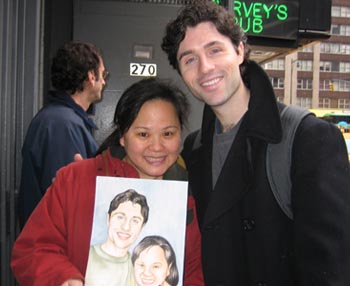 Broadway 
Phantom of the Opera
star
Peter Lockyer
 with wife Mel at the stage door of the Majestic Theatre