Photo Coverage: Cheyenne Jackson Hosts Live Out Loud Gala
Actor Cheyenne Jackson, star of the hit Broadway musical Xanadu, hosted Live Out Loud's Seventh Annual Young Trailblazers Benefit Gala on Monday, April 28th. at the Chelsea Museum.  Fashion designers John Bartlett, Thom Browne, and Chado Ralph Rucci served as Gala Chairs for this year's benefit.
Dedicated to empowering, mentoring, and celebrating lesbian, gay, bisexual, and transgender (LGBT) youth, Live out Loud is a non-profit organization that produces panel discussions, lectures, and workshops that connect LGBT youth with role models and leaders in the LGBT community.More than 400 community leaders attended Live Out Loud's Seventh Annual Young Trailblazers Benefit, which which took place at the Chelsea Art Museum (556 W. 22nd Street at 11th Avenue) and culminated with the awarding of $2500 scholarships to four high school seniors who have demonstrated outstanding leadership skills. 
Sponsors of this year's gala include: Chado Ralph Rucci, Fund in the Sun Foundation, M A C VIVA GLAM, SHOWTIME, Daryl Roth Productions, Neiman Marcus, Barry K. Schwartz Family Foundation, Charlotte Moss New York, Elle Décor Magazine, Brett Hofer, HSBC, Il Cantinori, InStyle Magazine, Marjorie M. Fisher Fund, Thom Browne New York, Janice Calloway, TJX Companies, and The Chinese Porcelain Company
National Media Sponsors: OUT Magazine and Passport Travel Magazine . Media sponsors include: HX Magazine, GO New York, New York Blade, Next Magazine, GoodAsYou.org and TheMenEvent. Promoters: Eric Andrew, Patrick Duffy & Nicky Balestrieri,Mark Nelson, Chris Ryan, Chip Stevenson and Matt Tratner. For more information please visit
www.liveoutloud.info
Photos By Linda Lenzi

Host Cheyenne Jackson

Angelo Fraboni (Co-Producer "Celebrity Autobiography; In Their Own Words", Cheyenne Jackson and Hal Rubenstein (InStyle Magazine)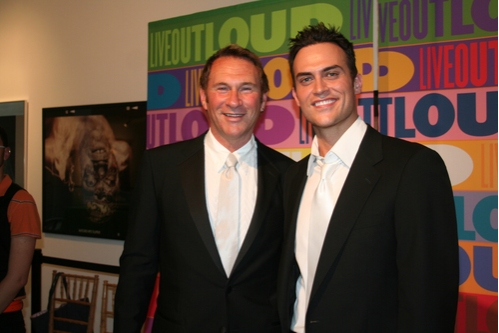 Hal Rubenstein and Cheyenne Jackson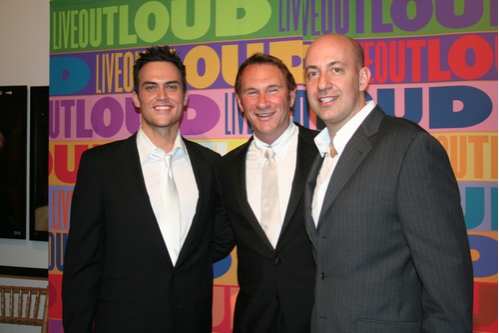 Cheyenne Jackson, Hal Rubenstein and Leo Preziosi Jr. (LIVE OUT LOUD Founder/Executive Director)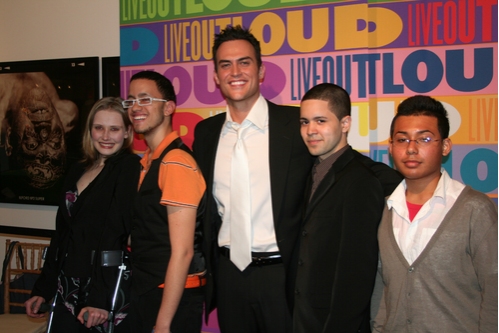 Cheyenne Jackson with the 2008 LIVE OUT LOUD Scholarship Recipients Tiffamy Studer (Bristol Central High School, Bristol CT), Raymond Martinez (The Urban Assembly School for Law and Justice, Brooklyn, NY), Luis Garay (Brooklyn School for Global Studies, Brooklyn, NY) and Nelson Rodriguz (Union High School, Uniondale, NY)

Hal Rubenstein, Tiffany Studer, Raymond Martinez, Cheyenne Jackson, Luis Garay, Nelson Rodriguz and Leo Preziosi Jr.

Cheyenne Jackson, Julie Halston (Hairspray) and Playwright Charles Busch

Julie Halston, Luis Garay and Charles Busch

Tiffany Studer and Cheyenne Jackson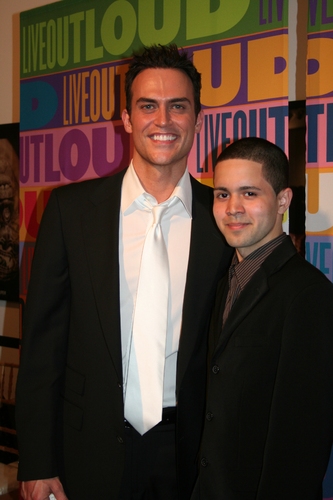 Cheyenne Jackson and Luis Garay

Tiffany Studer, Leo Preziosi Jr. and Luis Garay

Cheyenne Jackson and Broadway Producer Daryl Roth

Daryl Roth, Chado Ralph Rucci and Leo Preziosi