Photo Coverage: 'Buffalo Gal' Meet & Greet At Primary Stages
Today at 1PM the meet and greet for Buffalo Gal took place at Primary Stages

A.R. Gurney returns to Primary Stages with a comedy that centers around Amanda, a once successful television personality whose star is now fading. Life imitates art as she returns to her hometown of Buffalo to star in Chekhov's The Cherry Orchard. Just as she is connecting with her roots – both on stage and off – she is called back to Hollywood for a role that could recharge her career. Will her love of theater be enough to keep her in Buffalo?
A.R. Gurney
, the author of Love Letters and The Dining Room, has given Primary Stages audiences the highly acclaimed The Fourth Wall, Strictly Academic, and the Outer Critics Circle Award-winning Indian Blood.
Andrew Leynse
, Artistic Director, said, "We are delighted to have the opportunity to work with
Mark Lamos
again. His understanding and vision enable seamless, enriched productions that truly transport the audience into the world of the play." The creative team includes Andrew Jackness (Set), Candice Donnelly (Costumes), Mary Louise Geiger (Lights), and John Gromada (Original music and Sound Design). The Production Stage Manager is Matthew Melchiorre.BUFFALO GAL will play the following performance schedule: Tuesdays at 7:00 p.m., Wednesdays through Fridays at 8:00 p.m., Saturdays at 2:00 p.m. & 8:00 p.m., with Sunday matinees at 3:00 p.m. on July 27, August 3 & 10, and Wednesday matinees at 2:00 p.m. on August 13, 20 & 27. Following the public performances on August 7th, 14th & 21st, there are special "Artist/Audience Talkbacks" for the attendees of those performances.Single tickets for BUFFALO GAL are priced at $60 each, and may be purchased by calling Ticket Central at (212) 279-4200, online at www.ticketcentral.com, or in person at the 59E59 THEATERS Box Office. Group Tickets (10+) are $45.00 each, and are available by calling (212) 840-9705, ext. 204. Please visit the website at www.primarystages.com, or call (212) 840-9705 for more information
Photos by Peter James Zielinski


Playwright A.R. Gurney and Casey Childs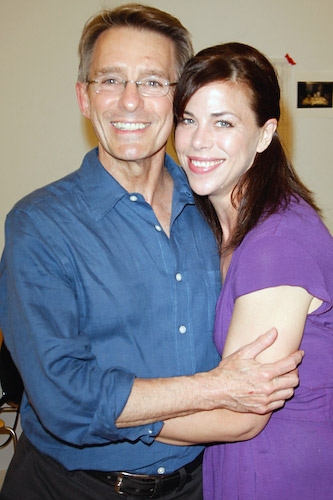 Director Mark Lamos and Jennifer Regan

Susan Sullivan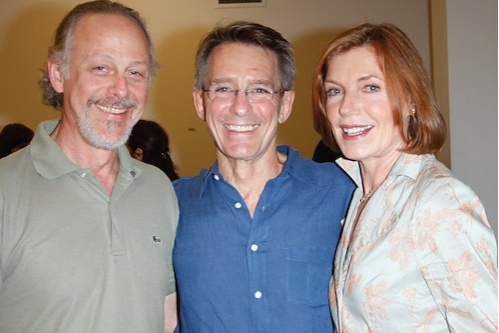 Mark Blum, Mark Lamos and Susan Sullivan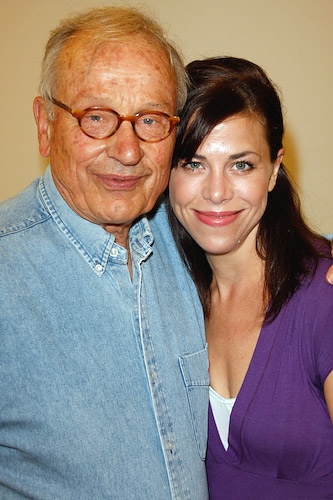 A.R. Gurney and Jennifer Regan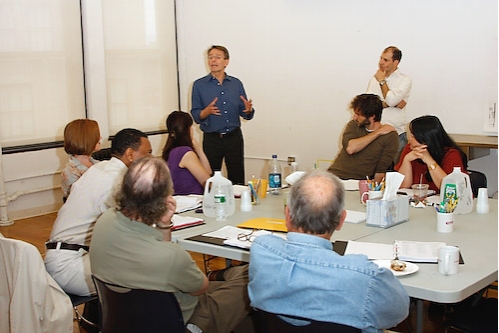 Mark Lamos greeting the cast and company of "Buffalo Gal"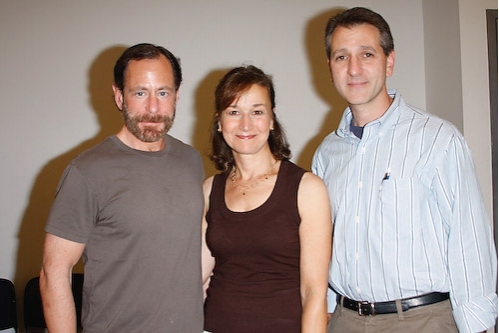 Alan & Barbara Marks with Elliot Fox

Cast members Carmen M. Herlihy, Dathan B. Williams, Jennifer Regan and James Waterston