Click Here for More Articles on HAND TO GOD
Photo Coverage: Bob Saget is Back on Broadway in HAND TO GOD!
Comedy and television icon Bob Saget just stepped into the role of 'Pastor Greg' in the Tony Award-nominated comedy Hand to God beginning last week through the production's previously announced closing on January 3, 2016. Saget returns to Broadway after making his Broadway debut in 2007 in the Tony-winning musical The Drowsy Chaperone. He will join current Hand to Godcast members Steven Boyer, Geneva Carr, Sarah Stiles, and Michael Oberholtzer.
Hand to God plays at the Booth Theatre (222 West 45th Street) through January 3, 2016 before immediately transferring to London's West End, with performances beginning on February 5, 2016 at the famed Vaudeville Theatre.
Bob Saget is a Grammy-nominated stand-up comedian, actor, director and television host. It was his family-friendly roles as the loveable Danny Tanner on "Full House" and as the original host of "America's Funniest Home Videos" that made Saget a household name, but it is his edgy stand-up routines, comedy specials, and appearances in The Aristocrats and "Entourage" that solidified his reputation as a true original with an irreverent sense of humor and unique personality.
Saget starred in the critically acclaimed, Paul Weitz off-Broadway play, Privilege, his first book, Dirty Daddy (2014), is a New York Times Best Seller and his third one hour stand-up special, "That's What I'm Talkin' About," was nominated for a 2014 Grammy Award.
This fall, Saget will be seen in a guest starring role on the Fox series, "Grandfathered," and in 2016 he will be seen in the Netflix series, "Fuller House," and he continues touring performing stand-up to sold out audiences in theaters internationally.
Photo Credit: Jessica Fallon Gordon

Geneva Carr, Steven Boyer, Bob Saget and Sarah Stiles

Bob Saget

Bob Saget

Danny Burstein, Troy Britton Johnson, Rebecca Luker, Robert Askins, Bob Saget, Ashley Olsen, Geneva Carr, Steven Boyer, Michael Oberholtzer and Sarah Stiles

Troy Britton Johnson, Bob Saget and Danny Burstein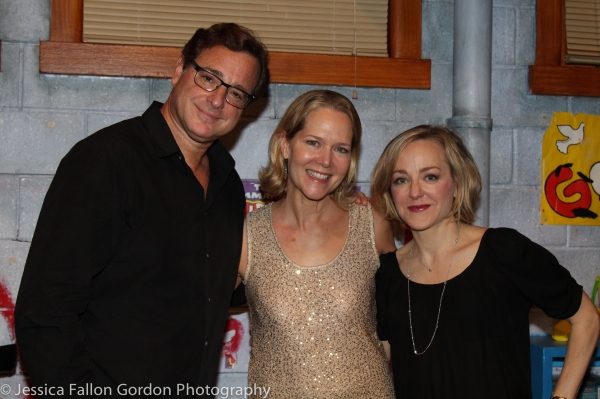 Bob Saget, Rebecca Luker and Geneva Carr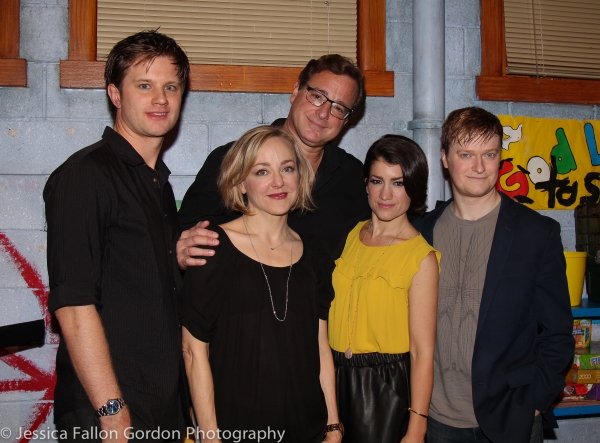 Michael Oberholtzer, Geneva Carr, Bob Saget, Sarah Stiles and Steven Boyer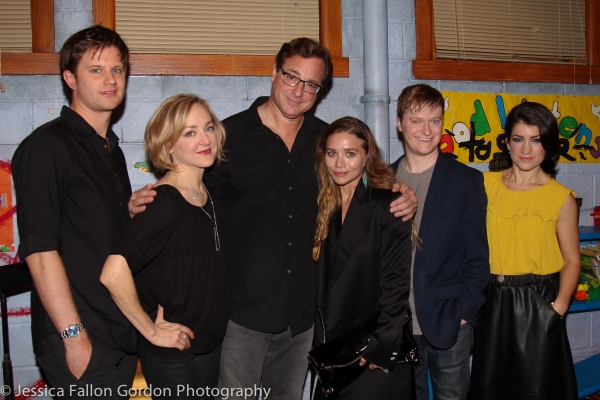 Michael Oberholtzer, Geneva Carr, Bob Saget, Ashley Olsen, Steven Boyer and Sarah Stiles

Steven Boyer, Bob Saget and giant Tyrone

Alex Mandell, Michael Oberholtzer, Geneva Carr, giant Tyrone, Bob Saget, Sarah Stiles, Pamela Bob, Steven Boyer and Beau Baxter

Steven Boyer and giant Tyrone

Steven Boyer, giant Tyrone and Robert Askins