Hand to God - 2015 - Broadway
The hilarious and provocative Hand to God centers on shy, inquisitive student Jason, who finds an outlet for his burgeoning creativity at the Christian Puppet Ministry in the devoutly religious, relatively quiet small town of Cypress, Texas. Jason's complicated relationships with the town pastor, the school bully, the girl next door and-most especially-his mother are thrown into further upheaval when Jason's hand puppet Tyrone-once soft-spoken-takes on a shocking and dangerously irreverent personality all its own. As Tyrone's influence over Jason steadily grows, Hand to God explores the startlingly fragile nature of faith, morality, and the ties that bind us.
Hand to God will feature the complete cast of the hit 2014 MCC Theater production: Steven Boyer as Jason/Tyrone; Geneva Carr, in her Broadway debut, as Margery; Tony Award nominee Marc Kudisch as Pastor Greg; Sarah Stiles as Jessica; and Michael Oberholtzer, in his Broadway debut, as Timmy. Boyer reprises the role for which he has been honored with an Obie Award, the Lucille Lortel Award for Outstanding Leading Actor in a Play, the Actors' Equity Association Clarence Derwent Award for Most Promising Newcomer, and a citation from the Drama League for Distinguished Performance, among other awards.
Video preview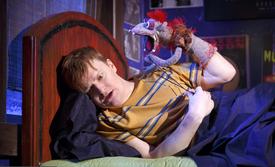 Photo preview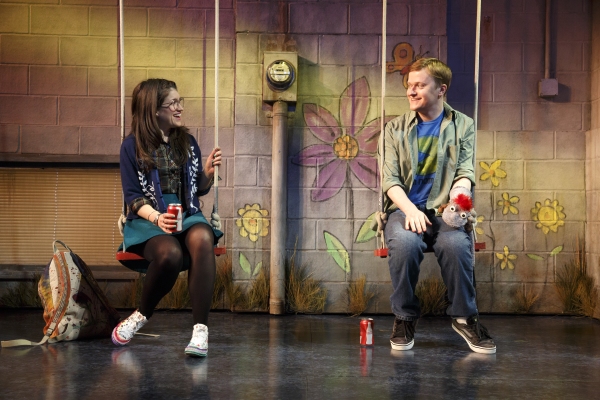 Schedule
Running Time: One hour and 55 minutes with one intermission
Featured Reviews For Hand to God
'Hand to God': Theater Review - Hollywood Reporter
Bold new American plays by unestablished dramatists too seldom make it to Broadway, so this commercially risky endeavor - a challenge approached head-on by producers in their amusing marketing campaign ­- is to be applauded. The show also brings a welcome breath of fresh air via a director, Moritz von Stuelpnagel, new to the commercial theater mainstream, and a talented ensemble of five actors, only one of whom, Marc Kudisch, is a Broadway regular. The sharp production has evolved over two hit off-Broadway incarnations, increasing in size with each move, and it now sits quite snugly in the still-intimate confines of the Booth Theatre...Director von Stuelpnagel and his terrific cast tackle this darkly funny material with a shrewd balance of heightened reality, warped sitcom and underlying pathos, landing all the jokes while never denying the genuine sorrow and anger driving both Jason and Margery to such erratic behavior...The five actors couldn't be better...But the real virtuoso performance is Boyer's. Whether trembling with fear as the deeply unhappy, reedy-voiced Jason or with power-crazed tyranny, wild irreverence and thundering rage as Tyrone, he creates two entirely distinct characters that give the illusion of existing independently of one another. Together, they somehow add up to one messed-up but affectingly real kid. Forgive the pun, but Boyer deserves a big hand.
'Hand to God' review: Steven Boyer devilishly good in Robert Askins' smart, funny, foul-mouthed comedy - NY Daily News
The new Broadway comedy "Hand to God" is so ridiculously raunchy, irreverent and funny it's bound to leave you sore from laughing. Ah, hurts so good...As in two earlier downtown runs of the show, Steven Boyer stars as Jason, and his acting and puppeteering are exceptional. Watching him do battle against his own dark side - Tyrone appears to yank him like a rag doll - is as good as physical comedy gets. It can't be outdone - and shouldn't be missed...But Askins, in his Broadway debut, proves deft at writing dialogue that's hysterical and at serving up insights about organized religion and family dysfunction. He's unapologetically profane - prompting a handful of walkouts after a line about body fluids at a recent performance. Their loss. Ultimately, Askins gets to what pain does to people. All the characters - even the cloth one - are up to their eyeballs in agony. Under the direction of Moritz von Stuelpnagel, the production zips by. It's not typical Broadway fare, but all involved deserve a big hand.
Hand to God Broadway Cast