Hand to God - 2015 - Broadway
The hilarious and provocative Hand to God centers on shy, inquisitive student Jason, who finds an outlet for his burgeoning creativity at the Christian Puppet Ministry in the devoutly religious, relatively quiet small town of Cypress, Texas. Jason's complicated relationships with the town pastor, the school bully, the girl next door and-most especially-his mother are thrown into further upheaval when Jason's hand puppet Tyrone-once soft-spoken-takes on a shocking and dangerously irreverent personality all its own. As Tyrone's influence over Jason steadily grows, Hand to God explores the startlingly fragile nature of faith, morality, and the ties that bind us.
Hand to God will feature the complete cast of the hit 2014 MCC Theater production: Steven Boyer as Jason/Tyrone; Geneva Carr, in her Broadway debut, as Margery; Tony Award nominee Marc Kudisch as Pastor Greg; Sarah Stiles as Jessica; and Michael Oberholtzer, in his Broadway debut, as Timmy. Boyer reprises the role for which he has been honored with an Obie Award, the Lucille Lortel Award for Outstanding Leading Actor in a Play, the Actors' Equity Association Clarence Derwent Award for Most Promising Newcomer, and a citation from the Drama League for Distinguished Performance, among other awards.
Video preview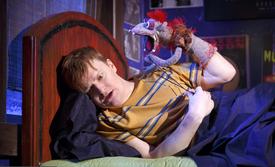 Photo preview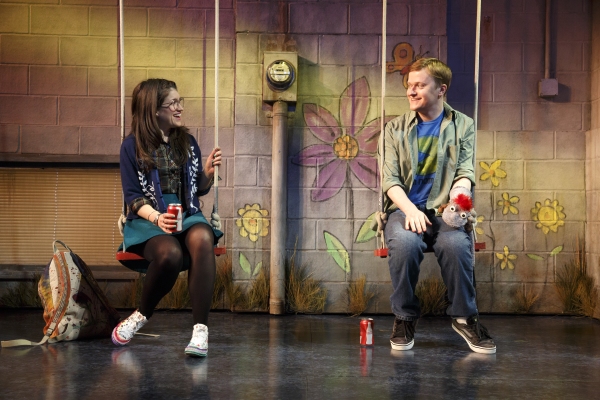 Schedule
Running Time: One hour and 55 minutes with one intermission
Featured Reviews For Hand to God
Broadway Review: 'Hand to God' - Variety
God may have created the heavens and the earth and all living things - but the Devil surely created Tyrone, the filthy-minded, foul-mouthed sock puppet that has audiences howling at "Hand to God." Robert Askins' furiously funny comedy about adolescent rebellion against religious cant has made a smooth passage from workshop (at Ensemble Studio Theater) to Off Broadway (in an MCC production) to Broadway. Moritz von Stuelpnagel hasn't touched ahair on the head of his clever production and the original cast is still golden. At 800 seats, the intimate Booth proves extremely hospitable to this fiendish little satire of all things holy.
Review: 'Hand to God' Features a Foul-Talking Puppet - New York Times
In a Broadway season dominated by the usual fodder - musicals new and old, and a healthy serving of Important British Dramas - Mr. Askins's black comedy about the divided human soul, previously seen in two separate Off Broadway runs, stands out as a misfit both merry and scary, and very welcome...Mr. Boyer's performance as Jason is tender and touching, his performance as Tyrone outlandish and hilarious; put them together and you have that rarely seen (although often hailed) acting achievement: a true tour de force...What makes the play so sneakily resonant is how Mr. Askins exposes the base impulses, the sexual, self-destructive, potentially violent ones, that just about everyone harbors to some small degree... Pick up a newspaper and you read another grim report about men and women little older than Jason succumbing to far more destructive passions. Maybe if more of the world's troubled youth discharged their demons with the help of sock puppets, things might not look so grim.
Hand to God Broadway Cast