Photos: Altar Boyz at Salon Ziba
The cast of the long-running Off-Broadway hit Altar Boyz recently got ready for Valentine's Day with a full treatment at Salon Ziba.
Altar Boyz, running at New World Stages, currently stars Shaun Taylor-Corbett, Landon Beard, Kyle Dean Massey, Zach Hanna and Eric Schneider (understudy Jim Daly went on for him that week).
"Altar Boyz, the acclaimed musical comedy now in its second year Off-Broadway at New World Stages, is the winner of the coveted Outer Critics Circle Award for Best Musical Off-Broadway, and the longest running new musical comedy to open in New York in years.  Full of sharp parody, sinfully spectacular dancing, and irreverent humor, this spoof about a heavenly guy-group is adored by audiences and critics alike," according to production notes.  Alter Boyz is directed by Stafford Arima and choreographed by Christopher Gattelli. Altar Boyz has music and lyrics by Gary Adler and Michael Patrick Walker with book by Kevin Del Aguila, based on a concept by Marc Kessler and Ken Davenport.
Visit www.altarboyz.com for more on Altar Boyz and www.salonziba.com for more on Salon Ziba.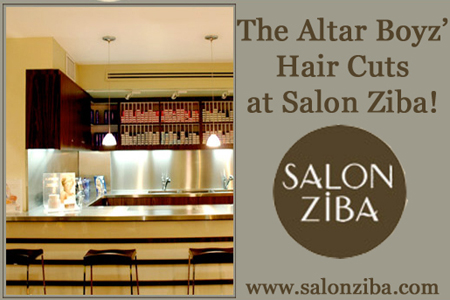 Landon Beard


Landon Beard gets very "Luke"


Kyle Dean Massey and Shaun Taylor-Corbett patiently wait their turn


Shaun Taylor-Corbett and Kyle Dean Massey


Zach Hanna

Kyle Dean Massey takes the clipper to wonder-study Jim Daly, on as Abraham for Valentine's Day week


Landon Beard relaxes with a cocktail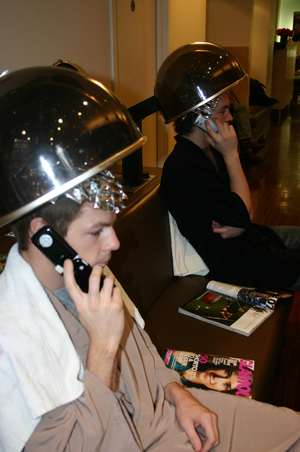 "Jesus Called Me On My Cell Phone" - Zach Hanna and Landon Beard getting their "callings"


Shaun Taylor-Corbett


The Boyz: Kyle Dean Massey, Jim Daly, Zach Hanna, Shaun Taylor-Corbett and Landon Beard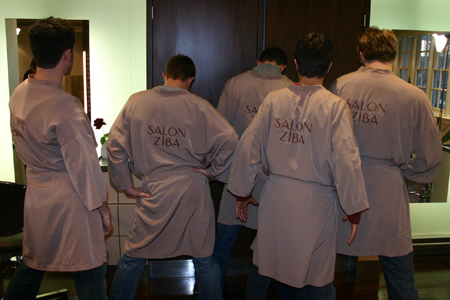 The Boyz at Salon Ziba


Shaun Taylor-Corbett, Jim Daly, Landon Beard, Kyle Dean Massey and Zach Hanna