Paul Jost Debuts At Mezzrow Jazz Club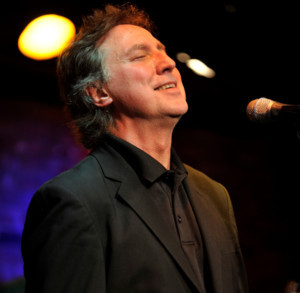 Paul Jost, the unique vocalist and arranger often described as a "passionate storyteller", performs at Mezzrow Jazz Club, 163 W 10th St in New York, with his quartet on Tuesday, August 21, 8 and 9:30 p.m. shows. Paul is a multi-instrumentalist, composer and arranger but it is his work as a vocalist that makes him a standout. Performing music from his soon-to-be-released album, "Simple Life," he is joined by his quartet, the musicians on his album ... Jim Ridl-piano, Dean Johnson-bass and Tim Horner-drums. Doors open at 7:30 p.m. There's a $20 cover charge. Reservations at www.mezzrow.com or call (646) 476-4346.
Paul has performed worldwide with recent tours in Asia and Europe. Back home in the U.S, he is a regular on the New York Club scene and can be seen on festival stages including recent performances at Xerox Rochester International Jazz Festival and Exit Zero Jazz Festival. In April 2018, vibraphonist Joe Locke invited Paul to join him as guest vocalist at Dizzy's Coca Cola Club at the Lincoln Center.
After a long career as an instrumentalist and sideman having recorded and performed with Billy Eckstine, Mark Murphy, Dr. John, Bucky Pizzarelli, Joe Farrell and Ron Carter to name just a few, Paul launched his solo vocal career in 2014 with the release of his debut vocal album "Breaking Through". Included in that album is "Book Faded Brown," a song he wrote that was recorded by The Band, Rick Danko and Carl Perkins.
Jim Ridl is a jazz pianist, composer, and teacher residing in the New York City area. He has an ongoing residency at the internationally known jazz club the 55 Bar in NYC, performing every second Monday of the month with his quartet. He also performs with the Joe Locke Quartet, the Dave Liebman Big Band, and the Mingus Big Band. Jim has performed worldwide with a variety of jazz artists and was part of two State Department American Music Abroad programs touring the countries of Russia, South Korea, China, the Philippines, Moldova, Azerbaijan, Slovenia and Malta. As a composer and leader, Jim has 7 CD recordings with the latest entitled Jim Ridl's Door in a Field Volume 2.
Dean Johnson was born in Seattle and studied with renowned bassists on the west coast and at Berklee College of Music, making his way to New York in 1980. Throughout his impressive career, he has performed and recorded with a wide variety of artists and he has appeared on more than 75 recordings. He has performed in concerts, jazz festivals and clubs throughout the United States, Canada, Europe, Japan, Brazil, Australia, Mexico, and Israel. Some of the eclectic array of artists Dean has been and continues to be involved with include Bob Brookmeyer, Randy Brecker, Joe Lovano, Dave Liebman, Wynton Marsalis and many others.
Tim Horner is one of New York's most in-demand jazz drummers who has traveled extensively in the US, Europe, the Balkans, Asia, North and South America with some of the world's greatest jazz talents, performing concerts, clubs, recordings, teaching and master classes. A Berklee College of Music graduate, he began his first major professional work was with The Tommy Dorsey Orchestra and he has gone on to play with such artists as Joe Williams, Mark Murphy, Joe Locke, Hank Jones, The Village Vanguard Jazz Orchestra and many others. He was honored to represent the U.S. State Department four times as a member of "The Jazz Ambassadors", an ambassador of cultural exchange with the Roseanna Vitro Quartet.
More Information on Paul Jost can be found at www.pauljostmusic.com
Related Articles
More Hot Stories For You