Opera On Tap Presents Bucket O' Blood Cabaret At The Flea Theater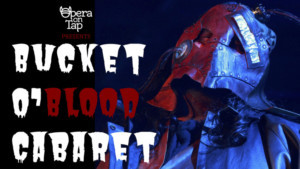 Opera on Tap Presents: Bucket O' Blood Cabaret at The Flea Theater.
"No one gets in for free... but nobody gets out alive!"
Performances:
October 31 @ 9pm,
November 1 @ 9pm,
November 2 @ 9pm,
November 3 @ 9pm
The Flea Theater (20 Thomas Street, Manhattan, NY)
Tickets available now, starting at $30
Returning for the second time this year, Opera on Tap brings its signature irreverent approach to opera to The Flea in its resident immersive cabaret series. In honor of the season, we are pleased to present Bucket o'Blood Cabaret.
Committed to the tagline "No one gets in for free... but nobody gets out alive", the company promises to deliver an evening of blood-red cocktails paired with hair-raising operatic screams.
The cabaret will feature an eclectic array of creepy operatically-tinged songs by Christopher Berg, Daniel Felsenfeld, Tom Lehrer, David Mallamud, Dave Malloy, One Ring Zero, Kamala Sankaram, Stephen Sondheim, Weird Al Jankovic, and others.
Direction by David Gordon and Cari Ann Shim Sham*
Costume Design by Ramona Ponce
Lighting Design by Chris Weston
Sound Design by Todd Perlmutter
Performed by Christopher Berg, Joanie Brittingham, Kacey Cardin, Matthew Curran, Seth Gilman, David Gordon, Anne Hiatt, Kamala Sankaram, Rachel Duval, Kannan Vasudevan, and Krista Wozniak
*The event will also include the first fully-staged live performance of The Parksville Murders- The world's first virtual reality opera, by composer Kamala Sankaram and writer Jerre Dye. The VR opera, directed by Cari Ann Shim Sham* and produced by Opera on Tap in association with Shim Sham* and Todd Perlmutter won Best VR Video at the NYC Indie Film Festival in 2017 and premiered online as featured content on SamsungVR. The piece is currently being featured on InceptionVR and JauntVR- two major VR distribution platforms.